We are in the short season of formal editorial endorsements of candidates. Because my weekly column appears in that neighborhood of The Hartford Courant on Sundays, some readers think I have a role in the endorsement process. I do not. I learn of them when they are published. Like anyone else who reads the nation's oldest continuously published newspaper, it is never a surprise when the endorsement goes to the Democrat in the contest. Opinion writers have points of view and they are in full flower at this time of year when the stakes are perceived as being at their highest.
Does anyone remember the last time The New York Times endorsed a Republican in a major race? The New York Post a Democrat? Editorial page philosophies are at their most obvious during this narrow window of a campaign cycle.
Connecticut's state House Republican campaign operation has been stymied by legal fees incurred in a federal criminal investigation. In the second quarter of 2014, two House Republican campaign committees spent two thirds of the amount they raised on fees to Hartford law firm Shipman & Goodwin.
Campaign finance records reveal that two committees controlled by House Minority Leader Lawrence Cafero and his leadership claque, New Friends and House Republican Campaign Committee, incurred legal fees in the second quarter of the year of more than $22,000. During the same period, the committees raised about $32,000. That's a hefty price for Republican incumbents and other hopefuls to pay for the federal investigation that threw Cafero's operation into upheaval early this year.
Explanations of the status of the investigation and the cost imposed on House candidates have been thin on the ground. The revelations of the spending to protect the caucus leadership at the expense of candidates may cause uncomfortable questions to be posed to Themis Klarides, the Republican who hopes to succeed Cafero, and her deputy, Vincent Candelora, as caucus members approach a vote on a new leader. Slim resources spent to find receipts and other documents or explain their absence to persistent investigators is not where supporters expect their donations to go.
House Republican incumbents and new candidates need a clearer picture of the ongoing investigation and its high cost to their campaigns.
A looming federal criminal investigation threatens to upend the House Republican instinct for deference. The caucus, long seen as the least effective in the legislature, has not had a proper leadership contest since 1984. That was the last time House Republicans enjoyed a majority in the lower chamber.
Eight years of Norwalk Republican Lawrence Cafero's double act as legislator and de facto lobbyist for the government affairs office of the Hartford law firm Brown Rudnick, for which he is a "contract partner," has left the House Republicans in tawdry disrepute. Cafero, who strained to stage manage his departure announcement from the House earlier this year, was soiled beyond redemption when federal criminal enforcement authorities used a 2013 campaign finance trial of a Democratic operative to highlight the intersection of campaign cash and Cafero's office refrigerator. House Republicans revealed their timid spirit by remaining silent during and after the humiliation played out in a federal courtroom.
All the errors and insults to the public interest inflicted during the eight year Cafero era are embodied in the leadership bid of his incurious enforcer and lieutenant Themis Klarides. She's running on a ticket of sorts that includes Representative Vincent Candelora, notable for his role as head of a campaign committee implicated in campaign finance scandals. A cipher of the type contemporary politics produces in troubling numbers, Candelora represents only the sullied silence of the embarrassing past.
House Republicans became the focus of a second federal criminal investigation in February when FBI agents camped out at the Legislative Office Building and questioned caucus members about their association with a Florida campaign services firm. The high profile and extended swarm on the LOB claimed Cafero's chief of staff, who announced he is a "person of interest" in the federal investigation.
The federal investigation continues, Daily Ructions can report. It threatens to splatter Republican leaders and others. Enough caucus members have roused themselves out of their long stupor to inaugurate a decisive break with the Cafero era and its exploitations of supine Republicans. It has fallen to Shelton state Representative Jason Perillo to take the fight for the future to the discredited acolytes of the past.
Sensate House Republicans know from observing the federal criminal investigations that have marked Connecticut politics that these ordeals never fade away. They explode, sometimes more than a year after they first come to public attention. Ask two-time loser John Rowland.
Next year's legislative session will feature budget issues that require the full attention of the House Republicans. A federal criminal investigation that explodes over the House Republican leadership-directly or as collateral damage-will render them useless at a critical hour for the state's imperiled future.
Greenwich Democrat Marc Abrams, undone by revelations of alleged sexual harassment and vulgar and abusive emails in two lawsuits, declared last Friday he was withdrawing from the race for the state House of Representatives from the 149th District.
As of mid-day Wednesday, the Secretary of the State's office had not received a letter from Abrams withdrawing from the contest with popular incumbent Republican Livvy Floren. Ballots for election day voting will be reprinted if Abrams withdraws from the race. Until then, he remains on the ballot with fellow Democrats Dannel P. Malloy and Jim Himes.
You don't often get a look at jury deliberations from a someone who's been there. The Waterbury Observer has the fascinating story of what went on inside the Rowland jury.
Highlights:
"Day by day, [juror Bob] McCormack said, 'the evidence got worse for John Rowland.'"
Prosecutor Christopher Mattei delivered a powerful and flawless closing argument.
Read it all.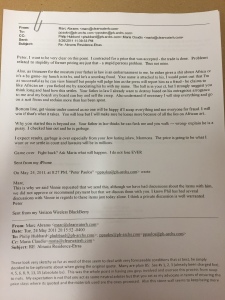 Greenwich Democrat and state representative hopeful Marc Abrams's abusive emails to an architect have been made part of the court record in a Connecticut dispute. In a late night 2011 email from his iPhone, Abrams lets loose with his signature niagara of filthy abuse.
A photograph of the email is above. Low points include threatening "to destroy" the recipient's father in law. Abrams refers to him as "your Jew hating inlaw, Mormons." "He is a pussy. I checked him out and he is garbage."
If Abrams does not get his way, he writes, "The price is going to be what I want or we settle in court and lawsuits will be in millions."
The generous Democratic contributor concludes, "Game over. Fight back? Ask Maria what will happen. I do not lose EVER"
The email has a similar tone to those excerpted in a sexual harassment suit against Abrams and others by two female former subordinates that is pending in New York.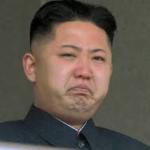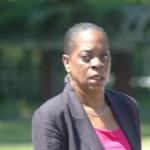 Only one of these elusive, mysterious public figures has State of Connecticut employees and retirees anxious about their pensions.
Greenwich Democrat Marc Abrams issued a statement on Thursday regarding a sexual harassment action pending against him and others associated with a New York hedge fund. The candidate for the state House of Representatives blamed "unscrupulous trial lawyers" and New York's legal system for the action brought against him by two aggrieved female subordinates at Titan Capital.
Abrams's statement declines to address emails and other communications cited in the complaint available on the New York court system website. For example, Abrams did not address what sort of person would send a message like this one to the boyfriend of one of the plaintiffs: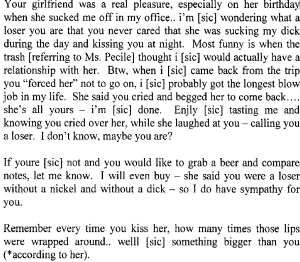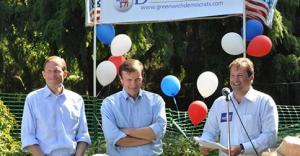 Connecticut Democrats will have a hard time standing by Greenwich Democrat Marc Abrams in the aftermath of revelations of allegations of his sexual harassment of subordinates at his Titan Capital hedge fund.
"Hooker", "piece of s— stripper", "f—– rotten piece of dirt", and "white trash" are sentiments one would not expect Richard Blumenthal–at least–to be associated with.
Felonious former Governor John G. Rowland is seeking letters that will help Judge Janet Bond Arterton "appreciate John's character and accomplishments" at his January 7, 2014 sentencing. Rowland, "still in shock" over his September conviction for campaign finance fraud, is contacting people by email with an appeal for letters that will highlight his "acts of kindness" and "9/11 calls" to families of the victims of the 2001 terrorist attacks, Daily Ructions can report.
Rowland's stream of consciousness message (he's never been vigilant about punctuation) includes a memo from his defense team. It provides instructions on writing a letter for the twice-convicted three term former governor. Here are some of them:
It is helpful to the Court if you state how you know John, how long you have known him, and in what capacity. You should also indicate that you are aware of John's recent conviction, because a letter of support from someone who is unaware of the proceedings has less impact.
 The letters should emphasize John's character and accomplishments, such as his commitment to his family, friends, former constituents and the community, his community services and charitable activities, etc. Please refrain from criticizing the government prosecutors. While it is fair and appropriate to be upset with the outcome of John's trial, the Judge will be most receptive to positive statements about John rather than criticisms of the jury's verdict.
Those who have a different view of Rowland may also write to The Honorable Janet Bond Arterton, United States District Court, District of Connecticut, Richard C. Lee United States Courthouse, 141 Church Street, New Haven, CT 06510.