Elizabeth Esty and her Washington friends can't understand why Governor Dannel P. Malloy is so unpopular. She must be talking only to a narrow sliver of her constituents in the 5th Congressional District. Polls there show Malloy supporters thin on the ground.
Here's the first term incumbent talking to Morris Democrats.
July 29, 2014 8:35 am No Comments
More trouble for Republican lieutenant governor hopeful Penny Bacchiochi. The six-term Stafford legislator failed to include on her 2012 state enthics disclosure $27,000.00 in income from Christopher Shays' unsuccessful 2012 campaign for the U.S. Senate. Federal campaign finance reports list the Shays campaign paying Linda M. Bacchiochi (her legal name) the $27,000.00 between January 1, 2012 and July 25, 2012. She also received $2,485.85 in travel reimbursements. Bacchiochi joined Shays after a clumsy attempt to wangle a job out of Linda McMahon's campaign.
Bacchiochi's 12 page mandatory Statement of Financial Interests for 2012, filed on April 25, 2013, lists income from rent, partnership distributions, the State of Connecticut, Louis Management LLC, and her spouse's self-employment. The Shays campaign payments are not included. Each filer certifies "UNDER PENALTY OF FALSE STATEMENT, that this Annual State of Financial of Financial Interests, including the Confidential Addendum, is a complete and statement interests, as defined by Connecticut General Statutes 1-83(b)(1), for myself, my spouse, and dependent residing in my household, during the calendar year 2012."
The failure to report the 2012 campaign income will lengthen the shadow that hovers over the Bacchiochi campaign as the convention-endorsed candidate goes from blunder to blunder.
July 28, 2014 9:21 am No Comments
Friends of Elizabeth Esty are anxious about the political climate in Connecticut's 5th Congressional District. The haughty first term Democratic incumbent is seeing some startling poll numbers in her race against Republican Mark Greenberg, Daily Ructions has learned. Confirmation of the early stages of panic came this week when a Daily Ructions reader provided a hurried summary of questions from a telephone push poll aimed at Greenberg. The calls appear to be coming from California.
Esty's problem is not just Greenberg, it's incumbent Democratic Governor Dannel P. Malloy. His numbers in the 5th are endangering other Democrats. Reliably Democratic labor groups are clashing with Malloy campaign operatives. Teachers will not be moved–no matter how many bonding baubles Malloy sprinkles around the district. And then there's that federal grand jury investigating Democratic politics in Waterbury.
Here are some topics the push poll raises:
50 separate lawsuits and liens associated with Greenberg and his businesses.
 Raise property taxes by over $300 million if he gets his way and eliminates all the federal education funding that Connecticut gets.
 Signed a pledge to protect tax breaks for companies that ship jobs overseas.
 Publicly identifies himself with the extremist Tea Party movement
 Wants to privatize Social Security
 Signed a pledge to protect over $50 billion in special tax loopholes for Big Oil.
What he doesn't tell you is that his companies have defaulted on over $15 million in mortgages and loans.
 Best case against Mark Greenberg?
 1)    Out of touch
2)    Too extreme
3)    Bad for seniors and the middle class,
4)    Companies abused his tenants and engaged in abusive business practices
This will be the first time Esty has worried about property taxes. She told Cheshire seniors if they didn't like their property taxes the solution is to move.
July 25, 2014 10:26 am No Comments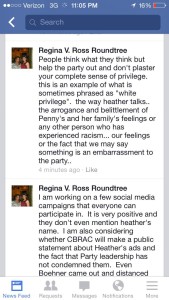 Republican lieutenant governor hopeful Penny Bacchiochi campaign aide Regina V. Ross Roundtree accuses rival candidate Heather Bond Somers of "white privilege" in a late Wednesday night Facebook post. Roundtree's startling intervention will revive debate over Bacchiochi's vicious accusations of racism against the third candidate in the race, Bridgeport Republican David Walker. Now it's Somers's turn on Bacchiochi's racism griddle.
Roundtree appears on Bacchiochi's campaign finance reports as Cogent Consultant/Regina Roundtree. She's most recently listed listed as an "Urban Outreach Consultant"
July 24, 2014 9:03 am No Comments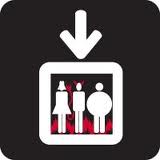 In an unsettling development for Connecticut's fragile economy, more than 100 executives and other high-paid corporate employees in the new UTC BIS subsidiary that merged iconic elevator maker Otis and air conditioning giant Carrier, both based in Farmington, are leaving for Florida, Daily Ructions has learned.
The business unit that controls North and South American operations for the Otis brand is breaking camp for West Palm Beach in a blow to the administration of Governor Dannel P. Malloy. The news will be an unwelcome development for the struggling incumbent Democrat less than four months before voters render their verdict on his first term record.
Connecticut residents will wonder what they are getting in exchange for $400 million in tax credits to United Technologies Corporation given to the Hartford-headquartered company this spring.  The highly publicized deal was meant to calm anxieties about the intentions of state's largest corporation.
July 22, 2014 3:49 pm No Comments
Shawn Wooden hobbled out of the wreckage of his $60 million publicly-financed baseball stadium fiasco. The state senate hopeful declared he is not pleased with rival Senator Eric Coleman's end of session mailing to constituents. The Democrats face each other in a sharply contested Democratic primary in a district that includes parts of Bloomfield, Hartford, and Windsor. Wooden's "done deal" baseball stadium bludgeoning has left him unable to read a short, clear state statute. The Hartford lawyer says Coleman's legislative mailing to constituents that arrived in mailboxes this week "is, at worst, illegal and violates State Election Law (sic). At best, it is an unethical, gross abuse of taxpayers' funds." Wooden, a lawyer, is wrong. Here's the statute that applies to legislators' annual mailings:
Sec. 2-15a. Annual informational mailing by General Assembly members.
 (a) Each member of the General Assembly shall be entitled to send an annual mailing to each household in such member's district, for informational purposes. The mailing shall be conducted under the supervision of the Joint Committee on Legislative Management and in accordance with rules adopted by the committee.
(b) In even-numbered years, no such mailing may be sent after July fifteenth. A member shall be deemed in compliance with this subsection if the member delivers the mailing to the offices of the Joint Committee on Legislative Management no later than said July fifteenth.
Since the mailings began arriving in district mailboxes this week, and today is July 16th, it's safe to assume that they were delivered to the Office of Legislative Management by July 15th, as the law requires. Wooden is wrong, and he must know it.
Wooden, leader of Hartford's city council, possesses a curious sense of outrage. Last year, Wooden failed to condemn the shoddy and suspect circumstances surrounding his buddy, City Treasurer Adam Cloud, and the missing $800,000 in insurance premiums that was sent to Cloud family tenant Earl O'Garro's insurance agency. Cloud's office sent the money to O'Garro's company (since shuttered) without observing the normal protocols for conducting hefty transactions like that one. The money did not find its way to the insurance companies providing coverage to Hartford. Federal criminal investigators continue to investigate.
Various Hartford officials, stewards of the public trust, failed to shine a light on the tawdry connections between Cloud and O'Garro. Wooden was one of those.
July 16, 2014 4:24 pm Comments Off
Commissioner of the state Department of Children and Families Joette Katz took issue with newspaper coverage of another disappointing report from DCF federal court monitor Raymond Mancuso. The report comes as Katz presides over an alarming increase in child fatalities, as Hartford Courant coverage reminded readers.
Katz issued a memo to DCF employees on, Thursday, July 10th. The former judge wrote, "Many of you have read the in the Hartford Courant, which can only repeat snippets of information about where are and what we are doing to serve our children and families. In my view, the article creates a distinct impression that, because of funding and staffing deficits, the Department is not fulfilling its obligations pursuant to the consent decree or, more importantly, the commitment we make to improve the lives of our families."
The Courant's Josh Kovner included this devastating "snippet" in his July 9th story:
The Courant reported on June 29 that child maltreatment deaths have surged in the last 18 months. At least 22 children died of abuse or neglect from Jan. 1, 2013, through June, and DCF had open cases with 16 of those families.
Mancuso said that Katz's emphasis on keeping kids out of institutions and in foster care or at home with their biological parents should be praised. But this approach takes a lot of effort and oversight by DCF social workers and supervisors, who are strapped.
As a result, the quality of abuse and neglect investigations, the management of cases involving needy families, and the coordination of care among multiple agencies has "regressed," Mancuso said.
A much-delayed report by the state's child advocate on 2013 child fatalities in Connecticut will further undermine Katz's crumbling reputation as a competent steward of the welfare of the state's most vulnerable children.
July 14, 2014 3:30 pm Comments Off
Groton's Heather Bond Somers, one of three Republicans seeking their party's nomination for lieutenant governor in an August 12th primary, released her first radio ad today. The former mayor shines a light on the money state Representative Penny Bacchiochi (R-Stafford) received for lobbying on behalf of legalizing medical marijuana. Bacchiochi says the $131,000 was for travel expenses, according to the ad. The narrator sounds like she does not believe that explanation.
Somers also raises the hideous racism incident that the self-described "thin skinned" Bacchiochi concocted on the eve of the May Republican nominating convention.
You can hear the radio ad here.
July 14, 2014 1:10 pm Comments Off
Daily Ructions readers have been saving screenshots of New Britain's Erin Stewart's postings in social media and are sending them for posting. Here's one from a scrubbed Twitter account that appeared two years ago.

A couple of shots from Facebook.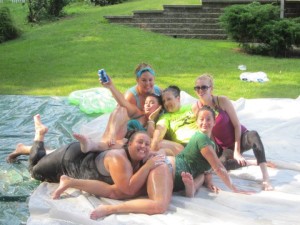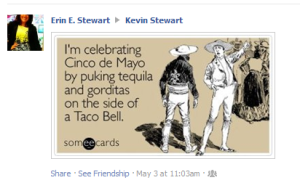 July 10, 2014 12:55 pm Comments Off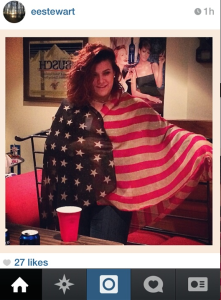 Poor New Britain. This may not be what they expected last November.
July 5, 2014 7:43 pm Comments Off