A reader who works in the private sector sends this happy, spirited video for other readers to enjoy.
December 11, 2013 3:47 pm No Comments
December 9, 2013 3:24 pm No Comments
Earl O'Garro spared no expense on his September 2012 wedding. He filed for divorce in October of this year.
December 7, 2013 3:55 pm No Comments
Where in the world is Hartford City Treasurer Adam Cloud? On November 13th, the controversial Democrat appeared as a featured member of a committee organizing a December 6th fundraising event for United States Representative Joseph Courtney.  A revised invitation was distributed by email on December 3rd. Some names were added, one was conspicuously deleted, Adam Cloud.
You know you are in trouble when loyal Democrat Courtney turns on you.
The reconstituted host committee:

John and Dawn M. Kennelly, Barbara Kennelly, George Jepsen, Pedro Segarra, Shawn Wooden, Matt Ritter, Phil Schonberger, Matt Fluery, David Kozak, Ken Przybysz, Adam Salina, Duby McDowell, and Allie J. Gamble.
Tickets for the event are $250. A brief private reception doubles the ducat price.
December 6, 2013 12:53 pm No Comments
State Senator John McKinney (R-Fairfield) has enjoyed a strong start in his quest for his party's nomination for governor. He stumbled this week with his silence on the revelation of Northeast Utilities head Thomas May's loathsome use of the Sandy Hook murders to raise money for Governor Dannel P. Malloy and state Democrats.
The tools are out there. This enduring Christmas skit from Saturday Night Live provides McKinney with advice on what a candidate needs to succeed.
Put that cocoa down!

Vezi mai multe video din haioase
December 6, 2013 8:43 am No Comments
Beleaguered Hartford insurance agent Earl O'Garro raised money for City Treasurer Adam Cloud's 2011 campaign for a full term. Campaign finance report in the Hartford City Clerk's office reveal that O'Garro donated $250 to the Committee to Elect Cloud for Treasurer on September 6, 2011. The contribution, the maximum allowed under campaign finance laws, was made by a credit/debit card and appears not to be associated with a fundraising event.
The future Mrs. O'Garro, Kendra Smith, listed as a homemaker, also donated $250 by credit/debit card on the same date. Pauline O'Garro of Enfield donated $250 by personal check on September 9th.  On the same day, Patricia O'Garro-Ellis also made a maximum contribution of $250 by personal check to Cloud's campaign. One wonders what their interest in Cloud's campaign was.
WNPR's Jeff Cohen has yet to get a an answer to an essential question: How well do Adam Cloud and Earl O'Garro know each other? Well enough to have booked in the same New York hotel room in 2012. Well enough for O'Garro and company to have contributed more than 13% of the donations Cloud collected for his campaign in the reporting period of September 2011.
The story continues.
December 3, 2013 1:45 pm No Comments
Republican state chairman Jerry Labriola has told friends and members of the Republican State Central Committee that the cupboard is bare. Labriola has failed as a fundraiser in the political hothouse. He has been unable to tap into the vein of affluence that runs through the southwest corner of the state.
Until further notice, Labriola will be paid what he is worth, nothing. Zero.
November 27, 2013 1:29 pm Comments Off
That didn't take long. Kennard Ray, Mayor Pedro Segarra's choice to serve as his deputy chief of staff, has withdrawn due to "extenuating circumstances." That's a euphemism for a startling criminal record and other troubles.
According to a 1998 Hartford Courant story, Ray and two others were arrested for possession of narcotics with intent to sell and interfering with a police officer. Police "seized 55 bags of crack cocaine and two bags of of powder cocaine." In 2004, Ray was sent to prison for criminal possession of a pistol. This year, the state Department of Labor pursued in Superior Court an unemployment compensation claim against Ray with an partially unsatisfied execution of judgment.
Segarra issued a statement on the embarrassment:
"Sadly, we must accept Mr. Kennard Ray's withdrawal for the position of Deputy Chief of Staff after learning information that was not initially disclosed. Mr. Ray is a qualified individual with solid references from former supervisors and community leaders.  However public servants, especially those in leadership positions, must be held to a higher standard."
The damaging information about Ray was not difficult to find. How could Segarra not have known?
November 27, 2013 12:21 pm Comments Off
November 25, 2013 2:43 pm Comments Off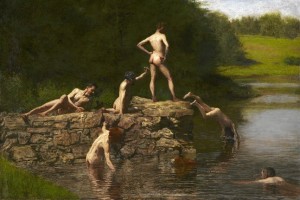 President and Mrs. Kennedy awoke fifty years this morning in Fort Worth's Hotel Texas and realized that some locals had created a private art exhibit in their suite, including a Thomas Eakins painting, "Swimming". The delighted Kennedys called Ruth Carter Johnson and thanked her before they left for Dallas.
Twelve of the 16 pieces have been gathered for show at the Amon Carter Center for American Art. The Wall Street Journal reviewed it.
November 22, 2013 8:59 am Comments Off