Mark Davis sounds like he's on to something. The Malloy administration has postponed the process of illegal immigrants obtaining Connecticut driver's licenses until….wait for it…..after the November election.
Watch the video here. Note the preposterous reference to the Affordable Care Act. One suspects texts and emails from Malloy's shadow network of private accounts would tell a different story.
August 26, 2014 12:28 pm No Comments
Tales of fresh fiascos from the annals of red light cameras. This time from New Jersey. Seventeen thousand drivers were not informed they'd been ensnared in the lucrative private-public scheme. The tickets have been thrown out.
Anti-red light camera leader Assemblyman Declan O'Scanlon says the mass errors ought to be enough to let the program end later this year. This development in the Redflex-Chicago corruption investigation ought to serve as another cautionary tale:
The news of the glitch comes just days after the former CEO of Redflex — New Jersey's other red light camera operator — was indicted on federal corruption charges for allegedly bribing Chicago officials to help the company win contracts in the city. That came months after a fired executive from the Phoenix-based company claimed that the company paid bribes and gave gifts to government officials in 13 states – including New Jersey.
State Sen. Michael Doherty (R-Warren) on Wednesday called for the state Attorney General to investigate whether the company bribed any New Jersey officials.
Daily Ructions readers may recall that red light camera pirates and their government conspirators tried inflict their gambit on Connecticut drivers.
August 22, 2014 9:09 am No Comments
Appearing today on a screen in your home or hand.
August 18, 2014 6:14 pm Comments Off
State Senate Democrats' chief of staff Derek Slap will become a vice president at the murky University of Connecticut Foundation. Slap's new job begins September 2nd. The Democratic operative has been with the Senate Democrats for seven years. He departs only a few months before retiring caucus leader Donald Williams (who also tried to get a job in higher education) leaves the legislature.
Slap will oversee "external relations" for the foundation. That job will largely entail keeping state officials and the public from getting a close view of what goes on in the organization. Though it received millions in public funds each year, the foundation is not subject to freedom of information laws or oversight by the state's auditors. An August 1st email foundation head Josh Newton to foundation employees, its board of directors, and UConn's "President's Cabinet", lays it on thick. Newton writes of Slap, who can be abrasive, "He is dynamic, energetic, extremely focused and will be a great fit into our organization's culture." What a nationwide search to fill the job it must have been. Newton told recipients of his message that Slap is an expert in crisis communications. Translation: blocking any bits of sunlight that might make their way into the foundation's operation.
Slap is not expected to be the only Democratic state official to land in UConn land. Watch for at least one high ranking Malloy official to snag a big job at the university before the first snow falls. A job at UConn is not subject to the same public integrity protections against political hires that apply to the rest of state government. A new governor would not have the same authority to undo late term (after a November defeat, for example) appointments at UConn that he would have over the state bureaucracy.
August 18, 2014 2:49 pm Comments Off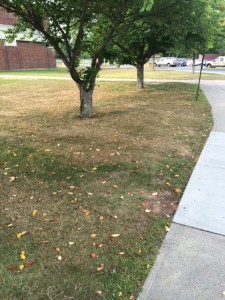 Good morning on a sleepy primary day in Connecticut. I vote in South Windsor, a town with two well-organized, competitive party operations. Only the Republicans have a primary here today. Last year year's first ever Republican primary for town council drew nearly 33% of the local faithful to the polls. This morning at about 9:30 a.m.,  5.73% of registered Republicans had voted in the contests for governor, lieutenant governor and comptroller. That includes 52 absentee ballots.
Linda McMahon's formidable primary organization drove turnout in the 2010 and 2012 primaries, especially in absentee ballots. It's difficult for a candidate for statewide office to mount a proper effort with $1.4 million in the public funds.
The path to the 75 ft. marker is normally festooned with a forest of signs, even on a special referendum. A forlorn sight awaited voters this morning.
A low turnout can be lethal for frontrunners or provide a day of false hope for their challengers.
UPDATE: At 4:30 p.m., 15% of South Windsor Republicans had voted in person or by absentee.
August 12, 2014 9:51 am Comments Off
Spirited Republican lieutenant governor hopeful Heather Bond Somers is out with a robo call drawing attention to rival David Walker's chummy relationship with former governor and former United States Senator Lowell Palmer Walker  Weicker. The call, recorded by Somers supporter Tom Scott suggests a "pal" of the father of the state income tax ("like putting gas on a fire" LPW as 1990 candidate) is not the best choice lieutenant governor on this year's Republican ticket. Scott reminds listeners that it was a lieutenant governor who cast the crucial vote to enact the income tax in August 1991.
Scott has been a prominent supporter of Republican gubernatorial candidate Tom Foley. The Scott call sends a message to Foley primary voters that has been percolating among activists for several weeks. Somers is the safe choice for running mate in the fall battle against Democrats Dannel P. Malloy and Nancy Wyman.
Somers has also pointed out that Walker has not been been a Republican for long.
Republicans vote Tuesday.
Here's the call:
August 10, 2014 1:37 pm Comments Off
Republican nominee for state treasurer Tim Herbst wants to debate incumbent Democrat Denise Nappier five times this fall. Herbst issued the challenge today.
One debate would probably make his point. Five could become a hit fall reality series.
August 8, 2014 9:22 am Comments Off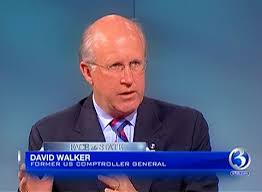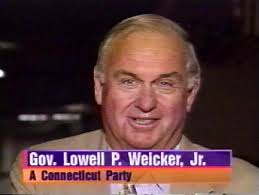 Full marks to Republican lieutenant  governor hopeful Heather Bond Somers raising rival David Walker's ties to former governor Lowell P. Weicker in the Republican-bashing industry that have been filling many of Weicker's public pronouncements since he lost his U.S. Senate seat in 1988.
Read about Walker and Weicker in this 2011 Connecticut Post account of a "summit on fiscal accountability." The event featured Weicker and U.S. Senator Joseph Lieberman.
Here are two excerpts of note:
"Like the event's two headliners, Walker is also a party cast-off. He left the GOP to become an independent 14 years ago." (That would have been 1997, an odd year to decide to leave the GOP.) 
"Weicker delivered a blistering commentary on the state of Connecticut Republican Party at the event, calling the party a 'non-entity'. 'The Connecticut Republican Party mirrors itself after the national Republican Party. Forget it. It doesn't sell in Connecticut,' Weicker, the former first selectman of Greenwich, said in an interview."
Republicans pick their nominees in an August 12th primary.
August 7, 2014 9:54 am Comments Off
Governor Dannel P. Malloy and Lieutenant Governor Nancy Wyman issued a statement late this afternoon on the death of former Ronald Reagan press secretary and control advocate James Brady.
The joint statement included this quote from the duo:
"Jim Brady was a tireless public servant and we owe him a debt of gratitude for his efforts to reduce the scourge of gun violence in America. There was a time when Washington worked in a meaningful way to enact common sense gun violence prevention laws. That was due in no small measure to the efforts of James Brady and his wife, Sarah. To his family, friends, and colleagues, we extend our condolences."
Wyman must be hoping memories in Connecticut have faded. When Jim and Sarah Brady came to Connecticut in 1993 to persuade legislators to support an assault weapons bill, Wyman, serving her 4th term in the House, refused to be moved by their common sense arguments. When she had chance to join the bipartisan coalition for the bill, Nancy Wyman chose to support the coalition opposing the gun violence prevention law.
Politics mattered more to Wyman that public policy. Even noble Jim Brady, confined to a wheelchair and struggling to speak, could not move Nancy Wyman.
August 4, 2014 8:23 pm Comments Off
Republican lieutenant governor hopeful Penny Bacchiochi has tripped again. The Stafford state representative has been criticizing rival Heather Bond Somers for state job training money for the biomedical company in which she was a partner. Turns out Bacchiochi has a taste for public funding. The accident-prone candidate advertises it on her property management company's website.
From the home page of Bacchiochi's Louis Management, LLC:
" The majority of our apartments are financed by the United States Dept. of Agriculture's Rural Development Housing Program – and some of these units come with Rental Assistance. (Rent is based on income)."
Don't be surprised if Bacchiochi gets pressed to reveal some details that conflict with her condemnation of "corporate welfare."
The Republican primary is on August 12th.
August 4, 2014 1:12 pm Comments Off