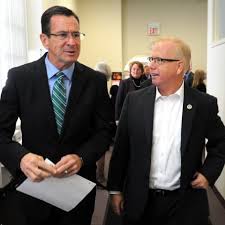 Danbury Republican Mark Boughton has issued a call for Republicans to unify behind loathsome demagogue Donald Trump. Boughton, who unsuccessfully sought the Republican nomination for governor in 2010 and 2014, made a memorable public appearance with Democrat Dannel P. Malloy a few days before Malloy won a second term in 2014. Loyalty has at least two faces.
April 28, 2016 8:59 am Comments Off on Mark Boughton Calls for Party Loyalty–This Year.

House Minority Leader Themis Klarides (R-Derby) discovered her tipping point for supporting loathsome demagogue Donald Trump in Tuesday's Republican primary. Klarides, according to the Hartford Courant, was "partly swayed by distaste for a deal that Cruz and Kasich cut over the weekend to try and block Trump's path to the nomination." Her fleeting disdain for a deal between rivals was too much. She decided she'd support the candidate who wants to punish women who have abortions. She had perviously criticized the real estate developer for his treatment of women.
The Klarides doctrine won't stand. Capitol observers continue to note how close Klarides has become to her opposite number, House Majority Leader Joseph Aresimowicz (D-Berlin). The Derby Republican and Berlin Democrat raised eyebrows when a photograph of them together appeared as Aresimowicz's profile picture on his Facebook page. The public display of the alliance raised further concerns among Republican troops and officers that at least one Democrat has a line into a source useful information about GOP intentions that gets shared with him long before the House Republican.
April 27, 2016 2:48 pm Comments Off on Klarides Condemns Consorting.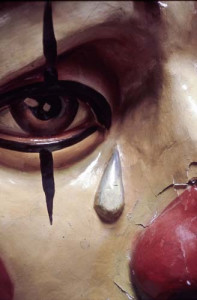 Nix tears from the list of negotiating tools available to Senate Democrats to heave a budget across the finish line before the legislature adjourns on May 4th. The tears, nevertheless, have been flowing. On Monday, a gaggle of Senate Democrats let their leaders know that they were not onboard with a new proposal to close the gaps that keep appearing in spending plans as revenue reports disappoint.
The leaders need 18 votes and Democratic Lieutenant Governor Nancy Wyman as a tie breaker to get a budget through the upper chamber. The challenge is corralling those 18 votes for a tough budget that Governor Dannel P. Malloy will not veto. That's not one of the alternatives. Some Democrats are resisting going on record for a budget that makes cuts that will not be in the final version of whatever the legislature manages to cobble together fixes to next year's ballooning deficit.
Enough Senate Democrats at Monday's caucus refused to be stampeded into a vote that leaders had to cancel their trip to Malloy's office to let him know they were ready to vote. Confused negotiations continue.
April 27, 2016 10:54 am Comments Off on Tears Not Moving Senate Democrats.
Not a good day for 5th CD hopefuls and Newtown Republicans Matt Maxwell and Bill Stevens. Their 10-member hometown delegation to the congressional nominating convention will support Sherman First Selectman Clay Cope.
Maxwell and Stevens have struggled to raise money and snag delegates in the contest to face incumbent Democrat Elizabeth Esty. The Newtown rebuff won't help the two ambitious locals. Cope has raised more than both and appears to be on course for a decisive first ballot win when delegates meet in May to select a nominee.
Credit popular Newtown First Selectwoman Pat Llodra with vouching for Cope's virtues as a candidate and local leader.
April 27, 2016 8:07 am Comments Off on Cope Sweeps Newtown Delegation, Hometown Candidates Suffer Embarrassing Shutout.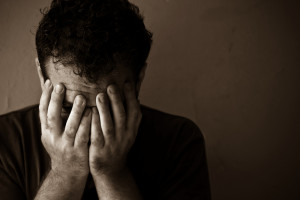 There are no pleasing choices on today's Connecticut primary ballot. Nevertheless, you must do your duty and hope for better times.
April 26, 2016 1:02 pm No Comments
Befuddled House Minority Leader Themis Klarides (R-Derby) is skedaddling away from her ill-considered appearance at Donald Trumps Saturday appearance in Bridgeport. Klarides says her speech to the gathering was not an endorsement. Speakers at a presidential candidate's rally are rarely neutral. Klarides descended into a riff to stir the mob by referring to their "hatred" of surly Governor Dannel P. Malloy, reminiscent of the Democrat's ugly comments about Republican Linda McMahon.
Klarides remained at the rally to meet the candidate she appears to be supporting, as these photos reveal. She may have been first in line–after Trump's private meeting with felonious Bridgeport Mayor Joseph Ganim.
April 25, 2016 1:52 pm Comments Off on Klarides Casts Her Lot With Trump–Vote Still in Doubt.
Tom (#HeThrewItAway) Foley is making calls to Connecticut Republicans to see if state party committee members might toss his wife Leslie enough votes for her to defeat Leora Levy in a contest for the Republican National Committee seat being vacated by veteran Pat Longo. The initial calls are being received with considerable surprise. Leslie Foley has not been considered a stalwart party booster. Levy, on the other hand, is a tireless fundraiser and party booster.
Levy was a key fundraiser in 2014 when Foley, who had disparaged the public financing of campaigns, signed on for millions from taxpayers to pay for his second unsuccessful campaign for governor. Foley disappeared from Connecticut Republican politics after his second, wider defeat by unpopular incumbent Democrat Dannel P. Malloy.
No word on a challenger to incumbent John Frey. If there is to be a contest for one seat, ambitious Republicans may decide it's a good time to add a more effective member to the second Connecticut position on the RNC.
April 13, 2016 1:02 pm Comments Off on Tom Foley Making Calls to Test Support for Wife's Bid for RNC.
Republican stalwart Pat Longo will not not seek another term as Connecticut's Republican National Committeewoman. The Wilton Republican has served in party positions since 1961. She was elected to the RNC in 2007, after 14 years as the state party's vice chair. In 2004, Longo made a brave run for the RNC against a crumbling Rowland administration favorite while many others were silent–or worse–in the face of corruption.
Greenwich Republican fundraiser Leora Levy, a Ted Cruz supporter, is expected to make a bid for The beloved Longo's seat.
April 12, 2016 8:32 pm Comments Off on Pat Longo to Exit Republican National Committee–Stage Right.
Vietnam conscientious objector turned Iraq warrior Christopher Shays accompanied presidential hopeful John Kasich on Friday at a campaign stop in Fairfield, Connecticut. The Sacred Heart University event included testimony from Parson Shays on Kasich's faith. Kasich has developed the unhappy habit of equating public policy stands on earth with one's odds of gaining admission to Glory, Glory, Glory after departing this funny ol' world.
Kasich, a former Lehman Brothers bigwig who cashed in on his government service, won a resounding second term as governor of Ohio in 2014. Shays has not won an election since 2006. He received 27% of the vote in a thrashing by party favorite Linda McMahon in their 2012 U.S. Senate primary.
Reverend Kasich leads the Democratic presidential prospects in most polls, even besting them in some reliably Democratic states. He's having the devil's own time among Republicans, having won only his home state. Connecticut's April 26th primary ought to be a promising contest for a minor Kasich breakthrough–unless Marylander and former U.S. Representative Shays becomes the whining voice of his state campaign.
As a member of Congress, Shays was a persistent antagonist to free speech.
April 8, 2016 3:27 pm Comments Off on Parson Shays Introduces Reverend Kasich on Connecticut Primary Swing.
Connecticut Republican operative Justin Clark is the state director of misogynist Donald Trump's campaign in the run-up to the April 26th primary. The closed primary will allocate 28 delegates to the Republican convention.
Clark, a West Hartford Republican, has plenty of experience working for wealthy candidates who think they know everything. He was the campaign manager for Tom (#HeThrewItAway) Foley's 2010 and 2014 losing gubernatorial bids. Clark had been working on Governor Chris Christie's presidential bid before it ended in New Hampshire and on the George Washington Bridge.
April 6, 2016 11:15 am Comments Off on Justin Clark Heading Demagogue's Connecticut Primary Campaign.