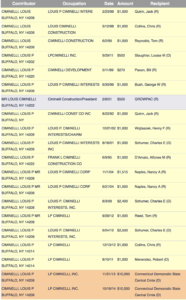 Louis Ciminelli, defendant in a New York corruption investigation, had a curious history of political contributions. Yesterday's indictment contains details of what Ciminelli gave for access to New York Governor Andrew Cuomo. His history of federal contributions, however, is far more modest–until his company joined the development team picked in 2013 to build the Stamford transportation center.
The screenshot from OpenSecrets.org tells the story.
September 23, 2016 9:16 am Comments Off on Screenshot Tells a Tale of Ciminelli Giving to CT Democrats' Federal Fund.
This does not look good. Buffalo developer Louis Ciminelli is among those indicted today in a sweeping New York bribery scandal. Ciminelli has been a prolific contributor to New York political candidates. In 2013 and 2014, Ciminelli became a generous contributor to the Connecticut Democrats' federal fundraising account. That's the one ensnared in a criminal investigation of Governor Dannel P. Malloy's 2014 re-eleciton campaign finances.
Ciminelli contributed $10,000 to the Connecticut account in 2013 and another $10,000 in the fall of 2014, according to OpenSecrets.org.
Ann Ciminelli, a Buffalo homemaker, donated $10,000 November 21, 2013. Paul Ciminelli donated $2,500 in December of that year and followed it with $10,000 on October 16, 2014, a busy day for the Ciminellis and Connecticut Democrats.
September 22, 2016 10:29 am Comments Off on Indicted Louis Ciminelli Gave $20,000 to Connecticut Democratic Federal Fund. Family Members Gave More.
Former Connecticut Democratic party finance chairman Peter Galbraith "Braith" Kelly has been indicted in a growing New York bribery scandal. Kelly is the son of prominent Connecticut Democrat Peter "I am not a hack" Kelly.
September 22, 2016 9:56 am Comments Off on Braith Kelly Indicted in New York Corruption Scandal.
The Wall Street Journal reports that corruption-busting U.S. Attorney Preet Bharara today may unseal indictments his investigation of the Buffalo Billion economic development program and other government actions. Indictments are expected to target a former aide to Governor Andrew Cuomo, Joseph Percoco, and others.
Also mentioned in reports on the bribery investigation have been active Connecticut Democrats Galbraith Kelly and his factotum, Chris Pitts.
At least one entity immersed in the Buffalo Billion program has ties to the political operation of Governor Dannel P. Malloy, whose 2014 re-election campaign finances are the subject of a busy federal grand jury investigation.
UPDATE: The Times-Union has more.
September 22, 2016 9:45 am Comments Off on Splatter Alert: Connecticut Will Want to Keep an Eye on New York Today. Nine to Be Indicted.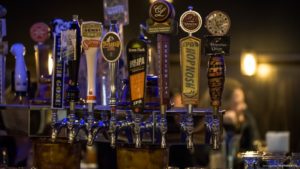 It's the only explanation. Trumbull First Selectman Tim Herbst must have been texting from one of his favorite watering holes, The Sitting Duck Tavern (Now in Trumbull!). Maybe it was late at night, maybe not. It has not gone well. Herbst's nutty feud with beleaguered Democratic Enfield state Representative David Alexander, who seems like a bit of a whiner himself, has taken attention away from Republicans who are on the ballot this fall. Herbst has further revealed himself as an undisciplined loon, given to impulsive outbursts.
The Herbst-Alexander hostilities date to their years as rivals in Trinity College campus politics. (The college must be so proud.) Alexander has had two well-publicized drunk driving arrests while serving the people of Enfield. Herbst thought this would be an appropriate time to even a score and make an intervention. It was not. Herbst's Clint Eastwood-themed text–featuring, of course, a gun–caused Alexander, who must be a fragile sort, to feel unsafe. Alexander called the Capitol State Police to report his fear. Curiously, he did not call the nearby Enfield police. Someone from the Capitol State called Herbst and told him to knock it off. The rising-star-to-shooting-star says he will cease and desist. Weiner Herbst says it was a mistake. The 2014 Republican candidate for state treasurer meant to send the clip to a different Trinity classmate.
Herbst has mocked Alexander about being unprepared for "the big leagues". What would he know of such a place?
Herbst, who was re-elected Trumbull's first selection last November by a tiny 357 vote margin out of more than 11,000 cast, works on a wide spectrum of outrage for criminal conduct. He's in a twist over Alexander's drunk driving arrests but has emerged as a supporter of Bridgeport mayor Joseph Ganim, who was sentenced to nine years in prison for public corruption.
September 21, 2016 12:51 pm Comments Off on Dispatches From The Sitting Duck Tavern. Herbst is a Loon.
Talk about mixed signals. The Connecticut Business and Industry Association (CBIA) released its list of endorsements Tuesday. Most of the candidates receiving the insurance agency's nod are Republicans. The association has committed $400,000 to boosting Republican prospects in November 8th's legislative contests.
One of the races CBIA gave a pass to is a puzzlement. The 73rd House race features finance committee co-chair Jeff Berger against popular Waterbury alderman Steve Giacomi. The legislature's finance committee is where those tax increases CBIA now complains about originate. One efficient way to send a message is to oppose the chairman of a committee where much of the damaging legislation–the state's two biggest tax increases–have taken shape since 2011. CBIA, however, often has conflicting interests which keep it from acting in its members best interests.
September 21, 2016 9:43 am Comments Off on More News From Vichy: CBIA Silent on Berger Race.
You may remember Evan Debelle from his relentless self-advertisements while he was president of Trinity College in the 1990s. Dobelle put Eddie Perez on his Trinity team. He also promoted himself as a potential governor of Connecticut. Dan Papermaster performed a public service when he prevented Dobelle from hijacking the 1996 vice presidential debate when it was held in Hartford.
Dobelle went on to an abbreviated tenure at the University of Hawaii and eventually came to a humiliating end in academia in 2013 when he skedaddled out the door at Westfield State University in Massachusetts in a remarkably tawdry tale.
Now here he is again. This time on the leadership of Countable–something Massachusetts officials had trouble doing when reviewing Debelle's expenses at Westfield. It has something to do with advocacy widgets. What's notable is how much Debelle's leadership profile leaves out. The veracity of it would depend what you mean by "distinguished".
Evan Dobelle

 SVP, Managing Director / Washington Office

Evan has had a distinguished career in higher education as President of 5 different colleges and universities. He had been a two term Mayor of his hometown of Pittsfield, Massachusetts before going to Washington where he served President Carter as Chief of Protocol of the White House, National Treasurer of the DNC and then National Chair of the 1980 Carter / Mondale campaign. He comes to us from Gensler where he was Director of Consulting for Education, Arts and Culture for the worlds largest architecture and design firm.
This 2015 story from the Boston Globe, which uncovered Debelle's dubious doings at Westfield, summarizes the saga. It notes that Dobelle is banned from working or volunteering at any public institution of higher learning in Massachusetts.
September 12, 2016 12:22 pm Comments Off on Evan Dobelle Returns With the Briefest of Biographies.
The scrap over control of the Independent Party line and the endorsements that accompany it makes a brief return to Superior Court today. The parties, unable to reach a permanent resolution to their disputes of law and personalities, are asking that the original 2014 matter be reopened.
You can see the case detail here and the latest motion here.
If the matter between warring Waterbury and Danbury clans is not resolved soon, neither Hatfields nor McCoys may appear on the party line in November.
September 12, 2016 10:13 am Comments Off on Interminable Fight Over Who Controls Independent Party Ballot Line Returns to Court Today.
Wendy Lecker, Hearst newspaper columnist and CCJEF member, is among the plaintiffs beginning to understand the implications of the cruel education funding decision that opens a war on the disabled. Expect to see more of this.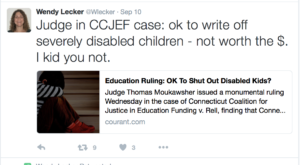 September 12, 2016 9:35 am Comments Off on CCJEF Plaintiff Starts to Understand Cruel Court Decision.
The Connecticut Association of Public School Superintendents (CAPSS) is having some second thoughts about the plaintiff association's victory whoops in Wednesday's education funding decision. Joseph J. Cirasuolo, Ed.D. (they do love their suffixes in education), executive director of CAPSS, sent a worried memo to members on Thursday. It does not set forth the talking points of winners. It is the first stirrings of an organization that realizes its claims do not match reality. The poor wretches must have spent Wednesday night slogging through the sloppy decision searching for an island of thought in that sea of musings and nonsense. They did not like what they found.
Winning plaintiffs do not appeal. Yet there it is in the memo below. There has been no order for what the plaintiffs wanted: billions more money. An appeal may be required to because "some of the judge's apparent rulings go beyond the scope of the case before him."  And there's no $2 billion a year.
There is also this: "An apparent ruling that would require the State not to program for children whose special needs are so severe that education cannot materially influence the quality of their lives." The superintendents and their fellow plaintiffs must be wondering what they have wrought. Under the equivalent of an education eugenics order, their future may be with conferences on "How to Deny Disabled Students an Education". Don't expect many to put that on their resumes. With Wednesday's victory whoops and preposterous declarations of virtue fading, this may be their lasting legacy.
Expect more plaintiffs to start contemplating what "victory" means.
Sent: Thursday, September 08, 2016 11:58 AM
Subject: CCJEF Decision
9/8/16

As I'm sure you know by now, the judge in the CCJEF Trial announced his decision yesterday.  He did so in an opinion that is approximately 250 pages long and that took him over two hours to read, word by word, from the bench.
CAPSS staff with assistance from attorneys and the staff of the lobbying firm that CAPSS has retained will examine the opinion in detail.  At this point, however, it seems apparent that the decision has the following major components.

1.      A ruling that it is NOT UNCONSTITUTIONAL for the state to have a public education financing system that is NOT based on the amount of money it takes to provide every child equitable access to an adequate educational program.  CCJEF argues that such a system is unconstitutional and the judge seemed to disagree with this argument.

2.      A ruling that the present system for funding public education in CT is unconstitutional because it is irrational.  The judge gave the State 180 days to submit to the plaintiffs in the case a system that is rational.

3.      An apparent ruling that the State has to develop a system for requiring students to actually demonstrate that they have mastered specified content and skills before being awarded a high school diploma and a requirement that there be an State graduation exit exam established for this purpose.

4.      An apparent ruling that TEVAL be revamped so that compensation is based on the results of TEVAL.

5.      An apparent ruling that would require the State not to program for children whose special needs are so severe that education cannot materially influence the quality of their lives.

These components were articulated in a context in which the judge expressed his opinions on a number of educational matters.

It is difficult to predict accurately at this time what will happen next for the following reasons.

First of all, we will have to learn whether either party in the case will appeal any aspect of the decision.  A portion of the appeal may well be based on a contention that some of the judge's apparent rulings go beyond the scope of the case before him.

Second, we will have to determine what aspects of rulings will serve as supporters of CAPSS public policy objectives such as the implementation of mastery-based personalized learning and which are contrary to CAPSS positions such as the imposition of a requirement that all students pass a high school exit exam before being allowed to graduate from high school.

As these and other considerations unfold, I will keep you informed.

If you have questions in the meantime, please get back to me.

Joseph J. Cirasuolo, Ed.D.
Executive Director
CT. Association of Public School Superintendents (CAPSS)
September 9, 2016 9:20 am Comments Off on Do the Winners Appeal? Plaintiff Superintendents Falter in Education Funding Victory Dance.