State Senator Joe Markley (R-Southington) is preparing to launch a 2018 candidate committee for lieutenant governor, Daily Ructions has learned. Markley is serving his fifth term in the state Senate. He was elected for one term in the 1984 Reagan landslide, was defeated in 1986, and reclaimed the seat in 2010.
Markley is among the most conservative members of the legislature. He tested his statewide reach in the 2015 competition for chairman of the Republican state party organization and withdrew after coming in third on the first ballot.
A Markley bid for higher office would put his Senate seat in play. It leans Republican but has elected Democrats, notable U.S. Senator Christopher Murphy in 2002.
March 23, 2017 11:41 am Comments Off on Eye on Markley as State Senator Gets Ready to Run for Lieutenant Governor.
The fever is growing worse in East Windsor. First Selectman Robert Maynard, a Republican, has blocked former U.S. Representative Robert Steele, a vocal opponent of casino gaming, from speaking at the local senior center. The request for Steele to speak was made by anti-casino activist John Dunn, of Windsor.
Maynard confirmed his refusal to allow Steele to speak in an email Thursday morning, He wrote, "I did talk to John Dunn yesterday.  I told him I would not approve a program for Mr. Steele at the Senior Center.  As our conversation progressed, it became apparent he had his own agenda and did not care about our seniors or East Windsor."
On Wednesday, Dunn described a call with Maynard in an email to fellow casino opponents:
All, I received a call back from Robert Maynard this morning. He will not allow Bob Steele to speak there, based upon the information in his book "The Curse:….."  and anti-casino presentation. The reason he gave is that this presentation / talk could upset the Seniors attending.

He gave an example that last year there was a speaker where a 99 yr. old woman attended, she died soon afterwards just before reaching her 100th birthday.
East Windsor leaders are losing their way, damaging themselves and their community in their pursuit of a casino. Let every voice be heard. If the proposal has the support of the people its supporters have nothing to fear from a rigorous discussion.
March 23, 2017 11:01 am Comments Off on Casino Madness. EW First Selectman Blocks Steele From Speaking at Senior Center.
Jonathan Harris, the commissioner of the Department of Consumer Protection, is preparing to leave his post in state government. Harris has been sniffing around Hartford for a job as a lawyer while he prepares to launch a bid for, incredibly, governor of Connecticut, Daily Ructions can report.
Harris, a Democrat, served as mayor of West Hartford before he was elected to the state Senate. He gave up his seat in the legislature to run for secretary of the state in 2010. He failed to win his party's nomination at its state convention. Harris served briefly in the perpetual battlefield that is State Treasurer Denise Nappier's office before becoming executive directive of the state Democratic party organization. He served in that full-time position during Governor Dannel P. Malloy's 2014 re-eelection campaign. The party is paying more than $300,000 the State Elections Enforcement Commission to keep secret campaign emails sent among Harris, Malloy and Malloy insiders. Malloy appointed Harris to head the consumer protection shortly after the governor was re-elected.
Harris will join a field that may include Middletown mayor Dan Drew, state Senator Ted Kennedy, and State Comptroller Kevin Lembo. Harris expects to run as a sensible liberal in a field of near-socialists.
Malloy is pondering whether to seek a third term  in the face of public and private polls that show his approval ratings in the low 20s–or worse. Democrats are starting to believe that Malloy would have trouble winning a two candidate contest in a primary for the state's top job.
March 22, 2017 4:32 pm Comments Off on Harris Prepares to Make Move for 2018.
Westport Republican Steve Obsitnik is exploring a run for office in Connecticut. He's put up a website and it includes the tale of the Navy veteran's career. Obsitnik has enjoyed a successful career in technology, which would allow him to bring a 21st century perspective to an office to be named later.
March 20, 2017 3:34 pm Comments Off on Now for Something Completely Different: Steve Obsitnik Has a Story to Tell.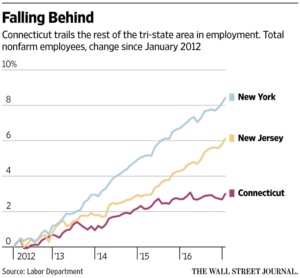 The Wall Street Journal takes a look at Connecticut's dismal record of job growth during the Malloy years. The governor's spokesperson insists he is doing everything he can, which is another way of saying nothing at all The article suggests there is worse to come.
March 20, 2017 3:15 pm No Comments
Don't miss this 60 Minutes story about corporate abuse of H-1B visas and cruel treatment of American workers. In the case of Eversource, which plays an welcome starring role in the segment, it sounds like it was harsh to American workers in favor of cheaper labor from India.
It's the first story in the program and was heavily promoted during March Madness games.
Eversource, readers will recall, was a vigorous supporter of Dannel P.Malloy's re-election campaign. As NU, it was the main contributor to a slush fund/PAC for Christopher Murphy.
March 20, 2017 2:50 pm Comments Off on 60 Minutes Includes Eversource in Story on Abuse of H-1B Visas and American Employees.
The Public Safety and Security Committee meets today at noon today to decide whether to risk hundreds of millions of dollars in slot machine revenue by authorizing Connecticut's first state licensed casino.
Here's the agenda. Two casino bills provide bookends for the twenty bills the committee will consider today. Both are expected to receive favorable reports–legislative language for moving out of committee to their next stop in the complex process of how a bill becomes law–or doesn't.
The proposal to authorize the two tribes that operate casinos under the federal Indian Gaming Act is expected to be defeated during this session of the legislature after weeks more of talk, advertisements, warnings, and recriminations.
March 15, 2017 10:01 am Comments Off on Public Safety and Security Committee to Vote Today on Casino Bill.
The Mohegans want competition for new casinos in Massachusetts but not Connecticut. The Connecticut-based tribe is suing the Massachusetts Gaming Commission over its decision to deny the Mohegans a license to build a casino in Revere. That regional license under the 2011 Massachusetts law to legalize and regulate casino gambling went to Wynn Resorts and its Everett proposal.
The Mohegans Friday won a Supreme Judicial Court decision which remanded the Mohegan claim that it was unfairly treated by the commission in the licensing process. The tribe claims the Massachusetts process was secretive and unfair. The Mohegans and the Mahantucket Pequots are seeking a license to engage in the joint operation of a casino in East Windsor, Connecticut. No other gaming operations were allowed to submit proposals for that far-off-reservation property.
The tribes have raised concerns about the impact of Massachusetts casinos on their southeastern Connecticut operations, particularly one being built by MGM in Springfield.
The Mohegans have not provided estimates on the cost to Connecticut jobs and revenues their Everett proposal would have on their native state.
March 13, 2017 9:44 am Comments Off on Mohegans Continue Fight to Take Connecticut Jobs. Tribe Still Pursuing Revere Casino.
Look at the CT Mirror's piece on the narrow confirmation of Justice Richard Palmer for a startling example of advocacy dressed up as reporting. Palmer squeaked through the Senate Wednesday for a fourth term on the state's high court on a 19-16 vote, with two Republicans voting with 17 Democrats to save the controversial justice's nomination.
One telling sentence in the piece includes a reference to Palmer's ugly footnote 69 accusation in the 2015 Richard Lapointe decision that Justice Carmen Espinoza had brought "dishonor" on the court. Mirror reporter Mark Pazniokas wrote, "Sen. Len Fasano, R-North Haven, the Senate GOP leader, said his vote against Palmer was meant as a rebuke of what he saw as the unseemly criticisms of each other by Palmer and Justice Carmen Espinosa in an exchange intitiated by Espinosa in the death penalty [sic] case." (Emphasis added.) No one produced the original Palmer footnote, not the one that appeared in the final opinion. The original Palmer footnote would have shed light on his unseemly attack on Espinoza and might have undermined his bid to end his career telling the citizens of Connecticut what are our standards of decency for next four years. It was not released to the public.
The Mirror piece also contends that Republicans were "second-guessing" court opinions. That sounds like a haughty pejorative, suggesting that judicial renominations do not entitle the legislature to review the body of a nominee's work.  Imagine the reaction if John Kissel and Craig Miner, the two Republican senators who joined with 17 Democrats to heave Palmer across the finish line, had not used International Women's Day to ignore Palmer's startling attack on Espinoza.
Note: Palmer is a member of the board of directors of the Hartford Foundation for Public Giving, a CT Mirror sponsor.
March 9, 2017 12:51 pm Comments Off on The Mirror Crack'd Over 4th Term for Palmer.


Every couple of years a Chatterbox comes from behind. Today's Chatterbox win reminds us that electing more Republicans to the legislature may produce no important changes. There is only one party in the Capitol Village.
March 8, 2017 3:27 pm Comments Off on A Horse Race and a Lesson from the Capitol.