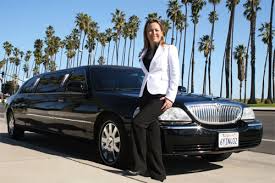 House Republicans will hold a caucus on Thursday to select a new leader. Before they cast their secret ballots, new and returning members will want to confirm from the incumbent team seeking promotion that more than $22,000 in legal fees paid by campaign committees produced all the documents federal law enforcement officials requested. It's easy to misplace a receipt for, say a limousine ride in sunny Florida, but it's impossible to provide one if the swank service was paid for by someone else.
Some members are beginning to understand that it is better to get answers to probing questions now than to allow unhappy events to force a second leadership vote next year.

Republican candidate for attorney general Kie Westby may wish he had remained obscure. Party leaders are fuming that after helping the Thomaston lawyer qualify for public campaign funds this month, Westby handed $285,000 to campaign manager Ronald Wilcox. The expenditure is likely to prompt questions in other circles after Westby takes a thumping Tuesday from incumbent Democrat George Jepsen.
Westby's October 30th filing includes the hefty payment to Wilcox. His previous filing does not include it as an expense incurred not paid. Wilcox appears to have been receiving $1,000 a month from Westby as a consultant until the public financing bonanza arrived in October. That suggests Wilcox was making nearly $100,000 a month in August, September and October, a hefty boost from his previous compensation. The deal is likely to attract the attention of the state's election enforcement agency. Payments of public funds by a campaign are expected to have some relationship to the work performed.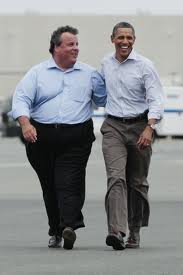 Danbury mayor and bitter Republican two-time gubernatorial hopeful Mark Boughton will join Democratic Governor Dannel P. Malloy this morning in an announcement in the Hat City. Malloy has been appearing in Connecticut cities this week dropping millions into cities and towns in an expensive tour of the state. In Groton, Malloy larded prosperous General Dynamics with $10 million to buy property from Pfizer, another company that enjoys billions in profits.
Boughton, the 2010 Republican nominee for lieutenant governor, abandoned his bid for the Republican nomination for governor this year when his second running mate of the campaign failed to qualify for the August primary ballot.
Boughton's relationship with his former running mates–Foley in 2010 and Heather Bond Somers this year–is frosty on its best day.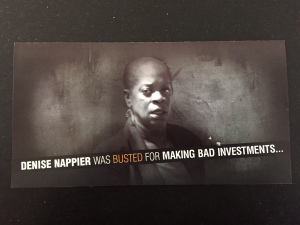 Republican state treasurer hopeful Tim Herbst has edged closer with this attack mailer to blurting out what insiders in both parties have been commiserating about for years. Incumbent Democrat Denise Nappier might regret dragging Herbst's father into the campaign. These things escalate.
Pity the Democratic operatives on Nappier watch today. They are earning whatever the are making on this one.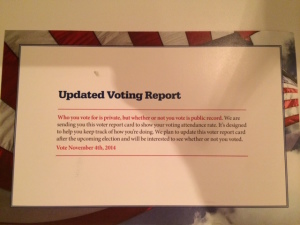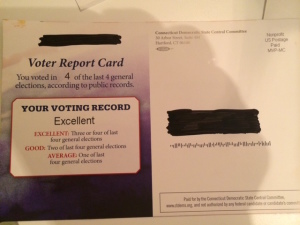 Democrats are receiving a startling piece of mail that makes clear they are being watched—and graded. The party appears to have abandoned persuasion for menace as it struggles to make it across Tuesday's finish line.
Republican wags will be wondering if "Bruce Kern" received one of these report cards. To whom was it sent? He's the odd-eyed boorish everyman featured in a Forward Connecticut ad complaining about Republican Tom Foley's "background." One thing is certain, that ad was not recorded at Electric Boat.

Hillary Clinton blotted her copy the other day when she announced–without provocation, it seemed–that businesses do not create jobs. We can expect to see that clip played often in the next two years. She said it with such conviction that it sounded like she meant it.
Clinton's public wander into what sounded like socialist dogma brought to mind Sergeant Blumenthal's unforgettable 2010 struggle with the origins of a job. Mrs. McMahon explains it in a crisp sentence.
Quinnipiac University poll is in the field in Connecticut's contest for governor, Daily Ructions has learned. A reader reports that he received a call this evening asking about preference for governor, strength of commitment, voting history, education level, and household income. The caller ID revealed Quinnipiac University as the source of the call.
Updates as we receive them.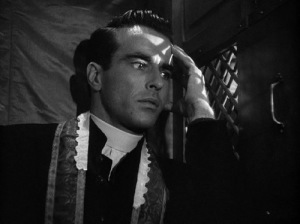 November 4th will be my fourth opportunity to vote for Tom Foley. In two primaries and the 2010 general election I declined. This time, I will. The price to Connecticut of four more years of Dannel Malloy is too high. I explain here.
What unusual powers Republican Tom Foley possesses. He's managed to make one debate stand out from the blur of the  gaggle he agreed to participate in. That's the one he won't attend. He's guaranteed his absence will generate far more attention that his presence would. And he was able to torture his supporters and advisers while doing it.
Go to WVIT and unfold your bold banner of new ideas.
We are in the short season of formal editorial endorsements of candidates. Because my weekly column appears in that neighborhood of The Hartford Courant on Sundays, some readers think I have a role in the endorsement process. I do not. I learn of them when they are published. Like anyone else who reads the nation's oldest continuously published newspaper, it is never a surprise when the endorsement goes to the Democrat in the contest. Opinion writers have points of view and they are in full flower at this time of year when the stakes are perceived as being at their highest.
Does anyone remember the last time The New York Times endorsed a Republican in a major race? The New York Post a Democrat? Editorial page philosophies are at their most obvious during this narrow window of a campaign cycle.