The storm begins early at Hartford's Back9Network with news that the louche golf video operation has cut more than 40% of its 85 employees. The Hartford Business Journal has the story.
Back9 has been making the wrong sort of news lately. It was unable to pay employees in a timely manner early this month. Last week, news broke of an ugly lawsuit between the company and its founder and former chief executive Jamie Bosworth.
State taxpayers have more than a $5 million stake in the stumbling start-up that was announced with fanfare and hit hopes by Governor Dannel P. Malloy in 2012.
January 26, 2015 11:29 am No Comments
New York Times reporters Michael Schwiritz and Michael Winerip have more on Connecticut State Police leader Dora Schriro's sordid tenure leading Rikers Island. This time the reporters focus on lax hiring practices near the conclusion of Schriro's reign of abuse at the vast facility.
Here's the heart of the story:
In a review of 153 applications of people the Correction Department recently hired, city investigators found that more than one-third had problems that either should have disqualified them or needed further scrutiny. Ten had been arrested more than once, and 12 had previously been rejected by the New York Police Department, six of them for "psychological reasons", among other issues. Additionally, 79 had relatives or friends who were current or former inmates, a potential security threat, officials said.
The investigation found hiring practices to be in disarray: There was no screening for gang affiliation; most of the application process was not computerized; and employment screeners did not monitor phone calls between inmates and applicants.
Not even the deputy commissioner who oversaw hiring could explain how the evaluation system worked.
The findings underscore the profound dysfunction at Rikers Island and help explain how a culture of violence and corruption has come to flourish in the city jails.
Schriro has been nominated by Democratic Governor Dannel P. Malloy to continue to lead the state's leading law enforcement agency. The Times revealed last year that Schriro presided over a culture of "Medieval violence" at Rikers.
January 15, 2015 3:11 pm Comments Off
The state government-induced collapse of the Tenet Healthcare proposal to buy Waterbury Hospital is beginning to have consequences for the troubled hospital's employees. The head of the hospital, Darlene Stromstad, announced Thursday the implantation of a four-part plan to cope with deteriorating finances at the 126 year old institution.
Here's the plan:
Reducing the workforce through eliminating open positions, eliminating some full- and part-time positions, and reducing hours. One-third of these jobs come from managerial staff, one-third come from union employees and one-third are non-union employees. It is estimated that about100 people will be impacted from both clinical and non-clinical departments; the total impact will not be known until the labor union "bumping process" is completed.
Eliminating and postponing all non-patient care initiatives.
Closing services such as community blood draw stations, consolidating some services and physician practices, and making cutbacks in the location and hours of service.
Changing the way the hospital operates, including potential outsourcing and collaborative opportunities.
Here's the reason for the plan:
About 70% of Waterbury Hospital's payer mix comes from government programs (Medicare and Medicaid), which do not cover the full cost of care for patients. This, along with continued cutbacks in government reimbursement and other financial implications of reform, has led to significant financial pressure for Waterbury Hospital. In FY2015, the hospital will be reimbursed $9.77 million less for delivering essentially the same services as it did the year before.
This may be a glimpse of the unhappy future of healthcare in Connecticut.
January 15, 2015 3:04 pm Comments Off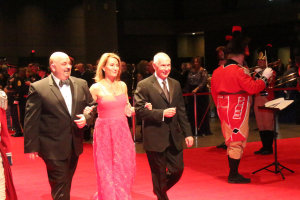 The new House Republican Minority Leader, Themis Klarides, must not have been able to find anyone from her own party to escort her on the red carpet for her introduction at last week's inaugural ball. She chose two insider Democrats to accompany her, as this Hartford Courant photo memorializes. The chief of staff for the Senate Democrats, Vincent Mauro, is on the Seymour Republican's right.  Mark Ojakian, Governor Dannel P. Malloy's chief of staff, takes Klarides' left flank.
The choice of escorts reveals where Klarides will lead the House Republicans–into the arms of the Democrats. "Sellout" is the word making its way around Republican circles. Moderate Democrats, who are trying to assess their strength for the coming deluge of tax and spending increases, will be wary of trusting Klarides and her loose lips.
For a party leader a voracious appetite for favors from those with the power to grant them comes with frequent betrayals of colleagues and the public.
Margaret Thatcher provided a credo for successful leadership on the day she was chosen to head her dispirited party 40 years ago: "You can't exist as a party unless you have a clear philosophy and clear message."
January 12, 2015 10:11 am Comments Off
Colin McEnroe wrote about the extraordinary crass display of resentment by Cathy Lambert Malloy at Wednesday's inauguration. He is right. That is one nasty piece of work.
American public life reserves a special place of ridicule for the sore winner. Lambert Malloy, who is said to have something to do with the arts, has complained of her life as a second-class citizen because the public does not provide her with a car that she thinks suits her. Second-class no more, her crass swing at vanquished Republican Tom Foley renders her simply classless.
Connecticut has found its state embarrassment. Lambert Malloy is a charm-free zone.
January 11, 2015 6:14 pm Comments Off
January 8, 2015 2:27 pm Comments Off
Democrat Luke Bronin will seek a fast start in fundraising in the 2015 Hartford race for mayor, Daily Ructions has learned. Look for Bronin, who has shallow roots in Hartford, to tap into his ties to wealthy Greenwich, where Bronin's from, for early fuel. Cash is always helpful in a Hartford campaign. Bonin's tenure as Governor Dannel P. Malloy's legal counsel will also have provided some useful contacts and allies.
Incumbent mayor Pedro Segarra will need to resurrect early in the year the campaign organization that he has neglected since he won a full term in 2011. Many Segarra loyalists are baffled that they have had almost no contact with the mayor in the last three years. Assembling an effective campaign organization that matches Segarra's 2011 operation, which made short work of rival Shawn Wooden, may prove a challenge for the mayor in what is expected to be a crowded contest.
December 30, 2014 9:43 am Comments Off
December 24, 2014 4:55 pm Comments Off
Merry Christmas, Daily Ructions readers!
December 23, 2014 4:18 pm Comments Off
A Chicago Tribune study of the city's scandal-plagued red light camera program finds the expensive scam hurts traffic safety and causes an increase in rear end collisions, Ars Technica reports.
The article notes, "as recently as November, red light camera company Redflex called North America a "low/no-growth market" due to revenue volatility and federal investigations."
The program has always been about punishing city drivers and filling government coffers. It never had any relationship to safety.
December 23, 2014 4:08 pm Comments Off