The sponsors say it's just an invitation to a party. Others see it as Republican leaders giving a wink and a nod to party chair hopeful John Pavia in the hope that he'll get some traction with state committee voters.
The event is a May 21st reception for new members of the Republican State Central Committee. Legislative leaders Len Fasano and Themis Klarides join popular party finance chair Leora Levy and Pavia on the invitation for the event  at the Canoe Club in East Hartford  Sheraton in Rocky Hill .
Pavia rivals J.R. Romano and state Senator Joe Markley are not included on the invitation, though they are invited to the event.
The revised invitation does have the look of an endorsement. You decide.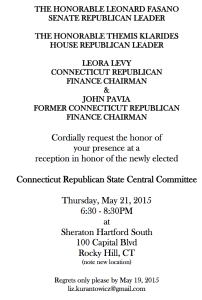 UPDATE: Liz Kurantowicz writes that Pavia and Levy are paying for tonight's event.
May 20, 2015 4:45 pm No Comments
Republican activists across the state are breathing a sigh of relief. Losing leader Jerry Labriola will not seek a third term as chairman of the state party committee, Daily Ructions has learned. The wrecking ball will rest at last.
An announcement  is imminent.
May 18, 2015 2:34 pm No Comments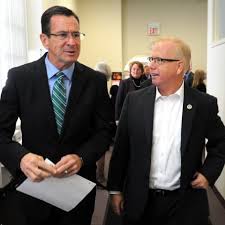 Praxair, the giant energy company, has abandoned its plans to build its world headquarters in Danbury, the News Times reports. The announcement of Praxair's expansion in the state was made by company officials, Mayor Mark Boughton and Governor Dannel Malloy four days before last fall's gubernatorial election.
The plan called for the company to receive as much as $22.5 million in state assistance. The announcement was made to considerable fanfare and ballyhooing of Malloy's commitment to taking money from working families and giving it to prosperous corporations.
The News Times reports that the expansion plans in Connecticut "had simply become too expensive for the company."
May 12, 2015 1:26 pm Comments Off
That didn't take long. Elissa Voccola is out as executive directive of the New Hampshire Republican Party organization after three months on the job, WMUR reports. Voccola served in the same job for Connecticut's party, though is said to have had a rocky relationship with 2010 and 2014 Republican gubernatorial nominee Tom Foley. Foley, Daily Ructions readers may recall, is the candidate who threw away the 2014 election against unpopular Democratic incumbent Dannel P. Malloy.
Foley has been a confident booster of New Jersey Governor Chris Christie's flagging 2016 presidential bid.
No word on where Voccola lands next, though the New Hampshire state GOP wishes her well in whatever she does. Exciting time to be in the state that hosts the nation's first primary.
May 12, 2015 9:53 am Comments Off
Senate and House Republicans will hold a public hearing today at 1:20 p.m. at the Legislative Office Building on tax increases proposed by their Democratic counterparts. The hearing shines a light on one of the frustrations of the legislative process in a democratic society. The public's opportunity to comment in a formal forum expires weeks before critical legislation emerges from backrooms into the spotlight of scrutiny.
The Courant's piece on the startling impact of Democratic sales tax increases reinforced the argument for public hearings as legislation takes shape before the final crush of the legislative session. Let the sun shine.
Check your Periscope app to see if the Republicans are streaming the event via the new remarkable tool from Twitter.
May 11, 2015 9:30 am Comments Off
Former state Senator Thomas Herlihy, a Simsbury Republican has died. Herlihy served in the legislature for 12 years, from 1996-2008. He was 58 years old.
May 8, 2015 10:53 am Comments Off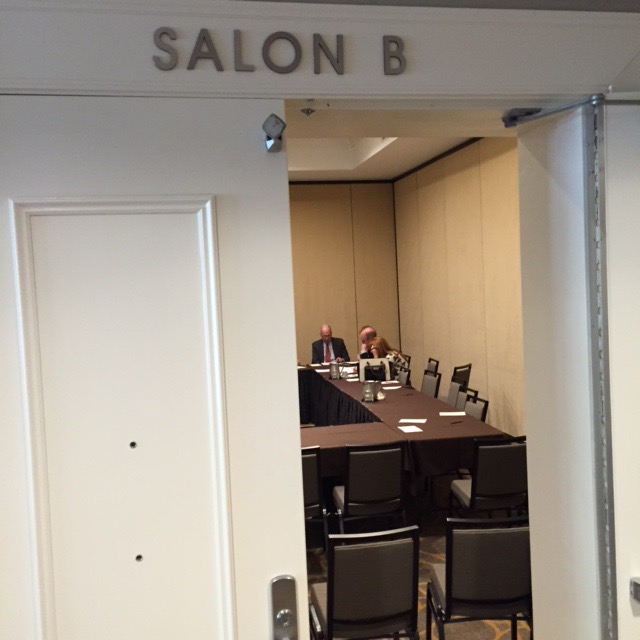 CBIA leaders retreated to a Rocky Hill hotel Thursday morning to develop a strategy to fight massive tax increases taking shape during the state legislature's budget deliberations. Business is worried. Concern rarely becomes action with the business organization.
May 7, 2015 10:53 am Comments Off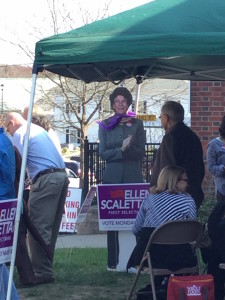 Woodbridge is one of the handful of Connecticut communities holding municipal elections today. It looks like Woodbridge Democrats have peppered the town's polling place and other spots with large cutouts of Mrs. Doubtfire, though some may mistake it for incumbent Democratic First Selectman Ellen Scalettar, who does love the nanny state.
Note to Republican state chairman hopeful John Pavia. Naugatuck is not holding municipal elections today, though it was kind of him to ask state party activists to pitch in. Pavia's goof reminded the Republicans who pay close attention to the battle to lead the madhouse that his team of sad relics may not be the way to win the future.
May 4, 2015 4:58 pm Comments Off
Augie Wolf, an athlete of some renown, will seek the 2016 Republican nomination for the U.S. Senate. Incumbent Richard Blumenthal (D-Saigon) is expected to seek a second term.
According to his campaign website, Wolf hopes to use his campaign to "turn the tide."
The 1984 Olympian's Facebook page says he lives in New York, New York.
UPDATE: Wold has changed his Facebook page to state that he lives in Stamford, Connecticut.
May 3, 2015 10:00 pm Comments Off
The Connecticut Post suggests that prolific commentator and former New York Lieutenant Governor Betsy McCaughey may be interested in running for the U.S. Senate in 2016 against incumbent Democrat Richard Blumenthal. McCaughey told Daily Ructions in an April 17th email, "The answer to your question about my running for Senate is no. My focus is on defeating Obamacare."
McCaughey spoke about healthcare policy to a gathering of Republican presidential hopefuls and party activists in New Hampshire on April 18th. For a taste of McCaughey's vivid prose, read this piece she wrote about the abuse and ill-effects of solitary confinement in prisons.
Kevin Lembo-Frey was one of McCaughey's aides around the time she switched her party affiliation from Republican to Democrat during her term as lieutenant governor and launched a bid for governor as a Democrat and then a Liberal. He's now known as Kevin Lembo (she was then Betsy McCaughey Ross) and is in his second term as Connecticut's comptroller. Lembo and his people are still bewildered by his closer than expected race last November with Ellington Republican Sharon McLaughlin. Or maybe it's the lingering effect of the 1998 Buffalo plane crash that Lembo and McCaughey survived.
May 1, 2015 11:21 am Comments Off