The nominations are open for the 2017 John F. Kennedy Profile in Courage Award. Here's the link to the nomination form.
The award, according to a message from Caroline Kennedy, Honorary President of the John F. Kennedy Library Foundation, which administers the award process. According to Ambassador Kennedy, "[E]ach year, we rely on your help to find inspiring examples of modern-day elected officials in federal, state or local office who have chosen to govern for the greater good, even when it meant taking an unpopular stand or offending powerful groups."
The award will bear special significance next year, the centennial of President Kennedy's birth, in a home not far from the library that bears his name.
Hint for those submitting nominees: It's safe to nominate someone who refused to offer any assistance to Central American child refugees. Turning away refugee children is no impediment to being awarded the prize. It also helps to be a Democrat.
October 21, 2016 3:53 pm Comments Off on Nominations are Open for Kennedy Prize.

"Recession is when your neighbor loses his job. Depression is when you lose your job. And recovery is when Jimmy Carter loses his job," Ronald Reagan famously proclaimed across the country as he made his way to the White House in 1980.
Connecticut Republicans will be looking to trumpet some variation of Reagan's formula in the aftermath of Thursday's devastating state job figures. Connecticut has lost 5,500 jobs in August and September. August's gain of 300 jobs was revised to a loss of 300. September saw Connecticut lose 5,200 more jobs, a stark reminder that the state's economic prospects continue to deteriorate.
October 20, 2016 2:05 pm Comments Off on August and September Job Losses Threaten Democratic Claims of Economic Competence.
Governor Dannel P. Malloy stumbled in Friday's post-Bond Commission press scrum. The beleaguered governor tried to distance himself from scrutiny of the $500 million Stamford Transportation Center project. The delayed project's designated developers and generous family members provided $165,000 to the state  Democratic federal fund that expended hundreds of thousands of dollars–by conservative estimates–on Malloy's 2014 re-election campaign. This is proving difficult to explain. State Democrats agreed in June to pay $325,000 to the state's election finance agency to keep secret campaign communications among Malloy and his political inner circle.
Malloy told persistent reporters that he has personal relationships with transportation center developers. "I have purposely tried to stay out of this discussion to a great extent," The Stamford Democrat also declared, "So from the very outset I tried to stay away" from the project, the two term Stamford Democrat declared. Trying is not the same as doing.
Malloy, however, has not walled himself off from the tortured negotiations on a project that was to have begun construction two years ago. His claim to have "tried" to stay away from the long and fruitless negotiations will be unlikely to stand up under scrutiny from those with the authority to inquire into the details of the curious course negotiations with the John McClutchy-led development team this summer. Malloy is unlikely to have been silent as secret negotiations reached a critical point. He may have intervened on behalf of the developers. The Department of Transportation has declined to release project communications between DOT's commissioners and deputy commissioner and Malloy budget chief Benjamin Barnes, one of the governor's longest serving and closest aides. Barnes's leading role has him looking like Malloy's surrogate.
Malloy's claim to have tried to stay out of the Stamford Transportation Center deal reminded observers of scandal-prone John Rowland's December 2003 false claim that cabinets in his lakefront cottage were off the shelf from Home Depot. Rowland was trying to minimize renovations to the Litchfield County hideaway. The doomed Republican governor had not counted on the hero of that chapter of his unraveling, Tammy Lauzier, wife of the cabinet maker who had provided the custom cabinets that graced the troublesome cottage.
Friday felt like a new phase began in Malloy's year of consequences. It awaits its own Tammy Lauzier–with subpoenas.
October 2, 2016 6:59 pm Comments Off on Dannel Malloy's Home Depot Cabinets Moment.
Republican U.S. Senate candidate Dan Carter will have two spots on the November ballot. Independent Party rival John Price withdrew his disputed claim for the tiny party's spot Friday afternoon, clearing the way for Carter to preserve the party's status.
Secretary of the State Denise Merrill will have to move with some dispatch to secure the rights of Carter and the Independnt party by making sure each ballot reflects the state of party nominations and provides a full array of choices to voters.
September 30, 2016 5:46 pm Comments Off on Price Withdraws From Independent Line. Clears Way for Carter.
Here's the invitation to next week's event. Your annual shakedown dues is not enough to get you in. No mention if program will feature tales from FBI interviews and grand jury testimony. That may be for the after-party.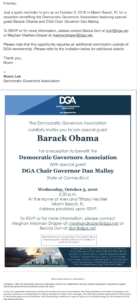 September 29, 2016 3:40 pm Comments Off on Your Other Contributions Are Not Enough. DGA Seeks Extra $$$$$$ for Obama Miami Event.
There's no doubt former U.S. Senator Evan Bayh lobbied the Connecticut legislature on behalf of energy giant Dominion. The Indiana Democrat and DC insider testified for Dominion on nuclear energy at a March 24, 2016 legislative hearing.
Bayh's Washington, DC, law firm lists Dominion as one to its major clients. Connecticut law sets a low bar for who much register as a lobbyist in Connecticut. Bayh looks like a lobbyist: Lobbyist Definition (CT)- A person who in lobbying and in furtherance of lobbying makes or agrees to make expenditures, or receives or agrees to receive compensation, reimbursement, or both, in the amount of $3,000 or more in any calendar year must register as a lobbyist. General Statutes §§ 1-91 and 1-94.
Bayh testified in person and did not, as many do, submit written testimony in lieu of appearing before the committee.
The Office of State Ethics confirms that Bayh did not register as a lobbyist for Dominion.
Bayh was a late substitute for Indiana's open U.S. Senate seat this summer. His early lead has narrowed as he trues to convince voters he did not abandon the state when he left to Senate in 2011 to cash in on his influence as a second generation member of the Washington establishment.
September 29, 2016 2:37 pm Comments Off on Evan Bayh's Connecticut Lobbying Takes Center Stage in Indiana Senate Contest.
Former three term Connecticut governor John G. Rowland reports to Otisville Federal Correctional Institution today, Daily Ructions has learned. Rowland was sentenced to 2 1/2 years after being convicted by a jury in 2014 of campaign finance violations arising out of his furtive paid relationship with Lisa Wilson Foley's 2012 congressional campaign.
Rowland was sentenced to a year and a day in prison in 2005 for committing corrupt acts while he was governor. He resigned his office in 2004.
September 26, 2016 9:29 am Comments Off on Rowland Begins Prison Sentence Today.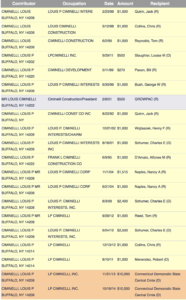 Louis Ciminelli, defendant in a New York corruption investigation, had a curious history of political contributions. Yesterday's indictment contains details of what Ciminelli gave for access to New York Governor Andrew Cuomo. His history of federal contributions, however, is far more modest–until his company joined the development team picked in 2013 to build the Stamford transportation center.
The screenshot from OpenSecrets.org tells the story.
September 23, 2016 9:16 am Comments Off on Screenshot Tells a Tale of Ciminelli Giving to CT Democrats' Federal Fund.
This does not look good. Buffalo developer Louis Ciminelli is among those indicted today in a sweeping New York bribery scandal. Ciminelli has been a prolific contributor to New York political candidates. In 2013 and 2014, Ciminelli became a generous contributor to the Connecticut Democrats' federal fundraising account. That's the one ensnared in a criminal investigation of Governor Dannel P. Malloy's 2014 re-eleciton campaign finances.
Ciminelli contributed $10,000 to the Connecticut account in 2013 and another $10,000 in the fall of 2014, according to OpenSecrets.org.
Ann Ciminelli, a Buffalo homemaker, donated $10,000 November 21, 2013. Paul Ciminelli donated $2,500 in December of that year and followed it with $10,000 on October 16, 2014, a busy day for the Ciminellis and Connecticut Democrats.
September 22, 2016 10:29 am Comments Off on Indicted Louis Ciminelli Gave $20,000 to Connecticut Democratic Federal Fund. Family Members Gave More.
Former Connecticut Democratic party finance chairman Peter Galbraith "Braith" Kelly has been indicted in a growing New York bribery scandal. Kelly is the son of prominent Connecticut Democrat Peter "I am not a hack" Kelly.
September 22, 2016 9:56 am Comments Off on Braith Kelly Indicted in New York Corruption Scandal.