It's the annual Brown Rudnick Let's Drink Red Wine and Pretend the House Minority Leader is Not Our Lobbyist Night.  House Minority Leader Lawrence Cafero (R-Brown Rudnick) is completing his final term. He has, however, not stopped working as a "contract partner" for Brown Rudnick from his satellite office on the floor of the House.
Partygoers this evening should spare a moment to thank the genetically modified products industry for its contribution for the evening's festivities. Among its lobbyists is the aforementioned Brown Rudnick. It represents RISE (Responsible Industry for a Sound Environment), which urges readers of its website to visit DebugtheMyths.com.
Here's a curious turn of events. A bill banning genetically modified grass seed was passed in the Senate earlier this month and sent to the House. The bill would normally have had a place on the House calendar for a few days before being taken up for action. Instead, the day after the Senate passed the bill–the very next day, mind you–the House suspended its rules, took up the bill, and sent it to swift defeat. Suspending the rules in this manner required the cooperation and support of the House Republicans. See above for a reminder of who leads them. The Republicans cooperated, causing observers,  interested participants, and others who worry about the reputation of the legislature to shake their heads in dismay. Talk about your "pest facts".
For $7,500 a month? Did two days of questioning by the FBI at the Legislative Office Building and other more personal visits make no impression on the House Republicans?
Here's a flashback from last year's eventful party aftermath. He took it out.
The Hartford regional office of the Department of Children and Families was hit by another incident of parking lot vandalism last week. Last month, Daily Ructions reported on an employees motor vehicle being set on fire in the office parking lot. On April 8th, the rear window on the same employee's Chevrolet Tahoe was shot and shattered early in the afternoon.
A Hartford police report states that an officer and the owner of the Tahoe, Aaron Howard, attempted without success to locate a bb pellet that might have caused the damage. The report states, "An anonymous complainant reported that she was in her vehicle having a cigarette. She reported that while she was in her vehicle smoking she heard a loud bang. That is when she got out of her vehicle and observed the glass on Howard's vehicle was broken. She reported she did not see who broke the window." A review of surveillance footage failed to reveal the offender.
A department spokesman says this case and the previous one, in which Howard was also the victim, are low on "solvables". That means clues. The police report concludes, "Nothing further to report."
DCF, however, told office employees in a Monday memo, "Law enforcement has been engaged, as well as building security, to investigate and these matters to an end. In additions the Hartford Police Department will be increasing its patrols of this area and all parking lots for 250 Hamilton Street [regional headquarters]." The memo also states that "[w]hile these do not appear to be random events, we wanted to let employees know that we are taking these occurrences extremely seriously."
It's Maundy Thursday. Mark the Last Supper with Mahalia Jackson and Dinah Shore putting over a classic gospel song. Put on your starry crown.

Something spiritual from Ethel Waters, one of the 20 century's great performers.
Ethel Waters' historic "Suppertime", introduced here by Diana Ross.
A first sentence slap in a Wall Street Journal column is probably not the sort of attention even the preening Bosworths would like for their aspiring louche golf cable bid. Holman Jenkins opens his piece on the Comcast-Time Warner merger with the sober declaration that Back9 Network head James Bosworth's inclusion on a  panel testifying at a United States Senate panel last week on the proposed merger was "bizarre shilling". Bosworth was mewling about his trouble getting a cable deal for his state-subsidized gambit.
From Connecticut's own Chris Cillizza: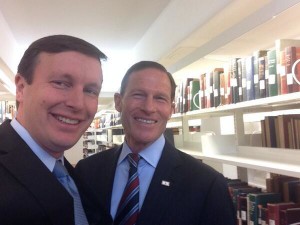 This is the exact moment when the selfie stopped being cool. http://t.co/DVXk6ougUx pic.twitter.com/VyTnMcsNfe

— Chris Cillizza (@TheFix) April 16, 2014
Republican gubernatorial Mark Boughton hopeful is caught in his own web. The popular Danbury mayor's tight alliance with disgraced Republican Lisa Wilson-Foley (formerly Wilson Foley) is undermining his bid for governor a month before the party nominating convention. He's having trouble explaining the $375 maximum contribution he received last fall from Wilson-Foley and her nursing home magnate husband Brian Foley.
Boughton was Wilson-Foley's most prominent supporter in her 2012 bid for Congress. He delivered a hefty chunk of delegates to Wilson-Foley in May of that year, though she fell short of winning the party endorsement. The Simsbury Republican's primary bid collapsed after the federal criminal investigation of her secret scheme with felonious former governor John Rowland became public.
Two weeks ago, the Foleys appeared in a Hartford courtroom to plead guilty to federal charges arising out of their grimy conspiracy to make secret payments to Rowland through their nursing home operation for services to Wilson-Foley's 2012 campaign. Rowland was indicted last week.
Boughton's close relationship to Wilson-Foley has become a handicap as delegates for May's nominating convention begin making up their minds in the race for governor. He said in a text Monday evening that when the Foleys contributed to his committee "no charges had been filed. They hosted a fundraiser for the Simsbury First Selectman (sic) candidate at their home and they were donating to Town Committees (sic), the State Party (sic), etc."
The ongoing investigation, however, was widely known, last fall, particularly among Wilson-Foley's coterie of hangers-on in the Farmington Valley. Boughton took a high hard one from the New Haven Register over his curious relationship with the Foleys. Boughton split a hair when he claimed in a reply that the discredited Foleys did not contribute "qualifying" funds to his campaign for governor.
The $750 from the Foleys may prove expensive for Boughton.
For Monday of Holy Week or any other day. Mahalia Jackson was an event, and she liked to sing with Dinah Shore.
Erratic Connecticut Democratic party chair Nancy DiNardo is at it again. The Trumbull Democrat has been spewing unsubstantiated charges against Republican gubernatorial Tom Foley over the indictment of felonious former governor John G. Rowland for alleged campaign finance violations. DiNardo says Foley has some explaining to do over support he received from Rowland in the former ambassador's search for delegates in his 2010 campaign for the Republican nomination for governor.
DiNardo has had nothing to say, however, about a chilling connection that ought to have her on the warpath. Rowland raised money for U.S. Senator Christopher Murphy (D-CT) in his 2008 campaign for re-election to the House of Representatives from Connecticut's 5th District. DiNardo let the mask slip last year when she proclaimed her political philosophy: "In politics, nobody does something for nothing." Jon Lender's Government Watch column from 2008 ought to have DiNardo issuing screeds at regular intervals.
Here's the column:
  When Republican Gov. John G. Rowland faced impeachment in 2004 for accepting favors from state contractors, state Sen. David Cappielloof Danbury was among the first members of the governor's party to say he should resign. Cappiello's stand seemed vindicated when Rowland was forced to quit and then went to prison in 2005. But in Rowland's home Waterbury area, close associates grumbled that it was a betrayal they wouldn't forget. Four years later, it looks as if they haven't. Cappiello now is the Republican 5th District congressional nominee. But the Republican ex-governor isn't helping him and, in fact, Rowland is quietly trying to raise campaign money for Cappiello's Democratic opponent, incumbent U.S. Rep. Chris Murphy of Cheshire. In a Sept. 12 e-mail a copy of which found its way to The Courant,  Rowland urged friends and political associates to attend a fundraising reception for Murphy, at $250 a pop, this coming Tuesday at the Roma Ristorante in Oakville. "We want to have a good Waterbury turnout," Rowland wrote. "Please let us know if you can attend." The list of e-mail recipients included some familiar Waterbury-area family names such as Cicchetti, Mengacci and Sousa, that were attached to top state appointments or lucrative contracts during Rowland's years as governor, and even now. Even if anyone claims it makes political sense for Waterbury business types to back the incumbent, it's clear that a big motivator for the Rowland crowd is payback, said a veteran state Republican operative, adding that Cappiello "is dead to them." 
    Asked about this, Cappiello said simply: "I have no comment. Rowland did not return a call from The Courant. Murphy met with Rowland and other constituents during the summer at Domar's, a restaurant and political watering hole in Waterbury, but "it wasn't a fundraiser or a planning session for a fundraiser," said his campaign manager, Kenny Curran. He said he was unaware of Rowland's efforts to promote the fundraiser, but noted that Murphy and Rowland "are on the same side now in trying to bring back a city that is desperately in need of help." Out of prison since 2006, Rowland is back on his feet now that influential allies have installed him in a controversial, taxpayer-funded economic development promotion job at Waterbury's chamber of commerce. One of his longtime friends, Waterbury lawyer Gary B. O'Connor, is hosting Tuesday's Murphy fundraiser. O'Connor is a registered Democrat, but goes way back politically with Rowland. In 1995, Rowland's first year as governor, a political action committee cofounded by O'Connor announced plans, later dropped because of legal questions, to pay for a Rowland advertising campaign against state employee pay raises. Murphy is not the sort of conservative-edged candidate Rowland has favored in the past. On his campaign website, Murphy calls himself a "strong advocate for ethics reform" and bemoans Washington's "culture of cronyism" in recent years. He says he wants to "tackle government corruption" and remove "private money … from the political process." And now Rowland, who presided over a "culture of corruption," according to his successor, Gov. M. Jodi Rell, is helping to round up private money for the youthful Democrat with the reformer's image.
From the former governor's website promoting his skills as an inspirational speaker:
"Experience is not what happens to you, it is what you do with it that counts. No one learns from success, you really only learn from your mistakes and failures."
John G.Rowland
He appears not to have lived by his own bromide.