Blow To Stamford: UBS to Eliminate 3,000 Jobs at Connecticut Office.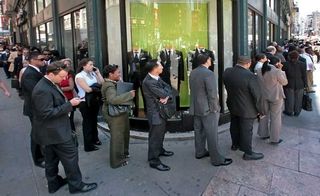 Troubled Swiss Bank UBS will eliminate 3,000 jobs at its Stamford, Connecticut office as part of a reduction of 10,000 jobs in the United Kingdom, Switzerland and the United States. The financial giant has endured a string of troubles, most of its own making, and continues to face international inquiries on its role in a vast scheme of interest rate rigging.
In 2011, Democratic and Working Families Governor Dannel P. Malloy agreed to give UBS $20 million to keep some of its jobs in Stamford. The taxpayer-financed arrangement for the financial giant did not anticipate the latest UBS revival plan. The New York Times has more on the billions in costs UBS expects to save with the painful overhaul.