Category —
Posts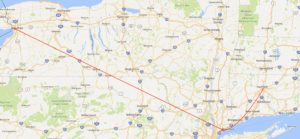 The Buffalo to Stamford to Hartford Bharara-Daly Highway got a boost this week when Preet Bharara, corruption busting U.S. Attorney in New York, announced he accepted Donald Trump's invitation to stay at his powerful post. Bharara has been  prosecuting two cases of corruption in New York with implications for Connecticut. Louis Ciminelli, a Buffalo construction mogul, pleaded not guilty in an alleged state-funded solar factory construction scheme. It is part of Governor Andrew Cuomo's controversial Buffalo Billion economic development plan.
Ciminelli became a generous donor to the Connecticut Democratic party's federal fund at the time his team was named the developer of the Stamford Transportation Center in 2013. Ciminelli and family members continued to make hefty contributions to the party federal fund during Democratic Governor Dannel P. Malloy's re-election campaign. Ciminelli, records show, had not been a state party contributor before the 2013.
Connecticut's U.S attorney, Deidre Daly, is leading an investigation of state Democratic party federal fund spending on Malloy's 2014 campaign. No word on whether she will continue in office after January 20th.
December 2, 2016 Comments Off on Infrastructure Project: Bharara-Daly Interstate Highway Gets Boost.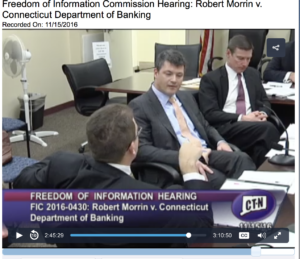 The information age can be a burden for public officials. Testimony of former Connecticut Department of Banking official Bruce Adams at a November 15th Freedom of Information Commission was right royal train wreck. Adams published a long series of social media posts critical of Payday Lenders and Native American sovereignty issues that intersected at the department.
The hearing did not go well for Adams and the department. His social media posts on the matter disappeared around the time of an FOI request seeking all documents. Did they disappear before the request or after? That is the operative question. Adams' memory was clouded by the birth of a baby and his short family leave. He recalls standing at home in his underwear, exhausted, and holding his baby in his arms when he received an unwelcome work call. Other than that, Adams' memory seemed vague. The hearing, significant in the constant battle to protect access to public documents, continues in January, when it could get considerably more interesting.
Adams now serves as counsel to Lieutenant Governor Nancy Wyman, which is a more partisan an less taxing job for the confused official.
CT-N has the extended testimony here. 

November 30, 2016 Comments Off on What Happened to Banking Department Internet Posts? Newborn Baby, Exhaustion Raised as Explanation for Disappearing Documents.
Twentieth century singing phenomenon and French resistance heroine Josephine Baker famously had two loves, her own and Paris. Danbury's Mark Boughton will do Baker one better with his own, Danbury and the governorship. Boughton, who announced he's formed an exploratory committee for his third bid for the Republican nomination for governor will also seek a ninth term as Danbury's mayor in 2017.
The News Times quotes Boughton declaring, "Danbury will always come first. Danbury is my first love." Danbury's Democrats have fallen on hard times and will continue to have troubles mounting credible municipal campaigns as long as Gene Eriquez continues to serve as head of the local Democratic party. Eriquez, a former mayor of Danbury, was arrested in the spring for assaulting his wife. The violent attack included Eriquez pushing and punching his wife in the face, as well as preventing her for calling police for help.
November 29, 2016 Comments Off on His Heart Has Three Loves. Boughton to Seek Ninth Term as Danbury Mayor.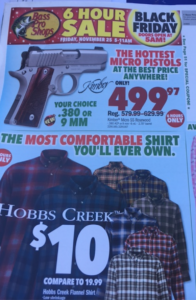 It's Governor Dannel P. Malloy's notion of economic development: a gun store in Bridgeport and more than $30 million in taxpayer subsidies. Today, the faux anti-gun governor's favored purveyor of guns has put some of its ware on sale to celebrate the start of the holiday season. Malloy must be so proud. He's brought Bridgeport a micro pistols Christmas.
November 25, 2016 Comments Off on A Dan Malloy Black Friday: Gun Sale in Bridgeport.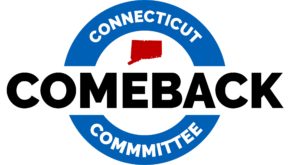 Mark Boughton, who fell far short of victory in 2010 and 2014 bids for governor, has formed a "commmittee" to launch a third attempt for the Republican nomination for the state's highest office. The Danbury mayor and former state representative makes the odd announcement in his online declaration that he has been sitting "idly by" as Connecticut has declined. Not true, he was a leader in the recent education funding court case that calls for denying an education to students with special needs and yanking funding from many suburban towns and giving it to urban ones. Welcome to Boughton's Connecticut.
November 22, 2016 Comments Off on Boughton Forms "Commmittee" to Begin 3rd Bid for Governor.
Maybe the growing state budget deficit will not require every legislator's full attention. State Senator Rob Kane must have a $3 billion solution in his laptop. The Senate ranking member of the legislature's spending committee is jumping into the 2018 campaign just days after the 2016 one ended. The Watertown Republican has kicked off a campaign for an undetermined statewide office, Daily Ructions can report, by forming an exploratory committee in documents filed with the State Elections Enforcement Commission.
November 19, 2016 Comments Off on It Begins: Kane Files Exploratory Committee for Statewide Office in 2018.
One way to tell an election in Connecticut is over is to watch budget deficit estimates. This month's estimate, released Friday afternoon, grew by $62 million to $67.7 million, according to a Friday afternoon letter from budget director Benjamin Barnes to State Comptroller Kevin Lembo. Revised revenue predictions account for $49.3 million of the added red ink. Increased spending is the cause of the remaining $12.3 million in news from Barnes's permanent crisis.
November 18, 2016 Comments Off on Current State Budget Deficit Jumps $62 Million From October Estimate.
The state's ethics agency has announced its random audit drawing winners. They include the AFL-CIO and The Connecticut Daily Newspaper Association.
November 17, 2016 Comments Off on Ethics Audit Lottery Winners Include AFL-CIO, Newspaper Association.
We take our good news where we can find it in these uncertain times. It arrived with the announcement that former U.S. Attorney Kevin O'Connor was kicked off the Donald Trump transition team. O'Connor is a close ally of Chris Christie, the New Jersey governor whose unpopularity in his home state is exceeded only by the loathing expressed toward him in the inner counsels of the Trump camp.
O'Connor and Christie became allies while bother served as U.S. attorneys in the George W. Bush administration. Christie is said to have been helpful in finding O'Connor a place to land after his sudden departure from Connecticut-based UTC.
O'Connor first came to statewide notice when he ingratiated himself into the more louche elements of disgraced former Governor John G. Rowland's administration during its demimonde middle years.
The Courant's Ed Mahony has the inside dope on O'Connor's ouster from Team Trump. Sounds like O'Connor poured his woes out to Mahony over a disagreement about what the Justice Department should do about Hillary Clinton and that home server that has caused her so much grief. O'Connor wanted to let it go. U.S. Senator Jeff Sessions (R-AL) an early and relentless Trump supporter disagreed, according to the story. Sessions is an influential member of the Trump team in formation.
This version would be the O'Connor method. Bring the full force of the law against the powerless, like the librarians he disgraced himself pursuing without mercy when he was U.S. attorney. Claiming to be a martyr for Hillary Clinton, that is consistent with the career of the perpetual courtier. Gag librarians, but don't take on anyone with real influence.
November 17, 2016 Comments Off on Librarians Rejoice! Reckless Foe of Civil Liberties Booted From Trump Transition Team.
They are not there yet, but Democratic and Republican state Senate leaders are negotiating their way to an agreement that will reflect their historic 18-18 partisan divide, Daily Ructions can report. Democratic leader Martin Looney will remain as President Pro Tem of the upper chamber. If the deal holds, There will be be joint majority leaders, Bob Duff for the Democrats and Len Fasano for the Republicans. The parties will exercise joint control over the Senate calendar, allowing lobbyists to charge their bewildered clients more.
The deal may also include Senate co-chairs of committees. The House, where incoming Democratic speaker Joe Aresimowicz's relationship with Republican leader Themic Klarides gives him a 151 seat majority on critical organizing issues, will add its own third co-chair to committees. The even divide in the Senate will require each party's members to add to their committee assignments if the number of committees is not reduced.
The Senate budget will require adjustment to reflect this new partisan divide. This may be the real most difficult point. Democratic staffers, who enjoy disproportionate influence over the elected members of their caucus, are in a high state of alarm at the prospect of layoffs in their ranks. No one appears to be talking about reducing salaries to save comrades. The Malloy administration is not likely to be eager or able to provide a refuge for the dispossessed.
Negotiations continue.
November 17, 2016 Comments Off on Closer and Closer. Senate Leaders On Verge of Comprehensive Agreement.