Category —
Posts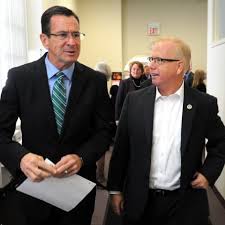 There goes Praxair. The Danbury gas giant is about to merge with fellow giant Linde, of Munich and will lose its corporate identity and Connecticut headquarters. Handelsblatt has the story. New headquarters, according to the story, is likely to be in London, the Netherlands or Ireland.
You may recall much hip-hooraying on the eve of the 2014 gubernatorial election when Governor Dannel P. Malloy and Danbury's Mark Boughton met to tell the world of Praxair's big plans for Connecticut. No one mentioned a flight to Europe.
The Handelsblatt story will give Malloy and Boughton a chance to explain how their individual economic plans for Connecticut cope with blows like this one.
August 23, 2016 Comments Off on Danbury's Praxair to Europe in Mega Merger.
How delusions blossom under the summer sun. It's only August and Republican John Shaban is weaving a fantasy in his shoestring race for Connecticut 4th Congressional District seat against Democratic incumbent Jim Himes. With a great big helping of push polling against Himes, Shaban is just 0.6% behind, according to a campaign survey that drenches your screen with flop sweat. You can read the mercy poll here.
Wait, there's more. A tranche of 20% of the Republicans surveyed has not made up their minds–even after being pushed. These, Shaban and campaign manager Jason Perillo believe, are destined to come home to the Weston state representative. Don't count on it fella. It's not that kind of year. At least that many will be put off by Shaban's support of loathsome demagogue Donald Trump.
August 17, 2016 Comments Off on Shaban Campaigns from Cloud Cuckoo.
Veteran New York reporter Fredric U. Dicker has details on a cooperation agreement in U.S. Attorney Preet Bharara's political corruption agreement. Dicker broke the story in his must-read Monday column in the New York Post. The agreement is between law enforcement and longtime insider Todd Howe.
The first insider to flip often gets the best deal. Howe, according to Dicker, has been feeling ill-used by his close associates in Governor Andrew Cuomo's administration.
Bharara's convictions in the corruption probe he revived after Cuomo shut it down include the former speaker of the Assembly, Democrat Sheldon Silver, and the former Senate leader, Dean Skelos, a Republican.
August 9, 2016 Comments Off on News You Can Use: The Cooperation Agreement.
A statement from George Jepsen to lawyers in the Office of the Attorney General considering a bid to unionize:
As you know, there is currently an effort underway for attorneys in this office to organize into a labor union.   The Office of Labor Relations has primary responsibility for managing labor relations on behalf of the State of Connecticut.  However, we wanted to reach out to you directly to emphasize and clarify the position of the administration of the office with respect to the organization effort.    That position is one of strict neutrality – we have not expressed a view, will not do so, and are neither supporting nor opposing the organization effort.    We think this is the position that best respects the right of each and every attorney to make his or her decision, unaffected by any perception of an opinion on the part of the administration.    We certainly respect your rights to explore organization and, if it's your choice to do so, to organize and collectively bargain.   We will support your decision – whatever it is – and will continue to do our best not to influence it.    To that end, we hope and expect that there will be a full and fair process, including an election if the necessary preliminary indications of support are obtained.    Thank you.
August 3, 2016 Comments Off on AG Will Remain Neutral on Union Organizing.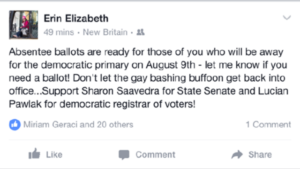 New Britain Mayor Erin Stewart, who was elected to office as a Republican, has taken an unusually keen interest in two local Democratic primaries. The potty-mouthed two termer used one of her Facebook accounts to launch an attack on incumbent state Senator Terry Gerratana in the August 9th Democratic primary. Gerratana, who has long been entrenched in New Britain politics, faces Sharon Beloin-Saavedra in the 6th Senate district party tussle.
Stewart's enthusiasm for challenger Beloin-Saavdra may stem from her fear that the popular New Britain Democrat would make a formidable challenger in next year's mayoral contest. It may also explain why Stewart, who says she is a Republican, has discouraged any locals interested in running for the senate seat that includes New Britain and parts of Farmington and Berlin.
Gerratana defeated Tim Stewart in a 2011 special election for the seat. Stewart was serving his final term as mayor of New Britain when he fell short of nabbing the seat he was expected to win.
Erin Stewart, perhaps reflecting her expanding ambitions, substituted her ErinStewartNB with ErinStewartCT. This may add to tensions among local chief elected officials who have their eye on 2018.
July 28, 2016 Comments Off on Erin Stewart Enters Democratic Primary.
Federal criminal authorities have picked up the torch. The State Election Enforcement Commission (SEEC) abandoned its public trust when it entered into an agreement to drop its investigation of state Democratic fundraising practices on behalf of Democratic Governor Dannel P. Malloy's 2014 re-election campaign before seeing crucial evidence. Jon Lender reveals today that the U.S. Attorney has empaneled a grand jury and begun serving subpoenas.
What a fertile fields to plow the Malloy re-election campaign finances will be for investigators with wide authority. Emails will be read, calendars examined, and bank records reviewed this time. Agents and prosecutors will no doubt inquire into the dual role of at least one high ranking Malloy administration official who micromanaged campaign and party affairs while also exercising broad authority inside state government. Adding to the complications for people involved in the 2014 Malloy campaign will be figuring out who it's safe to talk to. Probably not each other.
The criminal investigation into Malloy's re-election campaign financing is the second day of bad news for the surly head of the Democratic Governors Association.
July 22, 2016 Comments Off on Malloy Under Cloud as Feds Begin Criminal Investigation of '14 Fundraising.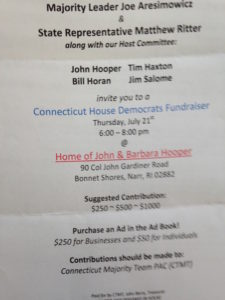 House Majority Leader Joseph Aresimowicz and leadership ticket partner state Representative Matthew Ritter will raise money for a party campaign committee next week in Rhode Island. The July 21st event will take place at the Bonnet Shores home of John and Barbara Hooper. That's a far cry from the Foxy Lady, the Rhode Island strip club that brought Thomas Ritter, the lobbyist, fixer, and former speaker unwelcome attention in 1996. He's the father of Matthew Ritter.
Suggested contributions range from $250-$1,000. The duo do not pretend to be campaign finance reformers. Ads are available for $50 for individuals and $250 for businesses. The higher price for businesses must reflect deluded the Aresimowicz/Ritter view of their stewardship of economic opportunity in Connecticut.
Democrats and Republicans are each defending more seats than they expected in this November's legislative contests. The caucus with the majority will select the new speaker.
July 15, 2016 Comments Off on At Least It's Not At The Foxy Lady. House Democrats' Boys' Club Meets in RI to Raise Dough.
The CT Community Nonprofit Alliance has gambled on short memories in the legislature. The organization that represents more than 500 non-profit organizations, the Hartford Business Journal reports, has hired relentless Malloy administration attacker Gian-Carl Casa as its chief executive officer. He begins his new job at the end of the month.
Casa must have steered the organization's search committee away from the many detractors he made as a prime mouthpiece for the Malloy administration's scorching rhetoric. Attacks on anyone with a different point of view–not necessarily critics–could count on abuse from Casa and his master, budget chief Benjamin "permanent crisis" Barnes.
The do-gooding alliance cannot have factored possible Republican legislative gains this November into their hiring calculations. Casa aimed much of his escalating contempt at Republicans. They have not forgotten the sting of the relentless partisan vitriol he spewed at them as he made excuses for the failures of the Malloy administration. Plenty of Democrats in the legislature with long memories also felt the lash.
Nonprofits, observers note, have carried much of the burden of spending cuts while the Malloy administration continues to find plenty of money for crony capitalism favorites. Casa has been a regular defender of those harsh policies.
July 14, 2016 Comments Off on Brows Furrow: Nonprofit Alliance Picks Malloy Slasher Casa to Lead It.
State Senator Ed Gomes (D-Bridgeport) will be on the August primary ballot in a crucial victory for his re-election bid. Judge Barbara Bellis ordered Gomes on the ballot after hearing startling testimony demonstrating that Bridgeport Democrats Ernie Newton and Ralph Ford connived to keep Gomes off the ballot after he fell short of winning a majority of delegates at the May district nominating conventions. Judge Bellis found willful misconduct and a fraud committed on the court in the course of the unsavory acts to deny Gomes his fair shot at re-election.
Gomes was represented by former Assistant U.S. Attorney Chris Mattei and Bill Bloss.
July 8, 2016 Comments Off on Judge Puts Gomes on Ballot. Excoriates Newton, Ford.
The "new economic reality" continues to elude the University of Connecticut. It's considering applications for a chief counsel at the hospital that continues to burden state taxpayers. The application period closed on May 26th. Nevertheless the extensive job posting is worth reading. Especially worthwhile is UConn's description of itself.
Here's an ominous section on compensation for the "player-coach" (oy):
"The University of Connecticut offers a very competitive package of benefits, including generous medical and dental coverage, retirement contributions and plans, and many other supplemental benefits. Compensation for this position will also be competitive with similar public academic medical center legal positions nationally, and will be commensurate with the salaries of other comparable senior officials of the University."
The phrase that rings the bell, of course, isn't "competitive with similar public academic medical center legal positions nationally."  No, no, no. If only UConn administrative positions and compensation did that. It's the "commensurate with the salaries of other comparable senior officials of the University." We know what that means. Ring-a-ding-ding.
July 7, 2016 Comments Off on The Empire Expands: UConn Seeks Chief Counsel for Health Center.