Category —
Posts
Glenroy Brown was buying a house in leafy Glastonbury, Connecticut. The seller, who had moved out, allowed Mr. Brown to start moving possessions into the house on a Friday before the Monday closing. A neighbor, Lucinda Mudry, saw Mr Brown and a friend, Enrique Moran, outside the house. Here is what happened next:
A few minutes later:
Police incident report notes, "No criminal activity observed."
If someone is burgling a home, he usually takes things out of it rather than puts them in, no matter what their race.
November 12, 2015 Comments Off on Welcome to Glastonbury. Your Neighbor Called the Police.
November 11, 2015 Comments Off on A Veterans Day Medley From World War One.
Former state Senator John McKinney will head the Republican party's state finance committee, Daily Ructions has learned. McKinney fills a vacancy left by party favorite Leora Levy, of Greenwich. Levy resigned as the party's chief fundraiser earlier this year to give new chair J.R. Romano a chance to shape the state party hierarchy.
McKinney served as the Senate Republican leader, giving up his seat to run for governor last year. He lost the nomination fight to former Ambassador Tom Foley who #threwitaway in his autumn rematch with incumbent Democrat Dannel P. Malloy. Malloy is at the center of an ominous state election campaign finance investigation of his 2014 campaign. The former New York prosecutor has refused to hand over emails the state's election finance agency is seeking as storm clouds gather.
November 6, 2015 Comments Off on McKinney to Lead State Republican Finance Committee.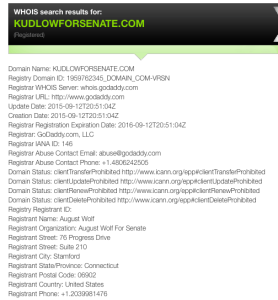 Full marks to the Augie Wolf U.S. Senate campaign for stealing a march on prospective Republican nomination rival Larry Kudlow. The Wolf campaign owns a fistful of Kudlow for Senate domain names. It is the sort of thing a nimble campaign learns to do when it has little money. The Wolf campaign is running on fumes. Wolf may be a 20th century Olympic competitor, but he's not beating any records in fundraising.
Time to put down the shot and pick of the phone for fundraising calls, Augie.
November 5, 2015 Comments Off on Augie Wolf Snags Kudlow Domain Names.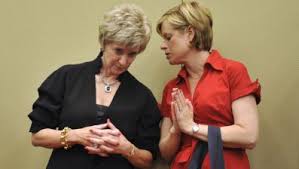 Popular Republican Jodi Latina will leave the Senate Republican office later this month to become chief of staff to New Britain Mayor Erin Stewart. Latina is a former reporter who first worked in politics on Linda McMahon's 2010 U.S. Senate race.
Latina was elected to Wethersfield's board of education in 2013. This week she claim a seat on the town council.
Latina replaces John Healey, the Farmington Republican who made a memorable appearance in an FBI video played at the 2013 trial of a Democratic campaign operative.
November 4, 2015 Comments Off on Latina to New Britain.
Republican Clay Cope wins third term as Sherman's first selectman. Keep an eye on him for higher office.
November 3, 2015 Comments Off on Clay Cope Re-Elected in Sherman.
It's official The universally admired Pat Llodra has been re-elected first selectman of Newtown. The Republican ran unopposed for a two-year term.
November 3, 2015 Comments Off on It Will Be Unanimous.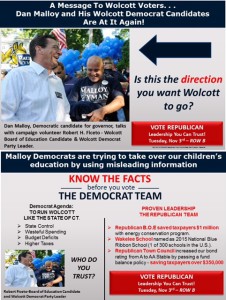 Wolcott Republicans this weekend are trying to make Tuesday's municipal about something more than local issues. They are giving voters a chance to send a message to Democratic Governor Dannel P. Malloy and his local buddy, on-again, off-again Democrat Bobby Ficeto.
Full marks to Wolcott Republican town council member Gail Mastrofrancesco for creating the mailer that's hitting
Ficeto is a rich target. He's a devoted Malloy acolyte (the governor made his wife–who is not a Democrat a judge). There was this affectionate recounting of the Ficeto-Malloy romance that started in 2006 in the Connecticut Post in 2011:
It's years later now, but Malloy is not about to forget that Robert Ficeto and Shawn Wooden and so many others had been among those who pushed and begged and wheedled to get him those convention votes. They were Malloy guys. He was going to take their meetings, and he was going to hear them out, never mind that Roy and others thought they were nothing but trouble.
"Ro-bert Feh ceee toh."
The governor does a wicked impersonation of the man's voicemail message. It's all the other messages that are the problem.
This is how Roy Occhiogrosso comes to find out that Robert Ficeto has been negotiating with the Boston Red Sox, trying to squeeze out of them a few more tickets for the official party for "Connecticut Day" at Fenway. After all, Ficeto's going to rent a bus. Lotsa people going to be coming along, going to be a highly selective invite: Catch a ballgame with the governor, on Connecticut Day!
Someone catches wind of this — the poor, perplexed Boston Red Sox staffer keeps placing calls to the official scheduler. It seems a Mr. Ficeto, who says he represents the governor, is demanding a bus — and Roy goes bananas. Why can't Malloy see how bad this could look? Some guy from Waterbury, claiming to call on his behalf, trying to shake down the Red Sox for extra baseball tickets? He can see the Kevin Rennie blog post, the Jon Lender column about it in The Courant.
Dan Malloy hears Roy out on this stuff, yeah, yeah, yeah. But he doesn't catch fire as Roy does. He's used to this; it's just a goofy guy who lives to please you, and besides, he's been good to us.
Ficeto's been good to Malloy and Malloy's been very good to the Ficetos. Wolcott Republicans are giving one town the chance to send a message.
October 31, 2015 Comments Off on Wolcott Republicans on How to Send a Message. The Malloy-Ficeto Axis in Spotlight.
Democrat Luke Bronin spent more $872,625 to garner 5,110 votes in his September 16th primary victory over incumbent Pedro Segarra in their race for mayor of one of the state's poorest communities, according to campaign finance reports. That's $170.76 a vote, a figure that will evoke howls of protest from the traditional voices of campaign spending restraint. Those voices were curiously muted as Bronin rolled over Segarra in their showdown.
Bronin's last campaign finance report before the primary showed the Greenwich plutocrat spent $673,821.75. That reporting period included expenses from July 1st through September 7th. Bronin's post-primary report shows an additional $198,804 in payments made up to and including primary day.  It includes more than 100 payments of $125 for primary day field work. The largest expense was a $53,224.77 payment for commercial broadcast time.
Since clinching his primary win, Bronin has continued an avaricious fundraising effort in the face of token opposition. A new age is upon Hartford. The early going reveals that many will reshape their long-held beliefs to curry favor with the Bronins as dissent takes a sabbatical.
October 30, 2015 Comments Off on Democrats Will Be Outraged: Bronin Spent $170 a Vote in Primary Win Over Segarra.
This year's astonishing contest for mayor in Bridgeport may turn on a bad ol' habit of Democratic primary winner Joseph Ganim. Since the felonious former mayor saw off erratic incumbent Bill Finch (who made only bad decisions) in September's contest, observers and participants of the city's tumultuous politics detected distinct signs of hubris emerging from the Ganim campaign.
Ganim's lieutenants think they have the November match with Mary-Jane Foster won. All that's left is to march on the city hall and measure for curtains. Ganim will want to stay away from expensive carpeting, which caused him so much grief in his corruption trial. Foster finished a distant third in the Democratic primary, but is hoping a wave of revulsion at the resurrection of Ganim and his sharp-elbowed crew will carry her to victory. Watch for Foster's record in business, one of her few calling cards in the race, to become a target.
October 14, 2015 Comments Off on Ganim Starts to Strut.