Category —
Posts
A "thought leader" of Governor Dannel P. Malloy's transition team was sentenced Friday to 14 years in prison for sexually assaulting patients. Dr. Tory Westbrook served as the co-chair of Healthcare Working Group with Hartford Democrat and former state Representative Juan Figueroa.
Assistant State's Attorney Peter McShane told Judge David P. Gold that more than 50 women had been victimized by Westbrook, The Courant reported of the sentencing a Middletown courtroom.
When Malloy appointed Westbrook and other "thought leaders" to his transition team on December 6, 2010, the Stamford Democrat declared,
"I have been gratified by the number and caliber of people who have agreed to join my Transition Team's efforts to plan for an administration which is forward-thinking and represents the direction in which I believe this state should go," said Governor-Elect Malloy.  "The members of these working groups are thought leaders in their specific area of expertise and I know the suggestions and proposals they come up with will help us attract new jobs, keep the ones we have, while getting our fiscal house in order."
The transition team presented its ideas to Malloy shortly after he became governor in January 2011. A CTMirror.org report of the meeting included this summary of Westbrook's presentation:
The health care recommendations, presented by Dr. Tory Westbrook, focused on federal and state-level reform efforts, redesigning the health care system to pay more for primary care and less for specialty care, emphasizing prevention and wellness, and creating health care jobs.
Numerous proposals were tied to the state's $4 billion Medicaid program.
One recommendation involved moving HUSKY, the state's main health insurance program for poor families, out of a managed-care system. One option would be to expand the state's primary care case management pilot. This program is attractive to health care advocates because doctors, not insurance companies, are paid to coordinate patients' care.
No word on how Westbrook, who was a doctor at a Community Health Center in Clinton and was also associated with a laser hair removal business in Manchester, became a leader of Malloy's transition team. Westbrook was arrested in 2012 while serving as director of Hartford's Charter Oak Health Center.
September 21, 2014 No Comments

As Connecticut Governor Dannel P. Malloy strains to portray himself as a mature and successful leader during his difficult re-election bid, the mask is destined to slip. His verbal incontinence will give the public odious snapshots of his abrasive personality. He provided an ugly one in Norwalk last month.
Malloy told local Democrats that this year's election will be different than the last two because "We don't have Linda McMahon spending $50 million to remind everyone how much we hate her." Responsible public figures usually avoid public expressions of hatred. Not the bully Malloy. Any twisted tool will do as he seeks to overcome his dire disapproval rates among Connecticut voters. In Norwalk, Mrs. McMahon, who is not a candidate for office, became his target.
Malloy's public display of hate for Mrs. McMahon is particularly jarring given Malloy's effusive endorsement of her nomination to the state's board of education. Malloy, who was mayor of Stamford at the time of the nomination, wrote, according to The Hartford Courant:
"Ms. McMahon has expressed a strong interest in improving the lives of young people in our community and as a global leader in media and entertainment, her community-mindedness and business leadership bring keen insights to public policy making and program administration," Malloy wrote. "It is always critical for the state to tap the business insights and experiences, as well as the professional training and certifications, of our corporate citizens for public service."
Malloy added, "By enlisting such corporate leadership, government weaves the business community into the everyday rhythm of our state, thereby ensuring long-term, public-private cooperation and success. Ms. McMahon's background presents just such an opportunity for the state as she is considered by your committee."
Malloy, who appears to live the unexamined life, may not have noticed that there's a surplus of hatred in the world. Trying to gin up some more against a well-known Republican who holds no office and is not a candidate for one is a measure of his desperation as November 4th draws near.
September 15, 2014 Comments Off
Wednesday's Quinnipiac University poll of likely voters in the race for governor confirmed what private surveys have been finding for weeks: Republican Tom Foley enjoys a steady lead over incumbent Democrat Dannel P. Malloy. The marquee number in the Quinnipiac survey is Foley's six point lead, 46-40.
Malloy's problem will be finding persuadable voters between now and the November 4th election. The 40% of likely voters who say they support him matches his 40% favorable rating. The first term governor may be at or close to his ceiling. He needs to chip away at the 53% who see him unfavorably, and that may be Malloy's impossible mission. They've had regular exposure to Malloy in the last four years and have reached their conclusion. They don't like him. It's hard to envision events or a strategy that alters the opinion of many of those 53% who will be happy to see him lose in eight weeks.
Democratic loyalists and operatives have been growing uneasy as each private poll has confirmed Foley's stubborn lead. Today's public poll lets the public in on their unhappy secret. Watch for the tussle over Democratic resources, including discouraged troops, to grow more intense. Outbreaks are most likely to increase in the 5th Congressional District, where Malloy's people have been in tense competition for party workers with worried incumbent U.S. Representative Elizabeth Esty. Her campaign has been receiving dark portents of a difficult race, too. The uncharitable attribute her poor showing in polls to the burden of running with Malloy.
September 10, 2014 No Comments
State Treasurer Denise Nappier seems to have been invited to talk about firefighters. The body language and hand gestures of Governor Dannel P. Malloy and Lieutenant Governor Nancy Wyman tell the painful tale.
To see the video, clear here: Nappier Ramble
September 8, 2014 No Comments
Mark Davis sounds like he's on to something. The Malloy administration has postponed the process of illegal immigrants obtaining Connecticut driver's licenses until….wait for it…..after the November election.
Watch the video here. Note the preposterous reference to the Affordable Care Act. One suspects texts and emails from Malloy's shadow network of private accounts would tell a different story.
August 26, 2014 Comments Off
Tales of fresh fiascos from the annals of red light cameras. This time from New Jersey. Seventeen thousand drivers were not informed they'd been ensnared in the lucrative private-public scheme. The tickets have been thrown out.
Anti-red light camera leader Assemblyman Declan O'Scanlon says the mass errors ought to be enough to let the program end later this year. This development in the Redflex-Chicago corruption investigation ought to serve as another cautionary tale:
The news of the glitch comes just days after the former CEO of Redflex — New Jersey's other red light camera operator — was indicted on federal corruption charges for allegedly bribing Chicago officials to help the company win contracts in the city. That came months after a fired executive from the Phoenix-based company claimed that the company paid bribes and gave gifts to government officials in 13 states – including New Jersey.
State Sen. Michael Doherty (R-Warren) on Wednesday called for the state Attorney General to investigate whether the company bribed any New Jersey officials.
Daily Ructions readers may recall that red light camera pirates and their government conspirators tried inflict their gambit on Connecticut drivers.
August 22, 2014 Comments Off
Appearing today on a screen in your home or hand.
August 18, 2014 Comments Off
State Senate Democrats' chief of staff Derek Slap will become a vice president at the murky University of Connecticut Foundation. Slap's new job begins September 2nd. The Democratic operative has been with the Senate Democrats for seven years. He departs only a few months before retiring caucus leader Donald Williams (who also tried to get a job in higher education) leaves the legislature.
Slap will oversee "external relations" for the foundation. That job will largely entail keeping state officials and the public from getting a close view of what goes on in the organization. Though it received millions in public funds each year, the foundation is not subject to freedom of information laws or oversight by the state's auditors. An August 1st email foundation head Josh Newton to foundation employees, its board of directors, and UConn's "President's Cabinet", lays it on thick. Newton writes of Slap, who can be abrasive, "He is dynamic, energetic, extremely focused and will be a great fit into our organization's culture." What a nationwide search to fill the job it must have been. Newton told recipients of his message that Slap is an expert in crisis communications. Translation: blocking any bits of sunlight that might make their way into the foundation's operation.
Slap is not expected to be the only Democratic state official to land in UConn land. Watch for at least one high ranking Malloy official to snag a big job at the university before the first snow falls. A job at UConn is not subject to the same public integrity protections against political hires that apply to the rest of state government. A new governor would not have the same authority to undo late term (after a November defeat, for example) appointments at UConn that he would have over the state bureaucracy.
August 18, 2014 Comments Off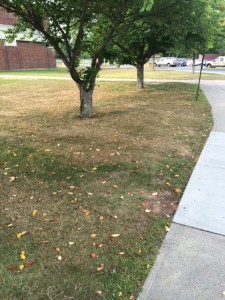 Good morning on a sleepy primary day in Connecticut. I vote in South Windsor, a town with two well-organized, competitive party operations. Only the Republicans have a primary here today. Last year year's first ever Republican primary for town council drew nearly 33% of the local faithful to the polls. This morning at about 9:30 a.m.,  5.73% of registered Republicans had voted in the contests for governor, lieutenant governor and comptroller. That includes 52 absentee ballots.
Linda McMahon's formidable primary organization drove turnout in the 2010 and 2012 primaries, especially in absentee ballots. It's difficult for a candidate for statewide office to mount a proper effort with $1.4 million in the public funds.
The path to the 75 ft. marker is normally festooned with a forest of signs, even on a special referendum. A forlorn sight awaited voters this morning.
A low turnout can be lethal for frontrunners or provide a day of false hope for their challengers.
UPDATE: At 4:30 p.m., 15% of South Windsor Republicans had voted in person or by absentee.
August 12, 2014 Comments Off
Spirited Republican lieutenant governor hopeful Heather Bond Somers is out with a robo call drawing attention to rival David Walker's chummy relationship with former governor and former United States Senator Lowell Palmer Walker  Weicker. The call, recorded by Somers supporter Tom Scott suggests a "pal" of the father of the state income tax ("like putting gas on a fire" LPW as 1990 candidate) is not the best choice lieutenant governor on this year's Republican ticket. Scott reminds listeners that it was a lieutenant governor who cast the crucial vote to enact the income tax in August 1991.
Scott has been a prominent supporter of Republican gubernatorial candidate Tom Foley. The Scott call sends a message to Foley primary voters that has been percolating among activists for several weeks. Somers is the safe choice for running mate in the fall battle against Democrats Dannel P. Malloy and Nancy Wyman.
Somers has also pointed out that Walker has not been been a Republican for long.
Republicans vote Tuesday.
Here's the call:
August 10, 2014 Comments Off