Category —
Posts
Beleaguered Hartford insurance agent Earl O'Garro raised money for City Treasurer Adam Cloud's 2011 campaign for a full term. Campaign finance report in the Hartford City Clerk's office reveal that O'Garro donated $250 to the Committee to Elect Cloud for Treasurer on September 6, 2011. The contribution, the maximum allowed under campaign finance laws, was made by a credit/debit card and appears not to be associated with a fundraising event.
The future Mrs. O'Garro, Kendra Smith, listed as a homemaker, also donated $250 by credit/debit card on the same date. Pauline O'Garro of Enfield donated $250 by personal check on September 9th.  On the same day, Patricia O'Garro-Ellis also made a maximum contribution of $250 by personal check to Cloud's campaign. One wonders what their interest in Cloud's campaign was.
WNPR's Jeff Cohen has yet to get a an answer to an essential question: How well do Adam Cloud and Earl O'Garro know each other? Well enough to have booked in the same New York hotel room in 2012. Well enough for O'Garro and company to have contributed more than 13% of the donations Cloud collected for his campaign in the reporting period of September 2011.
The story continues.
December 3, 2013 No Comments
That didn't take long. Kennard Ray, Mayor Pedro Segarra's choice to serve as his deputy chief of staff, has withdrawn due to "extenuating circumstances." That's a euphemism for a startling criminal record and other troubles.
According to a 1998 Hartford Courant story, Ray and two others were arrested for possession of narcotics with intent to sell and interfering with a police officer. Police "seized 55 bags of crack cocaine and two bags of of powder cocaine." In 2004, Ray was sent to prison for criminal possession of a pistol. This year, the state Department of Labor pursued in Superior Court an unemployment compensation claim against Ray with an partially unsatisfied execution of judgment.
Segarra issued a statement on the embarrassment:
"Sadly, we must accept Mr. Kennard Ray's withdrawal for the position of Deputy Chief of Staff after learning information that was not initially disclosed. Mr. Ray is a qualified individual with solid references from former supervisors and community leaders.  However public servants, especially those in leadership positions, must be held to a higher standard."
The damaging information about Ray was not difficult to find. How could Segarra not have known?
November 27, 2013 No Comments
November 25, 2013 No Comments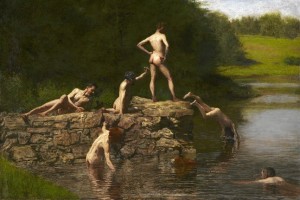 President and Mrs. Kennedy awoke fifty years this morning in Fort Worth's Hotel Texas and realized that some locals had created a private art exhibit in their suite, including a Thomas Eakins painting, "Swimming". The delighted Kennedys called Ruth Carter Johnson and thanked her before they left for Dallas.
Twelve of the 16 pieces have been gathered for show at the Amon Carter Center for American Art. The Wall Street Journal reviewed it.
November 22, 2013 No Comments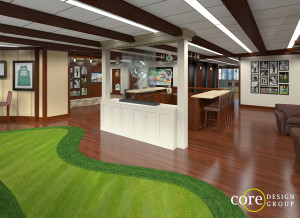 Be grateful they did not ask the public to pay for a heliport. Event Design magazine provides a look at what the Malloy administration's glutinous corporate welfare policy funded for the dodgy operation known as Back9Network. It's received more than $5 million from the working people of Connecticut.
Back9Network's board of directors includes Sanford Cloud. He's been in the news often lately, as has the company's lobbyist, Christopher Cloud. You start to see a trend that is likely to garner more attention than the Clouds' friends in state government government will like in a gubernatorial election year.
November 21, 2013 No Comments
November 21, 2013 No Comments
Arrest warrants for Hartford insurance agent Earl O'Garro reveal allegations of physical abuse and threats by O'Garro against his wife, Kendra O'Garro, at the couple's palatial Marlborough home. The arrest warrants on charges of assault, threatening and disorderly conduct paint a harrowing picture of life 83 Johnson Road.
Kendra O'Garro told a state trooper she feared for her life after her husband assembled his arsenal of guns in front of her and threatened to kill her, the warrant states. Kendra O'Garro turned the guns over to the state police.
Earl O'Garro is under investigation for failing to pay $670,000 in city of Hartford insurance premiums with funds wired to him last summer by City Treasurer Adam Cloud's office. O'Garro received $126,320 in a grant and loan package from the Governor Dannel P. Malloy's administration to move his office from Windsor to a Hartford building owned by the Cloud family.
You can read a pdf of the arrest warrants by clicking Earl O'Garro arrest warrants.
November 18, 2013 Comments Off
Earl O'Garro, the beleaguered Hartford insurance agent whose practices are the subject of a federal criminal investigation, was arrested in Marlborough on November 7th. Rivereast News Bulletin reports that O'Garro (or Ogarro, as he's referred to in the police blotter note) "was charged with third-degree assault, second-degree threatening, and two counts of disorderly conduct."
O'Garro has declined to explain what has happened to $670,000 in missing public funds wired to him by City Treasurer Adam Cloud's wife last summer for insurance premiums. O'Garro's business received $126,320 in state loans and grants in 2012 to move his business from Windsor to a Hartford building owned by the Clouds.
The story continues.
November 17, 2013 Comments Off
It is bad enough that millions will lose their current health insurance coverage under the Affordable Care Act. Now some lobbyists are out of big jobs. Not a good week to be working in Cigna's Washington, DC, operation. Heads, Daily Ructions has learned, have been rolling like its Paris in 1792.
In 2011, the State of Connecticut provided $50 million in benefits to Cigna in return for creating 200 jobs. The Bloomfield health insurance giant is not participating in the state's healthcare exchange.
November 5, 2013 Comments Off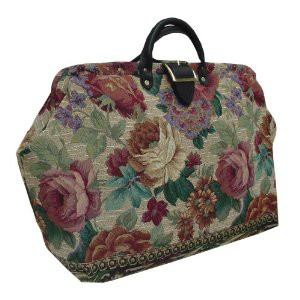 Chronic candidate Susan Bysiewicz is at it again.  The former secretary of the state is thinking of grabbing her carpetbag and landing on the unsuspecting people of the 33rd Senate District, Daily Ructions has learned. Bysiewicz has run unsuccessfully for the Democratic nomination for governor (twice), attorney general and the United States Senate. Her first truncated bid for governor was for the 2006 party nomination. In 2010, the Middletown resident and former state representative suffered a spectacular flameout in her race for attorney general when the state's highest court ruled unanimously that she did not meet the minimal qualifications for the job.
In 2012, she lost a Democratic primary for the U.S. Senate to Christopher Murphy, then a member of the U.S. House of Representatives, by a wide margin. In the state Senate race, Bysiewicz would face first-term incumbent Art Linares
The 12 town district includes Portland, the town Bysiewicz is said to be eyeing as her new home.
November 5, 2013 Comments Off