Category —
Posts
The magnificent Mike Nichols took his leave of this world today. Here's his tribute to mediocrity.
Another blow for Connecticut Republicans in the aftermath of November's disappointing result in the race for governor. David Walker, who came third in the August primary for lieutenant governor, is making noises about seeking the 2016 Republican nomination for U.S. Senate against Democrat Richard Blumenthal, the first term incumbent and faux Vietnam veteran.
Walker, who is new to Republican membership, has been talking to party leaders and notables about making the race against the 68 year old Greenwich millionaire. A persistent obstacle for the No Labels maven will be the trove of tales party loyalists collected last spring and summer featuring Walker's astounding self-regard.
Walker's interest in the Senate nod suggests he may break his October promise to sell his Bridgeport home and move to another state if Tom Foley did not make it across the finish line first on November 4th.
Connecticut's Judicial Selection Commission's commitment to its public trust will be tested next week when it considers the application of House Minority Leader Lawrence Cafero's application to become a judge of the state's Superior Court. Approval by the commission is the first step in the process that includes nomination by the governor and confirmation by the both houses of the legislature.
Cafero, who is leaving the legislature after 22 years, will make his case in a secret session before the 12-member board. The Norwalk Republican makes his bid for the safe harbor of the bench as he continues to draw the attention of Federal criminal investigators.
Commission members will get an opportunity to ask a question that continues to dog Cafero in the aftermath of his 2012 encounter with FBI informant Raymond Soucy. When the state employee union activist put $5,000 in Cafero's legislative office refrigerator, why didn't Cafero call the police? Instead, Cafero returned the cash, summoned an aide ("Johnny Angel") and accepted the laundered money for House Republican campaign committees in checks from stooges. The video of Cafero's unseemly encounter with Soucy became a centerpiece in the 2013 trial of former Speaker of the House Christopher Donovan campaign aide Robert Braddock.
If the commission properly discharges its duties, members will want to know the details of the ongoing federal investigation of House Republican campaign practices. They will want to ask if any of Cafero's colleagues at Brown Rudnick, the Hartford law and lobbying firm where Cafero is a contract partner, have been questioned by investigators. They also have a duty to extract details of what investigators have asked him, what he knows of the investigation, and how he's paid for legal representation in the investigation that broke into public view in February. Has Cafero been able to provide all the records investigators have requested? Did he accept any gifts (trips, transportation, food, alcohol, cruises on the water) from any contractor doing business with House Republican campaign committees or candidates?
The commission will not need to ask the eternal question, "Would we embarrass ourselves by approving your application?" Everyone knows the dispiriting answer to that.
Federal criminal investigators summoned popular state Representative and Republican National Committee member John Frey (R-Ridgefield) to an October meeting to answer questions about House Republican practices and other legislative business, Daily Ructions can reveal. Frey, who appears to be in no legal jeopardy, is represented by prominent criminal defense attorney John Droney, a former Democratic state chairman.
FBI agents and at least one assistant United States attorney met with Frey in their Hartford office. Frey and Droney were spotted walking to the appointment by a chatty Capitol village lobbyist.
The criminal investigation of the House Republican caucus and its campaign operation went public in February when agents set up shop in the Legislative Office Building and began questioning GOP legislators. The investigation has so far cost House Republican campaign committees more than $30,000 in legal fees.
Frey is said to be one of several politicos who have recently received the attention of investigators. The list is expected to grow as interviewees are asked both specific and general questions about what goes on at the Capitol that they should know. The continuing investigation is bad news for the Lawrence Cafero-Themis Klarides-Vincent Candelora leadership team. Klarides is taking over from caucus leader  Cafero, who this fall did not seek a twelfth term in the House. Cafero has been a contract partner at the Hartford law and lobbying firm Brown Rudnick. The Republican leaders have been downplaying the significance of the ongoing investigation whenever a restive Republican legislator expresses concern.
The broad questions about legislative business and the House Republican operation under the trio will lead investigators, fortified by time and resources, to the path of bills in which Cafero exercised an intense interest. His role in the strange 2010 death of a popular bill to allow public housing residents to petition to elect a member to local housing authority boards, for example, has long rankled Senate Republicans. Other examples abound in their collective memory.
Updates as required.
---
The Mark Boughton faction has revealed its choice to lead Connecticut's Republican party organization in the bleak aftermath of November 4th's state elections. It's W. Kurt Miller, first selectman of Seymour. Miller is also close to Mark Lauretti, the mayor of Shelton. Lauretti made two unsuccessful bids for state office this year that he must hope activists and observers will forget.
Boughton, the longtime mayor of Danbury, persists in pursuing his frustrated ambitions. Boughton qualified to participate in the primary for governor this year but failed to raise the $250,000 required to qualify for public financing. Boughton dropped out of the primary contest after a rickety and embarrassing gambit to get Lauretti on the primary ballot as his running mate.
The challenges for a Boughton-backed candidate include demonstrating some independence from his chief backer and demonstrating a talent for raising money.
UPDATE: Mark Boughton texts that Kurt Miller is not his candidate for party chairman, "although he is a nice guy." Boughton says he is "waiting to hear from all of the prospective candidates should Jerry (Labriola) step down or not run."
I'll be joining my friend Steven Seligman on WTIC 1080 talker at around 4:45 pm today to discuss politics, ructions, and other things. Please join us.
State Senator Joseph Markley (R-Southington) has begun to solicit support for a bid for Republican state chairman. Markley and others are seeking to replace failed incumbent Jerry Labriola months before his term ends in the spring.
Markley and other aspirants and conspirators aspire to perform the take down in December at a special meeting of the Republican State Central Committee.
Markley would draw his support from the most conservative elements of the GOP organization.
Derby Republican J.R. Romano is gaining support in the contest to oust and replace besieged incumbent Jerry Labriola. Romano claimed endorsements Monday from state central committee member and former vice chair Catherine Marx and former executive director Liz Kurantowicz. Romano is also a former political director under four former state party leaders. He ran Trumbull Republican's close race for state treasurer this year.
Romano needs 20 members to call a special meeting of the state central committee and 47 members to remove Labriola. Goal is to strike in early December.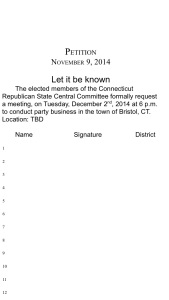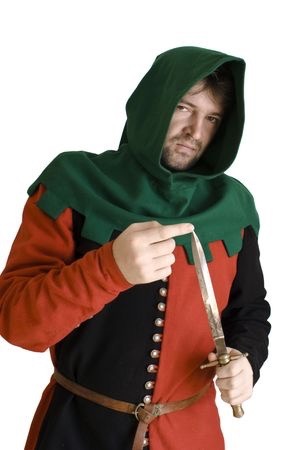 Marooned Connecticut Republican activists will spend the weekend plotting to remove party chairman Jerry Labriola. The disappointed loyalists have been reviewing party rules in text, email and phone conversations as they seek to crawl out of the wreckage of Tuesday's results in the race for governor.
The growing band of conspirators hopes to replace Labriola with a more sober and steady leader who will travel the state more and the nation less. Names mentioned include outgoing state Senate Minority Leader John McKinney, Tim Herbst campaign insider Catherine Marx, Dan Debicella campaign manager John Puskar, and Mark Greenberg campaign helmer Bill Evans. Expect more names to emerge as disparate factions begin their moves.
Updates as events require.
UPDATE I: Add Greenwich Republican Town Chairman Jim Campbell and party stalwart Liz Kurantowicz to the list of possibilities.
UPDATE II: A reader writes:
Mr. Rennie,
A friend just forwarded me your column and while I am flattered to be mentioned in it, I am going to go back to my business and most importantly my beautiful and tremendous wife and now 4 yr old son. I will be around to help the party in any way I can but it is certainly not in that role.
Bill Evans.
UPDATE III: Another reader, who claims to be Joe Visconti, sends this:
"Throw me in the mix for good measure"
UPDATE IV: Palin Smith asks for consideration, testing how far from the center right a concussed party would go. Hold on, Palin Smith suggests Wayne Winsley. He seems well-liked.
UPDATE V: Add Timtown's J. R. Romano.
UPDATE VII: A reader nominates Cindy Cartier, an attorney and Guilford selectman with a distinguished name.
UPDATE VIII: William Landers tells Daily Ructions that he was happy to join a movement to draft Barkhamsted stalwart Juliana Simone. The field grows crowded. In addition, a name from the 20th century has been floated: Tom Scott.
UPDATE IX: State Senator Joseph Markley's is being mentioned as one of a couple of consensus candidates. Party activists concluded during the weekend that the primary goal is to take out Labriola and replace him with a leader acceptable to a wide range of factions.