Category —
Posts
The Connecticut Coalition for Justice in Education Funding, Inc.'s long litigation odyssey ends with the Supreme Court's rejection of CCJEF's motion to reconsider the court's January decision.  The high court rejected CCJEF's challenge to the state's funding of public education and overturned a far-reaching, convoluted 2016 lower court decision. CCJEF leaders had claimed victory when the lower court decision was released through an unusual and prolonged reading from the bench. That victory dance was followed by CCJEF appealing the decision, causing many to wonder why winners would appeal a decision they claimed to have won.
Connecticut spends more per pupil than nearly any other place on earth. The decisions that brought that distinction will remain with the public's democratically elected representatives.
February 1, 2018 Comments Off on It Stands. Supreme Court Denies Motion for Reconsideration in Education Funding Case.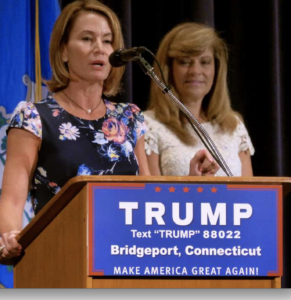 Early Trump supporter Themis Klarides announced to the House Republican caucus this morning that she will not seek the party's nomination for governor, Daily Ructions has learned. The House Minority Leader will stay put and try to win enough seats to replace her close friend Democratic incumbent Joseph Aresimowicz as speaker of the house next January.
January 31, 2018 Comments Off on She's Out. Klarides Will Not Run for Governor.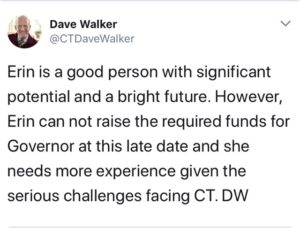 On her first full day as a Republican candidate for statewide office, New Britain Mayor Erin Stewart can check a box. She's been trolled online by the bizarrely petty David Walker. The Democrat-turned-Republican took to social media to offer his critique of Stewart's campaign.
Walker has never been elected to public office, ran third in his 2014 primary race for lieutenant governor, and has yet to keep his promise to leave Connecticut if Tom Foley is not elected governor.
Stewart's next online challenge: get fellow potty-mouth Ma Herbst to swear at you on Facebook.
January 30, 2018 Comments Off on Erin Stewart Hits a Benchmark.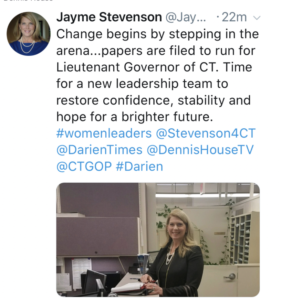 Jayme Stevenson has been talked about as a candidate for statewide office for several years. Watch for a fast start in fundraising and eventually an alliance with Republican gubernatorial hopeful Mark Boughton, who knows more than most candidates about the tricky relationships between running mates in a system that keeps them separate in critical ways until after the August primary.
January 30, 2018 Comments Off on Jayme Stevenson Launches Bid for LG.
She's in–sort of. It's late to begin exploring a race for governor, but New Britain Mayor Erin Stewart embarked on the quest Monday. Stewart, who is in her third term as mayor, confronts a formidable fundraising challenge at the starting gate. Stewart will need to raise money at a recording-breaking rate if she's to get close to collecting the $250,000 in small contributions to qualify for the state's generous public financing program before Republicans convene in May to select a nominee for governor.
As candidates are discovering, it takes a lot of lists with plenty of names to reach–or fall short–of the $250,000 plus a buffer. The pattern has become fundraising in the year before the statewide election followed by intense wooing of town committees delegates once the money is in hand. Stewart will have to do both in the next three months while also honoring her commitment to serve full-time the people of New Britain. There's also the task, common to each candidate, of explaining how you would address a $4 billion deficit a year from now or find a convincing excuse to avoid the question. So far, no one has been able to do either.
January 29, 2018 Comments Off on Erin Stewart's Day.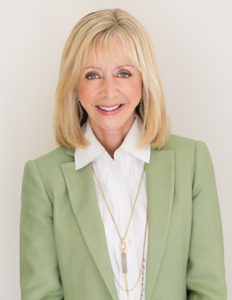 Quinnipiac University announced its new president Monday afternoon, Judy D. Olian, dean of UCLA Anderson School of Management and John E. Anderson Chair in Management.  The new leader possesses deep experience in academia, a broad view of the world, and notable fundraising success. A new era begins for Quinnipiac.
The new president succeeds John L. Lahey, who has served as president for 31 years.
January 29, 2018 Comments Off on Prepare to be Dazzled. Quinnipiac Names New President.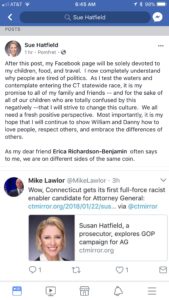 Whatever happened to when they go low, we go high? Malloy administration budget official Michael Lawlor refers to Republican attorney general hopeful Susan Hatfield as a "full force racist enabler" in a social media post.
Republican Hatfield has taken a leave from the Office of the Chief State's Attorney to pursue her political ambitions. Lawlor enjoys a wide brief on criminal justice policy from his perch in the Office of Policy and Management. If Lawlor knows something about Hatfield's conduct as a public official, he should have something before now.
Hatfield was an eager Trump supporter in 2016 and may find this invites the sort of tactics her hero often employs as he degrades public discourse.
January 23, 2018 Comments Off on Lawlor on Hatfield: "Full force racist enabler"
Oz Griebel continues his journey to the left. The Luke Bronin contributor has named Newtown Democrat Kyle Lyddy as the manager of his independent campaign for governor. Lyddy made an unsuccessful run for state representative in 2016. He lost his party's nomination to Eva Bermudez, who was defeated in the general election.
Griebel is making his second run for the state's highest office. In 2010, Griebel sought the Republican nomination for governor and came in third at the party's nominating convention and its summer primary.
Democrat Monte Frank, Griebel's runningmate, is also a Newtown Democrat.
January 22, 2018 Comments Off on Griebel Turns Left Again. Newtown Democrat to Manage Campaign.
A message sent on Saturday, January 20th explaining the inexplicable increase of 4 million gallons a day in production of water.
Dear Commissioners and Citizen Members,
In an effort to keep you informed, I would like to advise you of an ongoing investigation into an approximately 4mgd increase in water production at the West Hartford Water Treatment Facility. Potential causes for this increase include one or several water main leaks in the distribution system that are not directly affecting customers at this time.  Sources of the leaks can include main pipe leaks currently undetected; private property leaks on domestic and/or fire services; customer-side pipe breaks in vacant buildings or new development sites with water service but no customers yet; and/or a new development that has begun using water and has not been metered yet, among others.
In order to determine why this increase has occurred, Operations, Facilities and Engineering staff members, under the direction of the CEO, have engaged in a coordinated effort to investigate numerous potential causes for this increase in production. Recent extreme weather conditions have contributed to the challenge in locating the source of this increase.  We have experienced a record number of water main breaks in the last month, and even with the recent brief warm-ups, the pace has not slowed down. It is also important to note that the extremely efficient design of our distribution system includes an intricate interconnection of valves, pipes and tanks providing a redundancy that allows the system to compensate for water losses or drops in pressure – as it was designed to do – effectively helping to mask a potential leak somewhere in the system.
Our efforts to date have included reviews of hourly monitoring of system production and distribution water levels and pressures; physical inspection of areas where water mains abut or cross water courses (where a leak might not be readily visible); systematic shut down of various pipes in the 1500 miles of distribution system that, based on how the system compensates, might lead us to a potential break area, and also allows us to isolate and exclude areas as contributing to the leak; correlation (a method of measuring the location of a leak in a water main with specialized listening equipment) of sections of pipe that might sustain a leak that would not be readily noticeable to customers; a review of recent metered (billed) consumption to look for any significant increases; inspection and meter reading of vacant properties to determine if there is an internal leak and if so, subsequent shut off of the water supply to the property;  and twice daily coordination meetings to review results of the investigation and determine next steps.
Rest assured we have "all hands on deck" for this investigation, and I could not be more proud the staff who has worked tirelessly during duty and non-duty hours alike to examine every avenue to find the source of this increased production and bring this issue to a close. As we continue to work through this process I will keep you informed, and provide a full report at the February Board meeting.
Please do not hesitate to contact me if you have any questions.
Thank you,
Bill DiBella
January 22, 2018 Comments Off on The MDC is Missing Water–a Lot of It.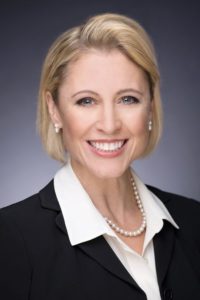 Republican Susan Hatfield will meet with supporters in Jewett City on Tuesday morning to announce she's exploring a bid for attorney general. In anticipation of the campaign, Hatfield has taken a leave of absence from her position in the Office of the Chief State's Attorney.
Hatfield joins former state Representative John Shaban in the Republican race for attorney general. Five Democrats are competing in a sharp-elbowed competition for their party's nomination.
January 21, 2018 Comments Off on Hatfield to Begin Exploring Bid for AG.