Category —
Posts
Connecticut public officials continue to ignore the chilling records of public safety commissioner Dora Schriro. They ought to pay attention to Judge Loretta A. Preska's description of New York's Rikers Island under Schriro. Preska sentenced a brutally violent Rikers correction officer to 30 years in prison for killing an inmate and recognized the "culture of violence and poor treatment of inmates by correction officers at Rikers."
The New York Times, which has performed a profound public service in its coverage of the scandal, has the latest chapter in the chilling saga. 
The fatal beating of inmate Ronald Spears occurred in December 2012, as Schriro was completing her disgraceful tenure at the notorious New York prison.
September 14, 2017 Comments Off on Federal Judge on Dora Schriro's Rikers Island: "Culture of Violence and Poor Treatment of Inmates"
David Walker, the on-again-off again Republican, does enjoy the ability to comment on internet posts. He famously promised on the essential Only in Bridgeport website to sell his Bridgeport home if Tom Foley was not elected governor three years ago. Foley lost and Walker is still here–a candidate for the Republican nomination for governor.
Walker took to the Bridgeport site to contest rival Tim Herbst's recent list of endorsements of the excitable Trumbull Republican candidate's public supporters. Walker writes that at least one person on the Herbst list is holding a fundraiser for him, Walker. If history is any indicator, one suspects that we will be hearing more from Walker on this.
After becoming a Republican to run for lieutenant governor in 2014, Walker came third out of three candidates in the Republican primary that Heather Somers, now a state senator, won. Walker was not gracious in defeat. The Alabama native studied accounting at Jackson University. He later received a certificate from Harvard's Kennedy School.  The 66 year old account may have to cutback on mentions of Harvard now that the school has added the preposterous and malignant Sean Spicer to its faculty.
Updates as they become available.
September 13, 2017 Comments Off on Something to Look Forward to: David Walker and Online Comments. Pokes at Herbst Endorsements.
Energy generator Dominion has let legislative leaders know that its 1,200 jobs in Connecticut may be a casualty of the state budget, Daily Ructions can report. The nuclear power producer has been warning for months that it needs more flexibility in how it participates in the regional energy market. Dominion has been warning policymakers that it will consider ceasing operations in Connecticut if it does not get some relief from the state's byzantine energy rules.
Legislative leaders will have to confess they were warned if the day arrives when the no-carbon generator announces it is leaving the state.
September 13, 2017 Comments Off on Dominion Delivers Its Demands.
State Democrats cannot resist the urge to tax. Their budget proposal adds a $1 month to cellular plans–including, it seems, phones and tablets. If passed, the new tax will be added to the long list of state-imposed costs that businesses examine when deciding when to stay or, in the rare instance, come to Connecticut.
Anyone want to gamble on how long the tax stays at $1 a month?
Democrats may find themselves trying to explain how this proposal comports with the federal prohibition on state taxes on data plans.
September 13, 2017 Comments Off on Never Enough: Democrats Want to Tax Your Cell Plan.
To:             House Democratic Legislators
From:        Speaker Joe Aresimowicz
Majority Leader Matt Ritter
Date:          September 1, 2017
Re:             House Democratic Caucus
In preparation for the session on Thursday, September 14, there will be a House Democratic Caucus to discuss the budget onWednesday, September 6, 2017 at 10:30 a.m. in Rm. 207A of the Capitol.
Legislative Assistants, please contact your Legislators with this information immediately.
Thank you
September 6, 2017 Comments Off on House Democrats Caucus Today at 10:30 a.m.
Waterbury's Democratic mayor Neil O'Leary wasn't billed as the headline guest at beleaguered Bristol Republican Ken Cockayne's August 29th re-election fundraiser, but he was the most unexpected.
September 6, 2017 Comments Off on Democrat O'Leary Supporting Republican Cockayne.
Manchester Republican Matt Corey is a candidate for the 2018 Republican nomination for the U.S. Senate. If nominated, Corey will face Democratic incumbent Chris Murphy.
Corey ran for the House of Representatives in 2012, 2014, and 2016 against longtime Democratic incumbent John B. Larson. Corey ran as an independent in his first race against Larson and then as a Republican in the next two.
Corey owns a window washing business and McKinnon's Irish Pub in Downtown Hartford. You can read Chris Keating's 2016 profile of Corey here.
August 22, 2017 Comments Off on Corey to Challenge Murphy.
You don't have to be a veteran of New York politics to know you cross Andrew Cuomo (or any other governor of the Empire State) at your peril. Former Bridgeport mayor Bill Finch, who had fatal trouble figuring out how to get his name on the ballot in 2015, didn't understand that he was not in Connecticut anymore.
Finch, who lost a bitter Democratic primary for mayor to Joseph Ganim two years ago, is out as head of the New York Thruway Authority after failing to bring appropriate enthusiasm to Governor Cuomo's proposal to convert to cashless tolls.
Politico New York has the story. 
August 22, 2017 Comments Off on Fitch Out at NY Thruway Authority.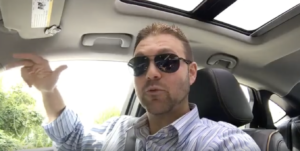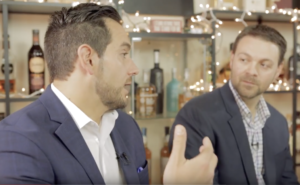 Whiskey Patriot J.R. Romano, who also serves as the chairman of the Connecticut Republican State Central Committee, has some dubious associates. One of them is fellow Whiskey Patriot Kyle Reyes, who posted this astonishing video on Facebook admitting to "a dark thought" on the Neo-Nazi violence in Charlottesville on Saturday. "These protesters were not the people we were lead to believe they are," Reyes states as he opines on events from the front seat of a car. "None of this adds up." The video is bizarre on its own. That these are the thoughts of a video partner of the Republican state chairman is chilling. The bizarro fringe is no place from which to lead a major political party.
Here is the link to the provocateur Reyes' Facebook video.
August 15, 2017 Comments Off on J.R. Romano and a Charlottesville Doubter. Republican Chairman Damages Party With Dubious Video Partners.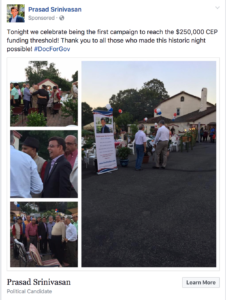 Take note. Candidates will find this is much harder to accomplish than they expect when they embark on a race for governor.
August 9, 2017 Comments Off on Srinivasan First to Hit the $250,000 Mark.