Category —
Sunday moment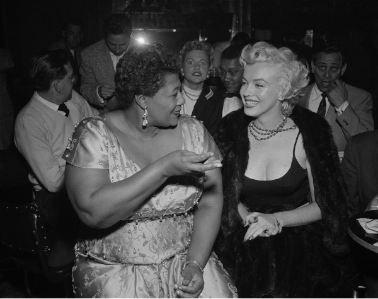 Scott Johnson at Powerline marks the 93rd anniversary of the day Ella Fitzgerald was born in Newport News, Virginia, with a fine tribute that includes videos from early and later in her remarkable career.
For many years after establishing herself as a major singing star in the late 1930s, Ella Fitzgerald continued to face many challenges and indignities in segregated America. She received a critical assist from Marilyn Monroe in smashing racial barriers in major American nightclubs.
There's no equivalent today to the star power, attention, and affection Monroe enjoyed in the 1950s. and she loved to listen to Ella. When Marilyn learned that the songbird was having trouble getting a booking at a major Los Angeles nightclub because she was black, she wielded her power for good.
Marilyn, according to Ella, called Macambo and told the management that if they'd book Ella, she'd be at a ringside table every night. They did and she was. Ella later claimed it was the breakthrough she needed to secure her own place in the constellation of American stars. We're all the beneficiaries of the fusion of Marilyn's determined goodwill and Ella's eternal talent.
April 25, 2010 1 Comment