Category —
Uncategorized
Appellate Court Judge Carmen Espinosa has snagged an appointment to the state's highest court, Daily Ructions can report. The former federal prosecutor shared the news late this morning with friends and others by email. Formal announcement with Governor Dannel P. Malloy comes at 2 p.m.
January 7, 2013 Comments Off
Brandon McGee has scored an astounding victory in the rerun of the Fifth Assembly District Democratic primary. The Hartford Democrat defeated Windsor Democratic Town Committee leader Leo Canty 1094-942, according to unofficial returns.
October 2, 2012 Comments Off
This may make the other candidates uneasy. He still packs a punch with Democrats–even if he did want to extend the Bush tax cuts.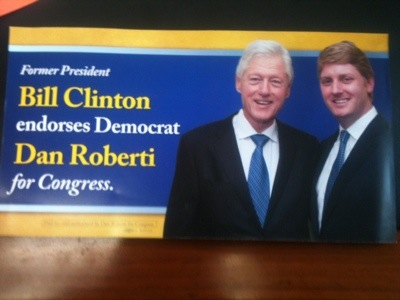 August 14, 2012 Comments Off
It's a morning of political news with Mitt Romney's announcement that he's picked Paul Ryan as his running mate. News coverage includes heavy doses of political ads in the run up to Tuesday's primaries. Lisa Wilson-Foley, seeking the Republican nomination in the 5th Congressional District, is running two ads that starkly contradict each other.
One criticizes her opponents for attacking her at the expense of big issues. The other has Wilson-Foley rebuking rising rival Mark Greenberg for mechanics liens placed on some of his real estate ventures. The ads suggest Wilson-Foley eschews consistency at its most basic.
Wilson-Foley's flailing confirms what activists in the 5th have been feeling: Greenberg is on the move with Republican primary voters. Expect a close finish among the top three candidates, Greenberg, Andrew Roraback and Wilson-Foley.
It could be a weekend of escalating charges and responses.
August 11, 2012 Comments Off
Speaker of the House Christopher Donovan is using a quote from Democratic U.S Senate candidate U.S. Representative Christopher Murphy to steady his flagging campaign a week before the 5th District primary. In a piece that hit mailboxes today, Donovan ballyhoos a July comment by Murphy expressing his trust in Donovan even after the Meriden Democrat's campaign was rocked by allegations of illegal campaign finances practices. Eight people have been arrested in the federal probe of Donovan's campaign.
A helpful reader tells Daily Ructions that the Donovan brochure has not gone down well with the Murphy people. Outsider Linda McMahon will be delighted to see a reminder of the Murphy endorsement of Donovan when the Republican's rival should have been working on his jobs plan.
Courant editors also won't be pleased to see their regrettable headline misleading voters again because it wasn't an independent report. The paper later ran a correction, which is not noted in the Donovan mailer.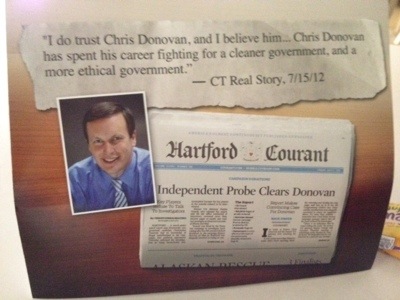 August 7, 2012 Comments Off
Linda McMahon is holding former Representative Christopher Shays to a dismal 30% of the delegate votes with only the 3rd CD left to cast its votes.
McMahon was competitive with Shays in the 4th CD, where the former congressman is best known.
Shays' poor showing among the party faithful will make fundraising tougher in a primary contest against McMahon.
May 18, 2012 Comments Off
State Senator Andrew Roraback has scored a third ballot victory over Lisa Wilson-Foley and Justin Bernier in the hotly contested 5th CD nomination race. On the third ballot, Roraback won 157 votes, Wilson-Foley 114, and Bernier 29.
The result is a bitter blow to the prestige of Danbury Mayor Mark Boughton, who made a public declaration of support for Wilson-Foley and nominated her.
The state convention begins this evening at the Connecticut Convention Center.
May 18, 2012 Comments Off
First ballot before switches: Roraback 92, Wilson Foley 88, Bernier 57, Greenberg 55. All have qualified for primary–before the season of betrayal begins.
After switches: AR 89 LWF 88 JB 68
MG 56.
Second ballot begins. Roraback expected to pick up chunk of Greenberg supporters.
Odditnik wins 4th CD nomination with 73%.
Back to the 5th. Second ballot AR 98 LWF 80 JB 62 MG 58.
Wilson-Foley lost 3 of hometown Simsbury's 11 votes on 2nd ballot.
Greenberg is dropped from the ballot under the convention rules.
Third ballot has begun with 3 candidates. Roraback is picking up Greenberg support.
Roraback wins convention endorsement on 3rd ballot. Wilson-Foley second. Bernier distant third.
May 18, 2012 Comments Off
Ten term state Senator Eileen Daily will announce today she will not seek an 11th term this fall. The shoreline Democrat, who co-chairs the legislature's Finance, Revenue and Bonding committee has been suffering from lung cancer.
The race to fill her open seat is expected to be competitive.
May 15, 2012 Comments Off
Senate Democrat Chief of Staff Kevin Graff will be leaving his job to work in the government relations trade. He'll be starting his own shop, Daily Ructions has learned. Supplicants will become competitors in the fierce business beginning today. It's tougher than it looks.
Caucus spokesman Derek Slap is expected to replace Graff in what most see as Senator Don Williams' swan song as caucus leader.
September 26, 2011 Comments Off