Connecticut Republicans Butler and Klarides Together in DC.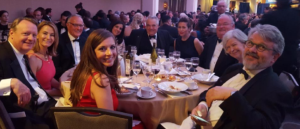 Greg Butler, Democratic Governor Dannel Malloy's favorite Republican, and Themis Klarides, Democratic Speaker Joseph Aresimowicz's favorite Republican, attended April 29th's White House Correspondents' Dinner.  Butler and Klarides are pictured together above at the table of right-wing news service Newsmax.
Butler is Executive Vice President and General Counsel at Eversource, one of Connecticut's biggest state contractors. Eversource continues to sustain the largest contingent of lobbyists at the legislature. Eversource came in for some unflattering scrutiny in March when 60 Minutes highlighted the utility's practice of firing American workers and replace them with less expensive visa holders.
Klarides is House Minority Leader in the state's lower chamber.
Butler and Klarides have each been mentioned as a potential candidate for the 2018 Republican nomination for governor, Klarides mostly in a Newsmax puff piece. Butler and Klarides are closely associated with Republican campaign consultant Liz Kurantowicz. Butler served on Malloy's transition team at the dawn of the Stamford Democrat's first catastrophic term.
Don't expect Butler and Klarides to run against each other. An alliance between the two, however, is a possibility.