UPDATED: David Walker Crosses a Line With Fundraising Tweet. FB Post Puts Ends Exploratory Charade.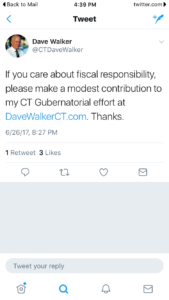 Look at that tweet. The self-regarding David Walker would not do it by mistake. It must be part of his cunning plan to win the Republican nomination for governor four years after his third place showing in the 2010 primary for lieutenant governor.
Walker has been "exploring" a race under the complicated rules of the state's taxpayer-funded campaign finance system. One of the provisions of the explorations phase, which allows an exploring candidate to collect contributions of as much as $375 each, is one must never indicate that he is a candidate.
Expect a candidate or helpful supporter to bring the Walker "CT Gubernatorial effort" tweet to the attention of the weaselly State Election Enforcement Commission, which is often much tougher on Republicans than Democrats. (See Malloy, Harris, et al secret email deal sealed for $325,000.00.)
Whoever files the complaint will want to cc Walker at "Dave Walker for Governor/dave@davidmwalker.com".
UPDATE: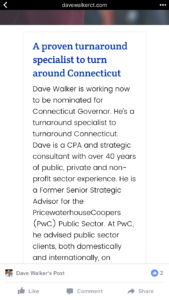 A helpful reader points out this Walker Facebook post. Nothing ambiguous about "Dave Walker is working now to be nominated Connecticut Governor." Not the most artful sentence, but it tells the tale.