Democrat LG Candidate Marzullo in the Dock on Clinton Crossing Shoplifting Charges.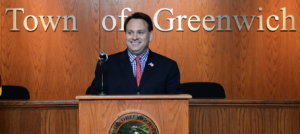 Greenwich Democrat Drew Marzullo (aka Joseph Andrew Marzullo) is on the docket Tuesday in Middletown Superior Court for a 5th degree larceny charge. Marzullo is a candidate for the Democratic nomination for lieutenant governor. He is serving his 4th term as the sole Democrat on tony Greenwich's governing body and is on the November ballot for a 5th two-year term.
Marzullo was arrested at the popular Clinton Crossing outlet stores on August 26th for stealing more than $500 of merchandise. Police apparently reviewed video recordings.
Curiously, Marzullo gave his address as East Putnam Avenue in Greenwich, though voter registration records list him as living on Orchard Street in Cos Cob.
Here's a screenshot of the docket:

Marzullo is not represented by counsel.