Duff Tries to Divert With Tale of Rescue Dog.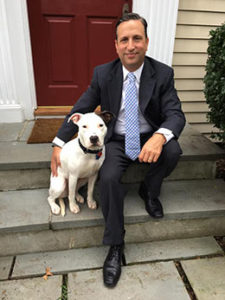 Poor Bob Duff, He can't help it if he is paralyzed by the state's deteriorating finances. The whiny Norwalk Democrat keeps insisting everything is just fine.
To take constituent minds off the unresolved historic budget deficits (don't ask him to explain the Senate Democratic plan) Duff is using his state email account to tell his mailing list that he's adopted a resume dog.
Molly was found on I-95, probably trying to flee the brutal traffic delays that Duff doesn't mention. The message includes nothing about the ruinous SEBAC vote that approaches or the 4 years of no state employee layoffs Duff is trying to impose on state taxpayers. No talk of that. Just Molly the dog. In a blinding example of virtue signaling, Duff mentions this not his first rescue dog.
Molly, Duff uses his state email account to let you know, has her own Facebook page.