Erin Stewart Hits a Benchmark.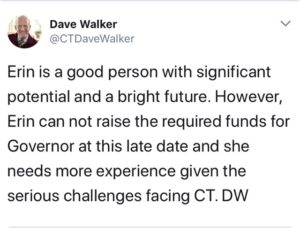 On her first full day as a Republican candidate for statewide office, New Britain Mayor Erin Stewart can check a box. She's been trolled online by the bizarrely petty David Walker. The Democrat-turned-Republican took to social media to offer his critique of Stewart's campaign.
Walker has never been elected to public office, ran third in his 2014 primary race for lieutenant governor, and has yet to keep his promise to leave Connecticut if Tom Foley is not elected governor.
Stewart's next online challenge: get fellow potty-mouth Ma Herbst to swear at you on Facebook.