Foley's Lost Night in Jail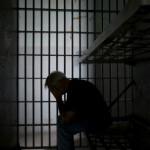 Republican  Tom Foley doesn't remember much about the circumstances surrounding a 1981 driving incident that led him to spend a night in jail on assault charges. The Courant's Jon Lender has the story of two Foley arrests involving the what have the distinct look of driving while furious.
Foley was arrested after being accused of ramming the vehicle of fellow guests at a summer party in Southampton, New York.  The gubernatorial candidate says he was arrested the next day and held in jail overnight.  He was released and, he says, the people in the car ahead of him "dropped the charges." Here's the fishiest part: Foley says he doesn't remember whose party it was or who was in the car he struck.  There was probably some drinking that night, but it had nothing to do with the incident, Foley says.  Odd that he remembers he may have had a drink or two but can't recall more salient details. Strange, too, that he would be held overnight in jail if the incident was as minor as Foley claims.
Twelve years later, Foley's estranged wife told Greenwich police that her husband had tried to run her off the road after a dispute over their son.  She repeated that story in 2002 when she sent a binder of unpleasant documents to Governor John Rowland's office after Foley had been appointed to a commission on divorce and custody issues.  Foley, involved in a divorce bordering on warfare, offers a milder version.  He says he blocked his estranged wife's car in his driveway, relented, and then followed her and their young son, who was a passenger in his mother's car.
In the Greenwich case, Foley says he believes he was charged with breach of peace.  The case was not prosecuted.  He denies running his wife and son off the road.
This is serious trouble for Foley, who faces two other Republicans in an August 10th primary.  Voters know little about the Greenwich businessman other than that the state is "broken and broke."  His support is shallow and based on his sole command of the airwaves during the winter and spring.  He won the state convention nomination on the first ballot last month in a weak field.
These seething-with-a-motor vehicle arrests fill in a picture that is mostly blank.  That's not good for Foley. He's not spent much time around state politics beyond Greenwich and party fundraising.  It wasn't diplomatic skills that got him an ambassadorship to Ireland.  He had social connections and had raised a lot of campaign coin for George W. Bush.
On the campaign trail, Republicans have found Foley smart but notably chilly for a politician still introducing himself.  Now they also know that he can't recall much about a night in jail.