He's Baaaaaack. Luxenberg Will Try to Reclaim Ex-wife's House Seat.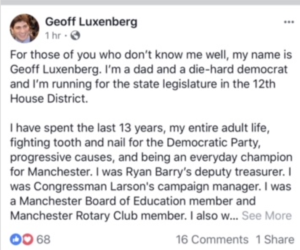 Geoff Luxenberg, the controversial political consultant who briefly served as chief of staff to Middletown Mayor Dan Drew last year, is running for the House of Representatives. Luxenberg took to social media to announce he will try to win the Manchester seat being given up by his ex-wife.
Luxenberg won the seat when Ryan Barry declined to run for re-election in 2010. Luxenberg, facing some headwinds, did not run for a third term. He was succeeded in office by his wife at the time, Kelly Luxenberg, who has returned to her maiden name, Kelly Juleson-Scopino.