Is There No One to Suggest Srinivasan Try One More Take?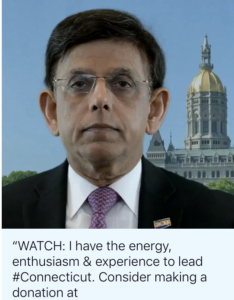 Oy vez mir, he can call it whatever he likes but it's not energy. Prasad Srinivasan's campaign released a short , stilted video on Facebook of the Glastonbury Republican setting out the case for his campaign. Delegates and primary voters may want to ponder how the allergist in his fourth term in the legislature would do in debates and other forums with his wooden delivery. Even marginal improvements would make little difference to the overall impression he makes in front of a camera.
Srinivasan, Daily Ructions understands, will post another robust campaign finance report for the second quarter of the year. Promises to boost Medicaid payments and restrict the rights of those injured through medical malpractice will get a fella some donations.
Potential supporters will want to remember that Srinivasan's commitment to robust democracy has sever limits. He spoke and voted against Republican colleagues' amendment to require a local referendum before a state licensed casino could be built in East Windsor far from Indian reservation property. Srinivasan then voted for the casino bill.