It's Never Enough. Rell and Friends Took Low-Digit License Plates on Way Out.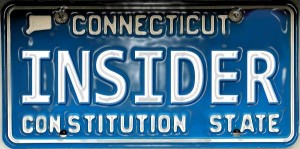 Six years in and around the state's highest political office were not honor enough for Republican M. Jodi Rell and a circle of friends, loyalists and family members. The former governor and her coterie grabbed some low digit automobile license plate numbers for their personal use in the final weeks of her administration, Daily Ructions has learned. These plates are not included among the thousands randomly assigned to state drivers each year.
Rell took "14" for herself and her husband. She bestowed "600" on her son, Michael, who works for the House Republicans. She conferred "932" on his in-laws, Maureen and Mark Cenci. And what a mother-in-law is our faded Snow White. Son-in-law Matthew O'Connor received "615" on November 8, 2010. Chief of Staff M. Lisa Moody had a big appetite for the modern status symbol of influence and insiderdom, too. She gave herself "83" on December 10th and bagged "653" and "663" for her brother and sister-in-law.
Department of Motor Vehicles records reveal who Rell and Moody rewarded with the closely-held gift of low-digit plates. A job in the state bureaucracy was also not enough for some recipients. They also get a chance to flaunt it. There's Rell-Moody favorite Jacqueline Mandyck, unpopular with many in and out of Rell's circle of advisors. She registered "282" in the final day of the administration. Loyalist Daniel Moreland, whose combative testimony was helpful to Moody in an early ethics controversy, registered "879" on the final full day of Rell's tenure.
Staffers who were plated by Her Excellency include surly mouthpiece Richard Harris ("722"), longtime press aide Adam Liegeot ("686"), loyal assistant Adam Jeamel ("343"), and Moody keeper-of-the-bunker-gate Jamie Hinman ("475"). Rell counsel and Moody favorite Herb Shepardson, a former Republican state chairman, motored off with 2 plates, "325" and "836". Jeamel says he was offered the plate as he left government for Eastern Connecticut Health Network in December, he didn't ask for it.
Outgoing DMV head Robert Ward, now a State Auditor charged with finding abuses of power, registered "377" on December 12th. Rell and Moody retained a trio of supportive legislators until the end of their term. Senate Republican leader John McKinney received "460", Senator Len Fasano "675" and Representative John Frey "474". McKinney said today he was offered his new plate for his new car by Moody.
Republican United States Senate nominee Linda McMahon got her automotive swag ("275") after spending $50 million in her 2010 campaign against Richard Blumenthal. One of her advisors, Patrick Sullivan associate Gene Sheehan, snagged "514".
Though Rell once professed an aversion to lobbyists, Connecticut Hospital Association lobbyist James Iacobellis, who cultivated Moody, trundled away with "970". The hundreds of millions taxpayers handover to state hospitals aren't enough.
Department of Social Services Commissioner Michael Starkowski ("750") was one of numerous recipients who declined to return calls seeking comment today.
The identities of recipients of the elitist symbol who lease their cars were not available.
UPDATE: Linda McMahon responded to an inquiry about the provenance of her new plate.  She says, "Well, the license plate was unsolicited on my part. Gov. Rell called and asked if I wld like to have one and I said yes. I sent my money to the appropriate office and received my new plate."  Mrs. McMahon declined to provide any hint of her intentions for the 2012 U.S. Senate race.