Kevin Lembo's Astonishing Confession: He's Been Useless.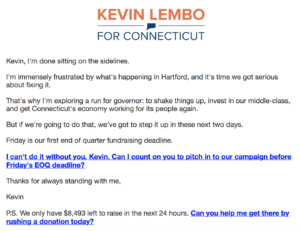 Kevin Lembo is on to something. "I'm done," wrote the second term state comptroller who is exploring a race for governor, in a fundraising email. The Democrat may be more on target than he intended.
Lembo says he's "done sitting on the sidelines in Hartford." Remarkable. Lembo has been in the thick of state government for more than a decade as a health care advocate and comptroller. He's a Democratic insider whose office has given him a platform to "get serious about fixing" Hartford. Instead, he's been a docile and loyal foot soldier for his party, a silent accessory to Connecticut's decline.
Every campaign gets plenty of bad advice. Winning candidates recognize and reject terrible ideas. In pursuit of a few bucks at the close of the second fundraising quarter of the year, Lembo issued a lethal confession that his many Democratic detractors will not ignore. Republicans will be more hopeful than ever that they face Lembo in 2018.
Admitting to sitting on the sidelines for more than six years is no recommendation to lead Connecticut into its precarious future.