Lembo Continues to Deny 2010 LG Candidacy.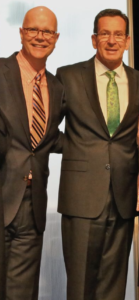 There he goes again. State Comptroller Kevin Lembo, fresh off many years on the sidelines, keeps saying his 2010 comptroller race was his first bid for public office. It wasn't. This 2010 State Elections Enforcement Commission decision found that Lembo was a candidate for lieutenant governor before he exited that race in favor of Nancy Wyman, which created an opportunity in the Democratic race for comptroller as part of the Malloy team.
Lembo tells potential contributors in a solicitation sent today, "When I first ran for Comptroller, I had never run for political office in my life." It's not the first time Lembo has made that claim—and it's still not true.