Malloy's Boy Makes Illegal Contribution. Bronin's PAC Exceeds Limits to Hartford DTC. Reports in Conflict.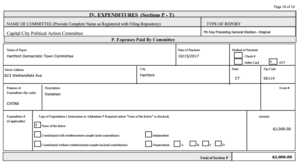 It's already starting to feel like Malloy's third term. Luke Bronin is not just the unpopular governor's protege and the mayor of Hartford. The Greenwich scion is also the chairperson of the Capital City Political Action Committee. The PAC made a $2,000.00 contribution on  October 15th to the Hartford Democratic Town Committee, according to records submitted to the State Elections Enforcement Commission (SEEC). The maximum contribution from a traditional PAC to a town committee is $1,500.00 a year.
Curiously, the contribution makes no appearance on the town committee's mandatory report due seven days before an election.