Mattei Contributors Paid Speeding Ticket.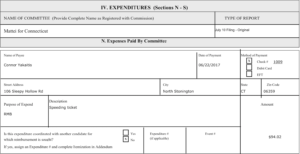 Politicos of all sorts are pouring over the niagara of campaign finance reports filed today. One expenditure has citizens of the permanent government in the Capitol Village tittering. The Mattei exploratory campaign report includes payment of $94.02 for a speeding ticket. It strikes observers as a personal rather than a campaign expense. The sort of thing a prosecutor might have rebuked, say, John Rowland or Chris Donovan for doing.
The Hartford Democrat's number enjoyed a strategic release. The report was filed today, along with many others. It features many contributions above $100 that will not count in the tough slog to $250,000. It includes a tranche of contributions from the Republic of Cambridge among its many out-of-state givers.
Perusing a variety–by no means all–of the reports filed in the last few days gives rise to a general inquiry. When will we see a campaign that provides health insurance coverage for the workers?