Maybe He Should Call a Cab. Legislature's Lawyer Charges Up to $97.50 to Travel Less Than a Mile.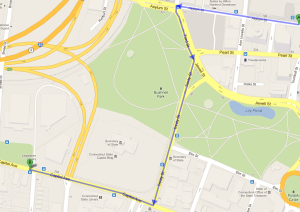 The Office of Legislative Management (OLM) has been accumulating an escalating legal bill in its effort to keep a federal investigation into its role in corrupt practices secret from the public. It blew through its initial $20,000 cap on a no-bid agreement with Hartford lawyer Stephen V. Manning in less than three weeks. More than $1,000 of the expense placed on the public has been for Manning to travel 8/10th of a mile from his office on Asylum Street to the Legislative Office Building on Capitol Avenue. Three of the trips to and from his office have cost taxpayers $195.00, that's $97.50 each way. One was billed for $162.50. Two hit the meter for $130.00.
Manning's office, O'Brien, Tanski & Young, was recommended to OLM by Attorney General George Jepsen, according to documents obtained by Daily Ructions.