Message to Napa Valley: Come Home, John Larson. Your District is Turning on You.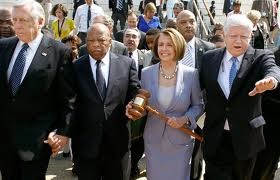 Congressman John Larson (D-Good Times) may have to narrow his brief of securing New England for fellow Democrats between now and November 2nd.  A CTCapitolReport/Merriman River Group poll released this morning has the 6-term veteran from the deepest of blue districts only 7 points ahead of Republican Ann Brickley.  The Chairman of the House Democratic Caucus wins 52% of voters in the survey of 515 likely voters.  The novice Republican candidate rings up an astounding 45%.
This will confirm what the Larson campaign has been feeling in its bones, on the phones, and at doorsteps.  Voters, even Democratic loyalists, are unhappy.  Longtime Larson campaign volunteers have been muttering about the muttering. The poll, confirming their worries, may rally the troops.  It will send Larson into a miasma of tub-thumping partisan hollering.  That may provide a jarring contrast to the dignified Ms. Brickley.
Some local contributors will take quiet glee in Larson's poll scare.  Resentment has been growing at his heavy-handed fundraising practices aimed at Connecticut industries whose leaders believe he demonizes and votes against in Washington.  They are looking forward to his calls.