OCC Elin Katz on Communications Workers Who Opposed Her Corporate Favorite.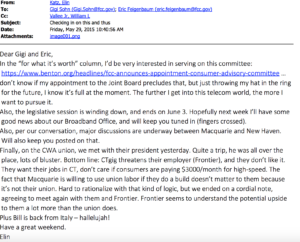 Utilities consumer counsel Elin Swanson Katz has spent much of her term diverted by her scheme to put strapped municipal governments into the speculative internet service provider business. Her determination caused her to lose her way and compromise her office. Katz has been a relentless booster of Australian financial company Macquarie Capital. Katz has been Macquarie's biggest booster in Connecticut, especially in a potentially disastrous deal for gigabyte service in New Haven. At the same time, Katz is supposed to be a conflicts-free watchdog of the Macquarie conglomerate's water division, Aquarion.
Katz's nomination for a second term is double-starred on the House calendar and no one seems to have taken a look at the vast haul of Katz emails that highlight her persistent conflict. Click to enlarge the one above in which Katz sets out her dismay that Communications Workers of America leader Bill Henderson and his members want to keep their good jobs–in the private sector.