You don't often get a look at jury deliberations from a someone who's been there. The Waterbury Observer has the fascinating story of what went on inside the Rowland jury.
Highlights:
"Day by day, [juror Bob] McCormack said, 'the evidence got worse for John Rowland.'"
Prosecutor Christopher Mattei delivered a powerful and flawless closing argument.
Read it all.
October 15, 2014 3:37 pm Comments Off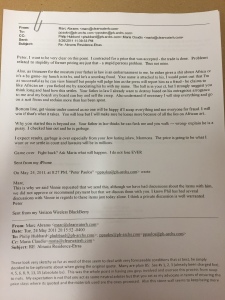 Greenwich Democrat and state representative hopeful Marc Abrams's abusive emails to an architect have been made part of the court record in a Connecticut dispute. In a late night 2011 email from his iPhone, Abrams lets loose with his signature niagara of filthy abuse.
A photograph of the email is above. Low points include threatening "to destroy" the recipient's father in law. Abrams refers to him as "your Jew hating inlaw, Mormons." "He is a pussy. I checked him out and he is garbage."
If Abrams does not get his way, he writes, "The price is going to be what I want or we settle in court and lawsuits will be in millions."
The generous Democratic contributor concludes, "Game over. Fight back? Ask Maria what will happen. I do not lose EVER"
The email has a similar tone to those excerpted in a sexual harassment suit against Abrams and others by two female former subordinates that is pending in New York.
October 10, 2014 10:48 am Comments Off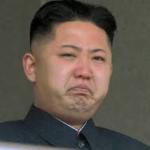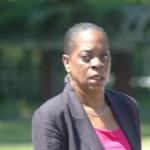 Only one of these elusive, mysterious public figures has State of Connecticut employees and retirees anxious about their pensions.
October 10, 2014 9:31 am Comments Off
Greenwich Democrat Marc Abrams issued a statement on Thursday regarding a sexual harassment action pending against him and others associated with a New York hedge fund. The candidate for the state House of Representatives blamed "unscrupulous trial lawyers" and New York's legal system for the action brought against him by two aggrieved female subordinates at Titan Capital.
Abrams's statement declines to address emails and other communications cited in the complaint available on the New York court system website. For example, Abrams did not address what sort of person would send a message like this one to the boyfriend of one of the plaintiffs: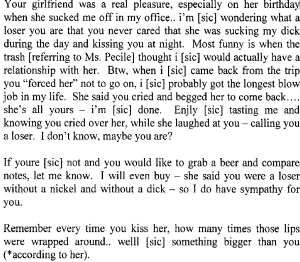 October 9, 2014 5:15 pm Comments Off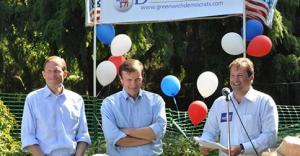 Connecticut Democrats will have a hard time standing by Greenwich Democrat Marc Abrams in the aftermath of revelations of allegations of his sexual harassment of subordinates at his Titan Capital hedge fund.
"Hooker", "piece of s— stripper", "f—– rotten piece of dirt", and "white trash" are sentiments one would not expect Richard Blumenthal–at least–to be associated with.
October 9, 2014 11:50 am Comments Off
Felonious former Governor John G. Rowland is seeking letters that will help Judge Janet Bond Arterton "appreciate John's character and accomplishments" at his January 7, 2014 sentencing. Rowland, "still in shock" over his September conviction for campaign finance fraud, is contacting people by email with an appeal for letters that will highlight his "acts of kindness" and "9/11 calls" to families of the victims of the 2001 terrorist attacks, Daily Ructions can report.
Rowland's stream of consciousness message (he's never been vigilant about punctuation) includes a memo from his defense team. It provides instructions on writing a letter for the twice-convicted three term former governor. Here are some of them:
It is helpful to the Court if you state how you know John, how long you have known him, and in what capacity. You should also indicate that you are aware of John's recent conviction, because a letter of support from someone who is unaware of the proceedings has less impact.
 The letters should emphasize John's character and accomplishments, such as his commitment to his family, friends, former constituents and the community, his community services and charitable activities, etc. Please refrain from criticizing the government prosecutors. While it is fair and appropriate to be upset with the outcome of John's trial, the Judge will be most receptive to positive statements about John rather than criticisms of the jury's verdict.
Those who have a different view of Rowland may also write to The Honorable Janet Bond Arterton, United States District Court, District of Connecticut, Richard C. Lee United States Courthouse, 141 Church Street, New Haven, CT 06510.
October 9, 2014 9:58 am Comments Off
Greenwich Democrat and state representative candidate Marc Abrams does not mention his ties to New York hedge fund firm Titan Capital Group on his campaign website. Instead, he refers to himself as a "successful businessman, entrepreneur and investor".  He claims to be able to "think outside the box."
Two of Abrams' former employees, Danielle Pecile and Cristina Culicea provide shocking allegations of life working for Marc Abrams and his brother Russell at their New York office. The stunning tale is loaded with details, including claims of abusive, sexual emails sent by Marc Abrams. Here are a couple of cleanup up extracts from the contents of paragraph 62 of the complaint that alleges Marc Abrams wrote to one of the plaintiffs:
"Give up and be a hooker–but you probably need to to learn how to f— first
You are a scumbag. I started to realize when you acted like a cheap stripper asking for money–now I know you are the cheap piece of s— stripper. You are a f—— rotten piece of dirt. You are the definition of the [sic] 'white trash"
The 11 count, 50 page complaint includes details of alleged abuse and harassment. You can read the original 2010 complaint here. Paragraphs 43 and 62-65 are especially raw. Brace yourself. The complaint includes a nasty alleged message to the boyfriend of one of the plaintiffs and goes on at some length about their respective, well, equipment.
The case continues in Supreme Court of the State of New York. Here's a summary of it from January of this year.
Abrams is a member of tony Greenwich's representative town meeting. He's been a prolific contributor to Democratic campaigns, according to Open Secrets. He gave the maximum contribution to Attorney General George Jepsen's re-election campaign earlier this year.
October 8, 2014 7:43 pm Comments Off
The Quinnipiac University poll of 1,085 likely voters reveals that Republican nominee for governor Tom Foley is finding ways to squander his lead against unpopular Democratic incumbent Dannel P. Malloy in the rerun of their 2010 contest. The Qunnipiac survey finds Foley and Malloy at 43%. The university's September poll gave Foley a 6% edge over Malloy. The two have since engaged in a barrage of negative advertising on the airwaves that looks to have helped Malloy.
The poll holds out some hope that Foley may be able to reverse Malloy's momentum. It finds that likely voters continue to disapprove of Malloy's performance by a wide margin. The poll suggests, however, that Malloy and his allies are succeeding in making Foley a more unpalatable choice than the disliked Malloy. That is no small achievement. It's unlikely to be reversed by ads featuring Foley talking to a hotdog vendor or calling for a truce on attacks.
Foley is providing a valuable lesson for campaign school case studies: you cannot be both candidate and campaign manager.
October 8, 2014 11:14 am Comments Off
That eyebrow-raising PPP poll showing Democrat Governor Dannel P. Malloy 8 points ahead of Republican rival Tom Foley has not steadied nerves at the Democratic Governors Association. Twelve hours before the release of the latest Quinnipiac survey of the disputatious race, a DGA operative is talking trash about Connecticut's premiere polling operation.
The DGA email is below. Some of the numbers appear to be cherry-picked. In Iowa, for example, a recent Des Moines Register poll also put Ernst ahead of the flailing Braley by 6 points, roiling the race.
For a more even-handed discussion of polling challenges this year, see this analysis from FiveThirtyEight.com.
Subject: BACKGROUND: Quinnipiac Poll Struggles With Likely Voter Screen

Date: October 7, 2014 at 6:06:00 PM EDT

With Quinnipiac University set to release a new poll in the Connecticut governor's race tomorrow, it's worth noting the organization's significant and ongoing challenges in accurately identifying an accurate sample of likely voters, and therefore capturing the state of races across the country.

Below is background information regarding how their numbers have been far outside of the consensus of other pollsters in the last month. As you might remember, this is the same polling organization that showed Andrew Cuomo leading Carl Paladino in the 2010 New York governor's race by only six points in late September. Governor Cuomo ultimately won the race by 30 points, 63-33.

2014 Colorado Governor

 

 

Beauprez

Hickenlooper

Margin

Public Poll Average (7/5 – 9/14)

44

46

+2 Hickenlooper

Quinnipiac Poll (9/15)

50

40

+10 Beauprez

CO-Gov: The latest Quinnipiac Poll showed Governor Hickenlooper down 10 points in his race for reelection. The sample assumed about a roughly eight-point Republican Party ID advantage. However, according to the exit polls in 2010, there was a 6-point Democratic advantage (33% D / 27% R / 40% I). In 2012m it was a 5-point advantage in the exit polls (34% D / 29% R / 37% I). If you take the Quinnipiac Poll party support levels at face value (they show Hickenlooper at 93%-4% with Dems, 5%-89% with GOP, and 37%-50% with Independents), and re-weight it using the 2010 exit poll party ID numbers, you end up with Hickenlooper 47% – Beauprez 45%. Hardly a 10-point lead for Beauprez.

2014 Connecticut Governor

 

 

Foley

Malloy

Margin

Public Poll Average (2/26 – 9/2)

42

40

Margin of Error

Quinnipiac Poll (9/8)

46

40

+6 Foley

CT-Gov: The sample in their last poll appeared to be, exactly or nearly 32% Republican, 33% Democratic, and 35% Independent. However, in 2010, the electorate was 12 points more Democratic than Republican in the exit polls – 40% Dem, 28% Republican, 33% Independent. Reweighting the Sept 10th poll to that electorate would give Malloy a 45% – 42% lead. Again, hardly a 6-point lead for Foley.

2014 Virginia Senate

 

 

Gillespie

Warner

Margin

Public Poll Average (7/5 – 9/19)

34

51

+17 Warner

Quinnipiac Poll (9/22)

39

48

+9 Warner

2014 Iowa Senate

 

 

Ernst

Braley

Margin

Public Poll Average (8/11 – 9/10)

44

43

Margin of Error

Quinnipiac Poll (9/15)

50

44

+6 Ernst
October 7, 2014 9:25 pm Comments Off
Four term incumbent State Treasurer Denise Nappier has taken flight from her re-election. The Hartford Democrat today backed out her only joint appearance with Republican challenger Tim Herbst. The two were scheduled to meet this evening at an anticipated forum at the Hartford Public Library.
The event is sponsored by Hartford Votes and Common Cause. CT News Junkie's Christine Stewart is slated to be the wise moderator. It begins at 6 pm.
Keeping the erratic Nappier from a public come-apart may be proving more of a challenge than party poobahs expected. It could be safer to plead "personal reasons" and add to speculation that Nappier is growing more erratic than show up and confirm what insiders have been saying for several years.
October 7, 2014 11:28 am Comments Off