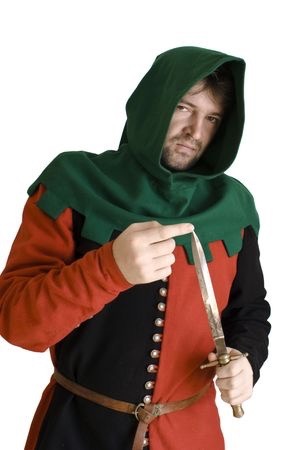 Marooned Connecticut Republican activists will spend the weekend plotting to remove party chairman Jerry Labriola. The disappointed loyalists have been reviewing party rules in text, email and phone conversations as they seek to crawl out of the wreckage of Tuesday's results in the race for governor.
The growing band of conspirators hopes to replace Labriola with a more sober and steady leader who will travel the state more and the nation less. Names mentioned include outgoing state Senate Minority Leader John McKinney, Tim Herbst campaign insider Catherine Marx, Dan Debicella campaign manager John Puskar, and Mark Greenberg campaign helmer Bill Evans. Expect more names to emerge as disparate factions begin their moves.
Updates as events require.
UPDATE I: Add Greenwich Republican Town Chairman Jim Campbell and party stalwart Liz Kurantowicz to the list of possibilities.
UPDATE II: A reader writes:
Mr. Rennie,
A friend just forwarded me your column and while I am flattered to be mentioned in it, I am going to go back to my business and most importantly my beautiful and tremendous wife and now 4 yr old son. I will be around to help the party in any way I can but it is certainly not in that role.
Bill Evans.
UPDATE III: Another reader, who claims to be Joe Visconti, sends this:
"Throw me in the mix for good measure"
UPDATE IV: Palin Smith asks for consideration, testing how far from the center right a concussed party would go. Hold on, Palin Smith suggests Wayne Winsley. He seems well-liked.
UPDATE V: Add Timtown's J. R. Romano.
UPDATE VII: A reader nominates Cindy Cartier, an attorney and Guilford selectman with a distinguished name.
UPDATE VIII: William Landers tells Daily Ructions that he was happy to join a movement to draft Barkhamsted stalwart Juliana Simone. The field grows crowded. In addition, a name from the 20th century has been floated: Tom Scott.
UPDATE IX: State Senator Joseph Markley's is being mentioned as one of a couple of consensus candidates. Party activists concluded during the weekend that the primary goal is to take out Labriola and replace him with a leader acceptable to a wide range of factions.
November 7, 2014 7:53 am Comments Off
November 6, 2014 8:50 pm Comments Off


Two Connecticut House Republican campaign committees spent nearly $8,000 on legal fees in October, less than a month before Tuesday's election. The New Friends committee paid Hartford law firm Shipman & Goodwin $2,237.  House Republican Campaign Committee paid the same firm $7,815.51. That's in addition to $22,000 the campaign committees paid earlier in the year.
House Republican leadership has been ensnared in a federal criminal investigation.
November 6, 2014 3:13 pm Comments Off
The 64-member House Republican caucus meets at 6 p.m. this evening to elect a new leader. Before the balloting begins and for the good of the state's failing two-party system, some brave Republican in the room should pose a few difficult questions. How many caucus and staff members have met with federal law enforcement authorities since last summer? The past month? (The correct answer is not zero.) What was the nature of the inquiry? Did they seemed satisfied with what they've learned so far? Have current caucus leaders been able to provide all the documents, including receipts, law enforcement authorities have requested? Have they examined or taken any computers or other devices?
Members of the caucus will be not able to cast an informed vote in the leadership contest until they know the answers to those questions and the questions the answers prompt.
November 6, 2014 12:41 pm Comments Off
Absentee ballots from Connecticut's urban areas provided incumbent Democrat Denise Nappier with a 7,000 vote margin over Republican Tim Herbst in their battle for state treasurer. The additional votes, made known Wednesday in the state's chaotic election process, mean Nappier is not expected to face a recount.
Herbst, who ran a spirited campaign, will hold a press conference in Trumbull at 4 pm.
November 5, 2014 1:07 pm Comments Off
Republican Tim Herbst believes he has fallen fewer than 1,000 votes short in his bid to defeat incumbent State Treasurer Denise Nappier. Herbst sent an email to supporters and others early Wednesday afternoon alerting them to a possible recount. That's a labor intensive task  and the Trumbull first selectman is seeking help from local party activists. A recount will entail looking at a lot of ballots and running them through a voting machine.
UPDATE: The Nappier camp thinks the erratic incumbent has a lead of more than 7,000 votes.
November 5, 2014 12:31 pm Comments Off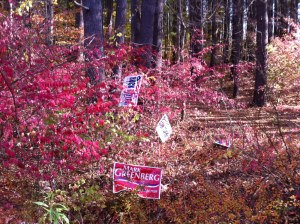 There are unusual things flowering in the woods of New Milford: Republican campaign signs. Those signs, local loyalists say, had been placed at a polling place before they were discovered in the woods.
Police have assigned the case number 14-44775-OF. Maybe they will find missing voter lists from Hot Mess Hartford.
Don't let it divert your attention from Bridgeport.
November 4, 2014 11:18 am Comments Off
Monday's Wall Street Journal distilled into a few lethal sentences the choice facing Connecticut voters on Tuesday. The editorial featured this:
Take Connecticut's Dannel Malloy, who rode into office by less than one percentage point in 2010 after promising not to raise taxes but soon was calling himself the "anti-Christie," a reference to the Republican Governor in nearby New Jersey. He's lived up to his self-billing, as Hartford pushed through 77 separate tax hikes that comprised the largest increase in state history.
The average Connecticut household now pays taxes of $11,639, or one of six dollars of earnings and a jump of $2,839 over 2010. The state and local tax burden per capita is the country's third highest, after New York and Maryland, according to the Tax Foundation, which also ranks the state 42nd on its 2014 business tax climate index.
Connecticut's economic growth rate in the Malloy era: minus-0.9% in 2011, 1% in 2012, and 0.9% in 2013, according to the federal Bureau of Economic Analysis.
Mr. Malloy is in a tight race with GOP businessman Tom Foley, who favors tax reform after a "comprehensive review" to make Connecticut more attractive for business investment and reduce the cost of living. When Mr. Malloy was asked at a recent forum how Connecticut could make housing cheaper for the shrinking middle class, he replied that "I don't have a magic wand." It's more accurate to say he doesn't have a clue.
November 3, 2014 3:04 pm Comments Off
republican Tom Foley's campaign has claimed a late advantage with independent candidate Joe Visconti's departure from the race for governor Sunday morning. Event happened during a Foley bus tour stop in Brookfield.
November 2, 2014 11:59 am Comments Off
Kie Westby campaign consultant Ronald Wilcox disclosed in a Friday afternoon email that he will return a controversial $285,000 consulting fee to the Westby campaign, Daily Ructions can report. Claims that the payment, first disclosed here, was an error, were not true.
Wilcox, who had been receiving $1,000 a month from the Westby campaign until it qualified for public financing late in the campaign, is said to be some sort of fiscal conservative. Government money does things to people. Here's his email to Republican functionary Gary Schaffrick, who in a message to Wilcox noted that he receives Social Security Disability payments and $950 a month from the state party.
Gary,

This is to advise you that We are in the process of  filing  an amended report to the State. I have returned the full amount of $285,000 to the Kie Westby for Attorney General Campaign.

I have worked extremely hard to help build this party and I think there are many who appreciate my efforts in this endeavor. I have also worked extremely hard on Kie's campaign and the results speak for themselves.

Kie is very close and we have all worked very hard to get him where he is. I do not feel it benefits our party or any of our candidates to have made this the issue it has become. If you or anyone felt this fee was excessive or perhaps our filings were in error I think the appropriate thing to do would be to bring it to our attention and work out a resolution rather than make it public.

In any event I want to do what is in the best interest of everyone, and as such, as stated I have returned the full amount of $285,000. And we are in the process of amending our filings.

I would also ask that you forward this to anyone who you may have BCC this to.

Time to GOTV

Thank You

Ronald E Wilcox

Congressional Coordinator

CTGOP
November 2, 2014 6:46 am Comments Off