New Britain's poorly advised and struggling mayor, Erin Stewart, posed a thought for the ages on her Facebook page and then reconsidered. Photos of her internal struggle with potty mouth philosophy below.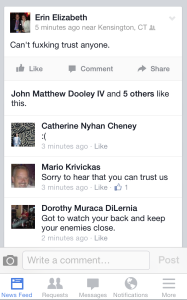 Stewart's Monday evening bromide was edited later in the dark night: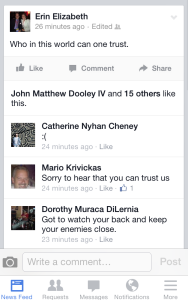 July 1, 2014 8:57 am Comments Off
The state's election commission is expected to approve a public financing grant to Groton Republican Heather Bond Somers's campaign for lieutenant governor. The $400,000 in taxpayer money will allow Somers to compete in the August 12th party primary with convention-endorsed state Representative Penny Bacchiochi (R-Stafford) and Bridgeport Republican David Walker.
June 30, 2014 4:22 pm Comments Off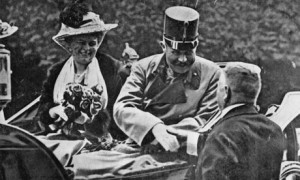 Saturday marks the 100th anniversary of the assassination of Archduke Franz Ferdinand and his wife during a visit to Sarajevo. The miseries of the bloody 20th century flowed from that day.
The BBC's Radio 4 is chronicling those events in a Month of Madness series with Professor Christopher Clark. One of the conspirators threw a bomb at the motorcade that exploded under the car behind the Archduke's. The Archduke insisted they continue–into the path of the assassin.
June 27, 2014 10:26 am Comments Off
Hartford Mayor Pedro Segarra continues to struggle with his misbegotten baseball  stadium proposal. Only a few weeks ago, Segarra deemed it a "done deal". On Thursday, Segarra lost another tussle with the facts and explanations of the secret negotiations when he made during an ill-considered appearance on WNPR's Where We Live. Segarra tried to explain the stadium agreement provision that provides a free skybox and boatloads of free tickets for city officials.  The mayor sounds like he has not read the contract for the $60 million taxpayer-financed project. He had nothing to do with it, he proclaimed.
There's a short audio clip of Segarra's exchange with host John Dankosky in this link. Decide for yourself. In only a minute Segarra veers along a spectrum from panicked to slow-witted before coming to rest at incoherent.
Segarra's wilting follows a public display of fear from City Council President Shawn Wooden as he tries to skedaddle from the proposal he embraced with enthusiasm as June began. Maybe April isn't the cruelest month. Perhaps August is. That's when Democratic primary voters will get a chance to offer their verdict on the stadium in a primary contest between Wooden and incumbent state Senator Eric Coleman.
June 26, 2014 5:27 pm Comments Off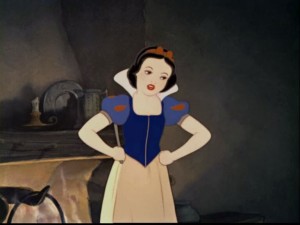 Former Governor M. Jodi Rell is not happy with her successor. She says Democratic Governor Dannel P. Malloy "lies," Daily Ructions has learned from delighted witnesses. The popular Republican, long silent on political races during and after her 6 1/2 years as governor, astounded a Waterbury crowd of about 125 Wednesday night with her stark assessment of Malloy.
Rell told the crowd that Malloy (mocking his changing first name from Dan to Dannel back to Dan along the way) did not inherit a massive budget deficit from her. It was the Democratic legislature that created the deficit. Rell pointed out that whoever is elected governor in November will face a large deficit next year.
Rell brought Malloy's opprobrium on herself. She declined to do much to help her lieutenant governor, Michael Fedele, in his unsuccessful 2010 campaign for governor. Rell then sat out the fall campaign between Republican Tom Foley and Malloy. Many observers believed if Rell had cut an ad for Foley, he might not have lost to Malloy by 6,000 votes four years ago.
June 25, 2014 9:54 pm Comments Off
I know it's tempting. It's a big boat. The kind you are never going to own yourself. There's a staff that will serve you food and alcohol. This is the life. But it's trouble. Big trouble. Do not accept an invitation to take a cruise on a yacht like Donnie Brasco's. It's the 21st century. Everyone has a camera. A photo of you on a boat you shouldn't be on can end up in the cold clutches of federal law enforcement officials. It's happened. Daily Ructions has it on good authority.
Imagine trying to explain the circumstances around your presence on that yacht when FBI agents come rap-tap-tapping at your door early one morning. Nix the yacht. Go to a public beach and have a picnic with your family. Keep your nose clean, or you may have trouble rising through the ranks. Understand?
June 25, 2014 3:37 pm Comments Off
Cosseted Central Connecticut State University poet and professor Ravi Shankar returns to criminal court Thursday on a host of unsettling charges. The state's incurious Board of Regents last month promoted the recidivist to a full professorship last month while he was serving time in the hoosegow in an unusual arrangement that allowed Shankar to go in and out of incarceration as his schedule permitted.  Some of Shankar's pending matters have appeared on the docket 28 times. This is not typical treatment of a chronic defendant.
June 24, 2014 10:25 am Comments Off
June 21, 2014 12:12 pm Comments Off
Hartford city officials reserved a skybox and a mountain of free tickets for themselves in their controversial $60 million taxpayer-financed minor league stadium deal with Boston real estate developers. Read about it in my latest Hartford Courant column. They worked in a special parking deal for themselves, too.
June 19, 2014 8:59 am Comments Off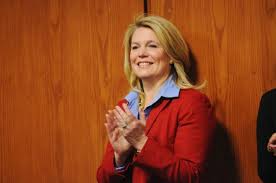 Republican lieutenant governor hopeful Heather Bond Somers, recently parted from struggling gubernatorial candidate Mark Boughton, will submit $80,000 in public campaign finance qualifying contributions to the Citizens Election Fund. Somers enjoyed a boost in support after her strong showing at the Republican state convention last month.
The Somers application for public funding of more than $400,000 for the August 12th primary will likely be acted on by state officials at their June 26th meeting. The Groton Republican faces party endorsed candidate  Penny Bacchiochi and Bridgeport Republican David Walker. Shelton Mayor Mark Lauretti is expected to fall short of his shambolic bid to petition onto the primary ballot and make an alliance with Boughton.
June 18, 2014 8:56 am Comments Off