Serious Republican competitors will be scrambling today to turn out a crowd of protesters to urges Governor Dannel P. Malloy to veto the budget the Democratic legislature passed Wednesday. Malloy announced in an email Saturday that he will be kicking off the Democrats' 2015 campaign effort In Hartford Sunday at 12:45 p.m.
This is the sort of activity Joe Markley understands. Rivals John Pavia and J.R. Romano may have to strain to make an impression. Clock is ticking.
UPDATE: Fairfield Republicans organize.
Fairfield Republicans
June 4 at 8:56am ·
MALLOY TO VISIT FAIRFIELD SUNDAY – In a shocking turn of events, Fairfield First Selectman Mike Tetreau has asked Governor Malloy to headline his re-election campaign kick-off event Sunday at 3pm at the Southport Brewing Company. A rally is being planned across the street from the restaurant starting at 2:30pm to show opposition to the Governor's Budget. If you do attend, we ask that everyone remain civil, do not block access and that everyone be respectful to the businesses in the complex. Southport Brewing Company is very supportive of many organizations in Fairfield and has been the venue for many political events and we hope you will all continue to support this local business.
Like · Comment · Share
June 6, 2015 2:09 pm Comments Off on Republican Contest Leadership Test.
Maybe it was the high spirits of the evening. Republican party chairman Jerry Labriola told several party loyalists at Thursday's annual Prescott Bush fundraising dinner that he may enter this month's contest for his job, Daily Ructions has learned. Labriola's confidants spent Friday sharing their dismay at the prospect.
The race for party chairman features rivals Joe Markley, John Pavia, and J.R. Romano. No candidate has emerged as the clear leader in competition to be decided by the party's state central committee at the end of June. Labriola may have misinterpreted the party's failure to remove him shortly after November's many election disappointments as a vote of confidence rather than the demoralized party's polite instinct to let Labriola's tenure fade away.
The annual Bush dinner can become boozy affairs for some of its organizers. The gathering may have induced cloudy visions in Labriola that he could grope his way to a late ballot victory in the fractured field of hopefuls.
June 5, 2015 6:36 pm Comments Off on State Republicans Court Disaster as Labriola Threatens to Seek New Term.
You can read my Sunday Hartford Courant column here. What a week in Connecticut.
June 4, 2015 4:14 pm Comments Off on Column: Democrats and the Age of Consequences Arrives. Klarides and Her Uncertain Trumpet.
Imagine you left the northeast today and returned in, say, 15 years.
June 3, 2015 11:09 pm Comments Off on A Classic Film Metaphor for Democrats' Punitive State Budget Plan.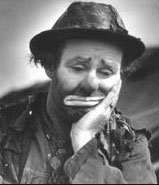 It does not take much to knock state Republican party chairman hopeful John Pavia off his pins. An innocuous comment by rival J.R. Romano on a newspaper blog last week sent the Easton political dilettante into a revealing twist.
Irritated that Romano pointed out that Pavia's wife is a Superior Court judge whose prospects for reappointment and elevation are at Democratic Governor Dannel P. Malloy's pleasure. It is an unusual tie that members of the party's central committee might want to include in their deliberations.
Pavia's response showed he has not spent much time in the arena of political combat. The whiny businessman cannot take a mild punch and certainly does not know how to land one. Somebody take away his keyboard. Pavia's rambling response showed he's shooting blanks in this contest.
Here's the tedious message [italics added] Pavia sent to the small universe of voters he needs to persuade to support him later this month:
From: John Pavia <johnpaviaforgopchair@gmail.com>
Date: May 30, 2015 at 9:43:56 AM EDT
To: undisclosed-recipients:;
Subject: Addressing It
Throughout the course of this campaign for State Party Chairman, I have publicly complimented the other candidates for being professional, respectful, and acting like gentlemen.  Our Party has self-inflicted many wounds to our image over the last few years, so there is no better way to demonstrate leadership than by behaving with professionalism, maturity and class, even in the midst of a competitive race.  Campaigns should be about vision and ideas, but as we all know they often decline into petty personal attacks.  I think the three of us have stayed focused on articulating our vision for the Party, and respectfully discussing our differences. 
On Wednesday, a story posted on Neil Vigdor's blog focused on my candidacy and my wife's position as a Superior Court Judge.  Instead of declining comment and taking the position that candidates' spouses and children are off limits, one of the candidates took the position that I needed to address this issue.  I have already spoken to that candidate, and I take him at his word that the comment was not made maliciously.  However, I would like to make two important points.  
The race for Republican Chairman is being watched by a lot of people.  The question at the top of everyone's list is whether the Connecticut Republican Party can shed itself of its bad habits and become a strong, unified, and successful organization.  The candidates for Chairman have the unique opportunity to begin the process of changing voters' opinions about the CT GOP and its ability to lead in a mature and professional manner.  The results of the last few election cycles have shown that we damage our own brand when we decide to take the low road and throw fellow Republicans under the proverbial bus.  We are only going to discredit ourselves and hurt our party if we opt to go down the path of personal attacks.  I am not going be the one to lead us down that road.
I understand that my wife is a public official.  I have never attempted to downplay her position, and have always put it out front and center when discussing my family.  Up until now, not a single person has, in any way, questioned my ability to be an effective Chairman because of her position, or suggested that her role as a Superior Court Judge creates a conflict. That being said, I guess I have no choice but to "address" the issue now that it's been raised.  
After serving the people of Connecticut for 15 years as a prosecutor, my wife had the honor of being appointed as a Superior Court Judge by Governor Jodi Rell in 2006.  All judges in Connecticut are appointed for an eight year term.  Her first term expired this year and she, along with other of Governor Rell's judicial appointees were reappointed by Governor Malloy and were confirmed by the General Assembly.  Robin has served with distinction and will now serve her second eight year term which will expire in 2022.    
During her first term as a Judge, I served as Finance Chair for our Party, helping to raise campaign funds in support of our effort to defeat Dan Malloy and return common sense to Connecticut's government.  I never once hesitated to ask a donor for a contribution out of concern that my wife would not be reappointed should Governor Malloy be reelected. This simply was not a concern of mine or my wife's.  While I realize that anything is possible, I don't think any of us believe that Dan Malloy will be Governor in 2022 when my wife's current term expires.  Therefore, the issue raised on Neil Vigdor's blog will probably rate as the biggest "Red Herring" of this campaign.
The race for Chairman is now less than a month away, and the campaign is sure to intensify.  Nonetheless, I strongly urge that we continue to show the class and professionalism that Republicans around the State are looking for.  If we want to find a legitimate target for our ire, we don't have to look any further than Dan Malloy and the Democrats.  His administration is by far the single biggest threat to our State's survival.  His policies are flat out wrong, and the numbers prove it.  While the rest of the country continues to ride the wave of recovery that began around the time he took office, Connecticut ranks near last in job growth.  During that same period, our unemployment rate was 6.6%, and our Working Age population declined at 5x (five times) the national average.  These numbers are alarming, and the trends are not going to reverse unless we come together and send more Republicans to Hartford.  Our Party is the only hope Connecticut has to roll back the tax and spend policies that are literally driving people and companies out of Connecticut.  Come June 23rd, Governor Malloy will soon realize that we are going to challenge him with substance and hard facts on every front as a unified Republican Party.
In order to accomplish these goals, we, as leaders of our Party, need to find ways to attract voters to the Republican Party and not continue the same old slash and burn tactics that have caused voters to reject our message.  I can assure you that as we move forward, my focus will remain on having substantive discussions with the members of State Central and other Republicans on how to build up our party, and how to elect Republicans.
Thank you for your service and commitment to our Party.
With best regards,
John Pavia
June 3, 2015 7:52 pm Comments Off on Poor John Pavia and the Elusive Punch.
Windsor Republican party chairman Ron Eleveld is expected to enter the race for state party chair, Daily Ructions has learned. Eleveld also serves as a member of Windsor's fractious board of education.
Eleveld will join Joe Markley, John Pavia and J.R. Romano in the long campaign to a vote by the party's state central committee in June. No clear frontrunner has emerged since candidates began testing their prospects in November.
May 27, 2015 4:14 pm Comments Off on Rumblings in GOP Chairman Race: Enter Ron Eleveld.
Linda Emmons, who served eight terms in the state's House of Representatives from 1976 through 1992, died in Idaho on May 15th. She was a distinctive original who served as co-chair of the legislature's finance committee the last time Republicans enjoyed a majority in the House, 1985-1987.
She was 77. Read more here.
May 27, 2015 3:53 pm Comments Off on RIP: Linda Emmons.
The sponsors say it's just an invitation to a party. Others see it as Republican leaders giving a wink and a nod to party chair hopeful John Pavia in the hope that he'll get some traction with state committee voters.
The event is a May 21st reception for new members of the Republican State Central Committee. Legislative leaders Len Fasano and Themis Klarides join popular party finance chair Leora Levy and Pavia on the invitation for the event  at the Canoe Club in East Hartford  Sheraton in Rocky Hill .
Pavia rivals J.R. Romano and state Senator Joe Markley are not included on the invitation, though they are invited to the event.
The revised invitation does have the look of an endorsement. You decide.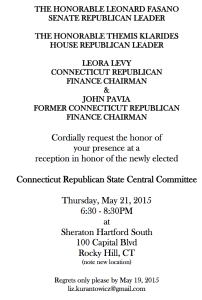 UPDATE: Liz Kurantowicz writes that Pavia and Levy are paying for tonight's event.
May 20, 2015 4:45 pm Comments Off on GOP Chairman Race: An Invite That Looks Like an Endorsement. Updated.
Republican activists across the state are breathing a sigh of relief. Losing leader Jerry Labriola will not seek a third term as chairman of the state party committee, Daily Ructions has learned. The wrecking ball will rest at last.
An announcement  is imminent.
May 18, 2015 2:34 pm Comments Off on Connecticut Republicans Prepare to Shed Albatross.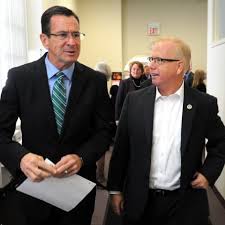 Praxair, the giant energy company, has abandoned its plans to build its world headquarters in Danbury, the News Times reports. The announcement of Praxair's expansion in the state was made by company officials, Mayor Mark Boughton and Governor Dannel Malloy four days before last fall's gubernatorial election.
The plan called for the company to receive as much as $22.5 million in state assistance. The announcement was made to considerable fanfare and ballyhooing of Malloy's commitment to taking money from working families and giving it to prosperous corporations.
The News Times reports that the expansion plans in Connecticut "had simply become too expensive for the company."
May 12, 2015 1:26 pm Comments Off on Blow to Boughton-Malloy Alliance as Praxair Abandons Plans in Danbury.