Can there be any doubt? Miss Peggy Lee on Boston's ability to shock.
December 8, 2015 2:32 pm Comments Off on Miss Peggy Lee: Got to Boston and Got a Big Shock, Big as a Whole City Block.
Full marks to chatty Republican Larry Kudlow for making incumbent U.S. Senator Richard Blumenthal (D-CT) a mass of nerves about his upcoming re-election campaign. Daily Ructions understands the tightly wound faux Vietnam veteran is worried bordering on frantic at the prospect of facing the television talker, despite the great advantage Blumenthal enjoys in polling and perception.
Don't be surprised if Sergeant Blumenthal's hair turns even darker with worry. The near-septuagenarian (he turns 70 in February) may be in a twist over facing another opponent who can explain how a job is created. Explaining his appeasement of the Iranian ayatollahs may also present a challenge this round.
The Greenwich millionaire's fraught manner is said to have at least one aide counting the days to retirement vesting and release from the daily niagara of calls.
Kudlow is expected to make a decision early in 2016 on whether to seek the Republican nomination to face Blumenthal.
UPDATE: The CNBC contributor may announce an exploratory committee this weekend.
December 4, 2015 4:51 pm Comments Off on Kudlow's Accomplishment: Blumenthal Frets About Coming Campaign.
Republicans heading to New Canaan for an evening with Morning Joe at his home should remember to bring photo ID. Partygoers, many of whom Scarborough does not know but would like to celebrate the birth of the baby Jesus with, were a trifle surprised to receive a message Thursday telling them that getting past security will require some proof of identity for the 7 p.m. event.
December 4, 2015 4:32 pm Comments Off on News You Can Use: ID Required to Make Merry at Scarborough Holiday Party.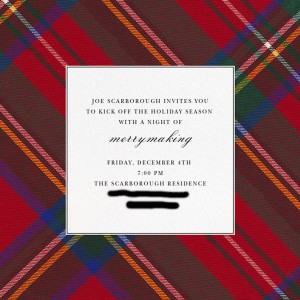 MSNBC's Joe Scarborough will be playing host to a gaggle of Connecticut Republicans at a holiday party this Friday at his New Canaan home. The guest list is considerably more extensive than the ones for some summer weekend dinners the former Florida Republican congressman had at his house earlier this year. Those dinners veered more into political strategy and the way forward for the state's tattered Republican organization than Friday's will.
Some recipients have been surprised to be invited to a holiday party by a stranger, but are curious to see who else will be in attendance. The invitations, delivered by email, did not include the option to bring a spouse, partner or friend.  Republicans will, therefore, be required to speak to one another as part of their merrymaking.
December 1, 2015 9:49 am Comments Off on Joe Scarborough: O Come All Ye Strangers. Host to Make Merry With Republicans.
Glenroy Brown was buying a house in leafy Glastonbury, Connecticut. The seller, who had moved out, allowed Mr. Brown to start moving possessions into the house on a Friday before the Monday closing. A neighbor, Lucinda Mudry, saw Mr Brown and a friend, Enrique Moran, outside the house. Here is what happened next:
A few minutes later:
Police incident report notes, "No criminal activity observed."
If someone is burgling a home, he usually takes things out of it rather than puts them in, no matter what their race.
November 12, 2015 1:11 pm Comments Off on Welcome to Glastonbury. Your Neighbor Called the Police.
November 11, 2015 2:07 pm Comments Off on A Veterans Day Medley From World War One.
Former state Senator John McKinney will head the Republican party's state finance committee, Daily Ructions has learned. McKinney fills a vacancy left by party favorite Leora Levy, of Greenwich. Levy resigned as the party's chief fundraiser earlier this year to give new chair J.R. Romano a chance to shape the state party hierarchy.
McKinney served as the Senate Republican leader, giving up his seat to run for governor last year. He lost the nomination fight to former Ambassador Tom Foley who #threwitaway in his autumn rematch with incumbent Democrat Dannel P. Malloy. Malloy is at the center of an ominous state election campaign finance investigation of his 2014 campaign. The former New York prosecutor has refused to hand over emails the state's election finance agency is seeking as storm clouds gather.
November 6, 2015 5:12 pm Comments Off on McKinney to Lead State Republican Finance Committee.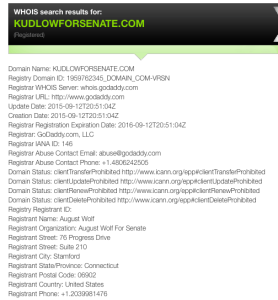 Full marks to the Augie Wolf U.S. Senate campaign for stealing a march on prospective Republican nomination rival Larry Kudlow. The Wolf campaign owns a fistful of Kudlow for Senate domain names. It is the sort of thing a nimble campaign learns to do when it has little money. The Wolf campaign is running on fumes. Wolf may be a 20th century Olympic competitor, but he's not beating any records in fundraising.
Time to put down the shot and pick of the phone for fundraising calls, Augie.
November 5, 2015 2:03 pm Comments Off on Augie Wolf Snags Kudlow Domain Names.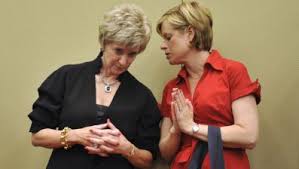 Popular Republican Jodi Latina will leave the Senate Republican office later this month to become chief of staff to New Britain Mayor Erin Stewart. Latina is a former reporter who first worked in politics on Linda McMahon's 2010 U.S. Senate race.
Latina was elected to Wethersfield's board of education in 2013. This week she claim a seat on the town council.
Latina replaces John Healey, the Farmington Republican who made a memorable appearance in an FBI video played at the 2013 trial of a Democratic campaign operative.
November 4, 2015 8:40 pm Comments Off on Latina to New Britain.
Republican Clay Cope wins third term as Sherman's first selectman. Keep an eye on him for higher office.
November 3, 2015 8:29 pm Comments Off on Clay Cope Re-Elected in Sherman.