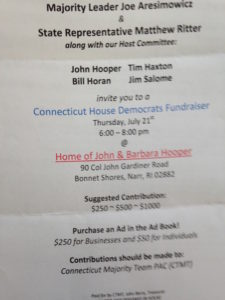 House Majority Leader Joseph Aresimowicz and leadership ticket partner state Representative Matthew Ritter will raise money for a party campaign committee next week in Rhode Island. The July 21st event will take place at the Bonnet Shores home of John and Barbara Hooper. That's a far cry from the Foxy Lady, the Rhode Island strip club that brought Thomas Ritter, the lobbyist, fixer, and former speaker unwelcome attention in 1996. He's the father of Matthew Ritter.
Suggested contributions range from $250-$1,000. The duo do not pretend to be campaign finance reformers. Ads are available for $50 for individuals and $250 for businesses. The higher price for businesses must reflect deluded the Aresimowicz/Ritter view of their stewardship of economic opportunity in Connecticut.
Democrats and Republicans are each defending more seats than they expected in this November's legislative contests. The caucus with the majority will select the new speaker.
July 15, 2016 11:03 am Comments Off on At Least It's Not At The Foxy Lady. House Democrats' Boys' Club Meets in RI to Raise Dough.
The CT Community Nonprofit Alliance has gambled on short memories in the legislature. The organization that represents more than 500 non-profit organizations, the Hartford Business Journal reports, has hired relentless Malloy administration attacker Gian-Carl Casa as its chief executive officer. He begins his new job at the end of the month.
Casa must have steered the organization's search committee away from the many detractors he made as a prime mouthpiece for the Malloy administration's scorching rhetoric. Attacks on anyone with a different point of view–not necessarily critics–could count on abuse from Casa and his master, budget chief Benjamin "permanent crisis" Barnes.
The do-gooding alliance cannot have factored possible Republican legislative gains this November into their hiring calculations. Casa aimed much of his escalating contempt at Republicans. They have not forgotten the sting of the relentless partisan vitriol he spewed at them as he made excuses for the failures of the Malloy administration. Plenty of Democrats in the legislature with long memories also felt the lash.
Nonprofits, observers note, have carried much of the burden of spending cuts while the Malloy administration continues to find plenty of money for crony capitalism favorites. Casa has been a regular defender of those harsh policies.
July 14, 2016 1:58 pm Comments Off on Brows Furrow: Nonprofit Alliance Picks Malloy Slasher Casa to Lead It.
State Senator Ed Gomes (D-Bridgeport) will be on the August primary ballot in a crucial victory for his re-election bid. Judge Barbara Bellis ordered Gomes on the ballot after hearing startling testimony demonstrating that Bridgeport Democrats Ernie Newton and Ralph Ford connived to keep Gomes off the ballot after he fell short of winning a majority of delegates at the May district nominating conventions. Judge Bellis found willful misconduct and a fraud committed on the court in the course of the unsavory acts to deny Gomes his fair shot at re-election.
Gomes was represented by former Assistant U.S. Attorney Chris Mattei and Bill Bloss.
July 8, 2016 12:20 pm Comments Off on Judge Puts Gomes on Ballot. Excoriates Newton, Ford.
The "new economic reality" continues to elude the University of Connecticut. It's considering applications for a chief counsel at the hospital that continues to burden state taxpayers. The application period closed on May 26th. Nevertheless the extensive job posting is worth reading. Especially worthwhile is UConn's description of itself.
Here's an ominous section on compensation for the "player-coach" (oy):
"The University of Connecticut offers a very competitive package of benefits, including generous medical and dental coverage, retirement contributions and plans, and many other supplemental benefits. Compensation for this position will also be competitive with similar public academic medical center legal positions nationally, and will be commensurate with the salaries of other comparable senior officials of the University."
The phrase that rings the bell, of course, isn't "competitive with similar public academic medical center legal positions nationally."  No, no, no. If only UConn administrative positions and compensation did that. It's the "commensurate with the salaries of other comparable senior officials of the University." We know what that means. Ring-a-ding-ding.
July 7, 2016 9:38 am Comments Off on The Empire Expands: UConn Seeks Chief Counsel for Health Center.
Two Connecticut Democrats get some unflattering attention in a NY Times story on U.S. Attorney Preet Bharara's investigation of the former Cuomo administration Joseph Percoco. The tale begins to unravel the relationship of Canterbury Democrats Chris Pitts and Braith Kelly.
The reader gets the feeling that this story will have a long run. Anyone who had contact with Kelly during his brief tenure as finance committee chairman for the Connecticut Democratic party will recognize some familiar notes in the Times story.
July 6, 2016 9:01 am Comments Off on NY Times Shines Light on CT Connection to NY Investigation.
Republican U.S. Senate hopeful Dan Carter will head to Tel Aviv Sunday in search of facts. The three term state legislator announced his mission on Friday afternoon. Carter hopes to join the ranks of Republicans in Washington who are the Middle East's only democracy's most reliable supporters in contrast to the Obama administration's escalating hostility.
Carter announced his trip with this statement:
BETHEL, CT: Today, Republican US Senate Candidate Dan Carter announced he will embark on a fact finding mission to Tel Aviv, Israel.
"With so much uncertainty in the world I'm eager to travel to Israel to meet with leaders and dignitaries to discuss national security, and the global war on terror.
"My years of service in the military taught me that policies made from behind a desk or a politician's microphone don't always deliver desired results.
"I'm going to talk with leaders representing one of our nation's greatest allies to better understand how we can work together to solve some of the world's greatest problems."
Representative Carter arrives in Tel Aviv, Israel Monday and returns to Connecticut
June 25, 2016 5:40 am Comments Off on Shalom: Republican Carter to Boost Bona Fides on Mission to Israel.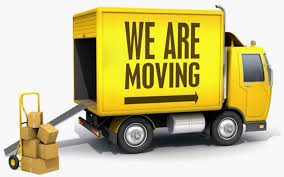 Governor Dannel P. Malloy and his budget chief, Benjamin Barnes, might want to have a word with United States Senator Richard Blumenthal about Connecticut's "new economic reality". The Malloy administration and a host of others interested in the state's troubled economy have been trying to warm the sometimes frosty relationship between state government and Aetna.
Blumenthal and six colleagues have written the Department of Justice in opposition to the Aetna merger with Kentucky-based Humana and Anthem's with Cigna, which has its headquarters in Bloomfield. Blumenthal calls the mergers "job killers". Sergeant Blumenthal may find his words prophetic as his hostility to Connecticut companies may push at least one of them, Aetna, to loosen its 163 year old ties to Hartford. Aetna has declined to issue a firm commitment to staying in Hartford.
Blumenthal's intervention will make it more difficult for Malloy and Luke Bronin, Hartford's overwhelmed mayor, to deal with a post-merger Aetna.
June 23, 2016 12:25 pm Comments Off on Blumenthal to Aetna: Drop Dead.
State Senator Ed Gomes (D-Bridgeport) easily qualified for the primary ballot at his spring nominating convention. His Bridgeport adversaries connived to keep him from challenging their endorsed candidate, Gomes alleges, by withholding documents from him and the Office of the Secretary of State.
The story is set forth in this complaint and a memorandum of law. A hearing is scheduled for June 30th. The Gomes team includes corruption fighter Christopher Mattei.
June 23, 2016 9:01 am Comments Off on Gomes Goes to Court for Spot on Primary Ballot.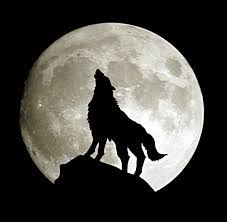 He's out. August Wolf, the disputatious Republican U.S. Senate hopeful, admitted Tuesday that he has fallen short on collecting the 8,000 signatures he needed to force an August primary. As of Tuesday afternoon, the Office of the Secretary of the State had 5,280 signatures for Wolf's failed effort. The 1984 Olympian fell short of the 15% required to qualify for a primary at the party's May convention after a year of campaigning.
Wolf's shambolic campaign organization was frequently in revolt against the erratic candidate.
Endorsed candidate Dan Carter, a three term state representative, proceeds to the autumn contest against incumbent Richard Blumenthal.
June 21, 2016 2:57 pm Comments Off on Wolf's Last Howl.
Expect the State Elections Enforcement to adopt the terms of its surrender to the state's Democtatic committee at a Wednesday morning. The SEEC is expected to end its investigation of illegal campaign spending by state Democrats on behalf of Democratic Governor Dannel P. Malloy's 2014 re-election campaign.
The SEEC will take the unusual step of ending its investigation before obtaining evidence it has deemed crucial to upholding its public trust. The commission has been engaged in an extended battle to obtain emails exchanged among Malloy and a host of party operatives.
What price betrayal? We will begin to find out on Wednesday.
June 15, 2016 9:52 am Comments Off on SEEC Set for Wednesday Surrender.