A festival of Democratic notables toasting the tossing away other people's money.
February 24, 2015 1:31 pm Comments Off
Connecticut's "permanent fiscal crisis" is taking a mighty toll on Office of Policy and Management Secretary Benjamin Barnes. The budget czar has not been able to get the details of the $40 billion two year spending plan to legislators and the public. The absence of details is proving a serious hurdle for people trying to craft a reaction and testimony to the proposal unveiled by Democratic Governor Dannel P. Malloy.
As of Tuesday morning, February 24th, the details of the document were not available on the OPM website. Capitol village denizens are muttering that transparency has become an early casualty in Malloy's second term. Others are beginning to doubt Barnes' competency to lead on basic tasks, such as providing details of the budget that Malloy hip-hoorayed and ballyhooed on Wednesday but has kept shrouded from scrutiny for a week.
February 24, 2015 11:37 am Comments Off
Danbury mayor Mark Boughton has spent months trying to manipulate state Republican affairs since November's host of party defeats. The two-time gubernatorial hopeful could not, however, get his horse across the finish line first in this evening's contest to fill a vacancy in the vice chairmanship of the state party committee.
Boughton took the floor at the Hartford meeting to nominate Old Lyme's Margaret Jane Derisio to fill the vacancy. She lost 37-32.5 in the second round of voting to tea party-leaning Annalisa Stravato of Wilton.
State central committee members will elect their leaders to full terms in June.
February 23, 2015 8:18 pm Comments Off
The business development staff was not up to the job and proved one of many disappointments. The Back9Network, a louche golf network, has suspended operations. The high-profile Hartford entity received $5 million in public funds on its tumultuous path to shutting down.
Memo to former staffers: If you saw something, say something.
Read more in the Courant here.
February 23, 2015 11:17 am Comments Off
Here's a link to my Hartford Courant column on the many programs available in Connecticut that allow criminal defendants to avoid conviction, a record and incarceration. The state's system provides many more than two chances to most defendants before they risk a conviction. Incarceration is an even more distant prospect on a first, second or third offense.
February 20, 2015 12:17 pm Comments Off
State Senator Joe Markley (R-Southington) will kick away any pretense to everyman appeal when the Republican party chairman hopeful reveals his plan for Connecticut at the astounding Chase mansion on Avon mountain. The weekend event is invitation only for members of the beleaguered party's state central committee. Some of Markley's colleagues in the legislature are expected to attend. Parking will be plentiful.
Markley can expect to be the most conservative contender in the contest to rescue the state Republican organization from the wobbly clutches of incumbent Jerry Labriola.
The 72-member state central committee elects its leaders in June. Jockeying for the chairmanship began immediately after last November's election, which proved a disappointment for Republicans and highlighted Labriola's failures as chairman.
February 20, 2015 12:07 pm Comments Off
Central Connecticut State University poetry professor Ravi Shankar was arrested on January 15th for operating a motor vehicle while his license was under suspension. The alleged incident occurred on December 19th, according to online court records.
Shankar was arrested in December for fleeing the scene of an accident, several months after he was promoted to a full professorship at CCSU while serving time in prison on other charges.
Shankar was in court in New Britain today on the most recent charge. Others are pending in New Britain.
February 19, 2015 3:39 pm Comments Off
John Pavia confirms to Daily Ructions that he will seek the state Republican party chairmanship. The Easton Republican will send a letter to party committee members that the chairman "needs to be politically astute, well organized, skilled at fund raising, and adept at managing a diverse group of constituents with very strong personalities."
Pavia served as the head of the state party's finance committee for four years. As chairman, Pavia will tell party activists that "we need to refine the brand."
Pavia is married to Robin Pavia, who serves as a judge on the Superior Court. Her impending reappointment will be in the hands of Democratic Governor Dannel P. Malloy.
Daily Ructions recalls Pavia, who vigorously promoted himself as a legal commentator in the late 1990s and early 2000s, as a John Rowland apologist after the felonious former governor was revealed in 2003-2004 to have betrayed his public trust.
Pavia is a lawyer who has "spent the last 16 years in the business world, turning around distressed companies."
Other candidates are expected to join the contest to try to replace battered, travel-loving incumbent Jerry Labriola.
February 19, 2015 10:13 am Comments Off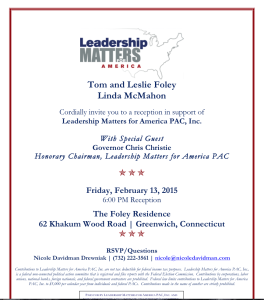 Connecticut Republican favorite Linda McMahon is with Chris Christie. She's a co-sponsor of a $5,000 a ducat Friday the 13th event for the bumptious New Jersey Republican governor preparing a 2016 bid for president. Mrs. McMahon knows how to move tickets, so the event ought to be a success, despite Christie's awful week in London and New Jersey.
Christie supporters will gather at the Greenwich home of Tom Foley to show their support for Christie's Leadership for America Matters. Christie tried to heave the hopeless Foley over the finish line first in his 2014 rematch with Democratic Governor Dannel P. Malloy. Voters decided that Foley (writer, director, micromanager and star of his own campaign) was not the lesser of the two evils facing them on the November ballot. Foley, a Mitt Romney supporter in 2008 and 2012, joins wife Leslie Foley as a co-sponsor of the event.
The 2016 Republican presidential contest will bring fierce competition for generous supporters to leafy Greenwich. Jeb Bush, whose family has roots in the affluent community, met with supporters there last month.
February 8, 2015 9:09 am Comments Off
The Glastonbury Republican Town Committee has had enough of their state party's blunders and defeats. Tonight the active committee met and voted unanimously that they have no confidence in state party chairman Jerry Labriola, Daily Ructions can report.
Glastonbury Republicans have a strong record of winning elections, so they can spot deficiencies in party leadership when they see it stumble again and again. Their action tonight will influence the many area party activists who see Glastonbury as a party organization to emulate.
One more bad night for hapless Jerry Labriola, and not a good one for his most recent puppet master.
February 4, 2015 7:50 pm Comments Off