Thirteen term Shelton mayor Mark Lauretti is running for governor. Lauretti filed a campaign committee with the State Elections Enforcement Commission today.
This is Lauretti's second run at the state's top office. He was a candidate for the Republican nomination in 2014. Lauretti joined forces with rival Mark Boughton and switched to the contest for lieutenant in the summer of 2014. Lauretti, who's had an eventful tenure in local office and is familiar to federal law enforcement authorities, was not able to gather the signatures required to petition onto the statewide party primary ballot. The Boughton-Lauretti marriage was short-lived and showed neither to be an effective campaign leader despite years in politics.
April 5, 2017 3:55 pm Comments Off on Lauretti's In. Shelton Mayor Begins Second Bid for Governor.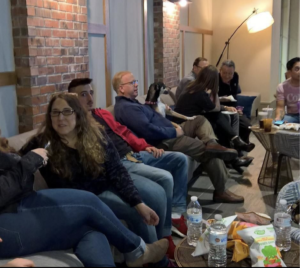 The Walking Dead is not the theme most candidates would build a fundraiser around, but Danbury's Mark Boughton does enjoy showcasing a taste for popular culture. The two-time candidate for governor and three-time candidate for statewide office is exploring a third run for governor. He gathered supporters this weekend to watch the season 7 finale of the popular show built around zombies.
Boughton began running for governor a year before the popular AMC series debuted in 2010.
April 3, 2017 10:50 am Comments Off on Fans of The Walking Dead Gather with Boughton.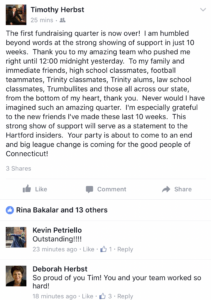 Excitable aspiring Hartford insider Tim Herbst, the Trumbull first selectman who won a narrow re-election in 2015, is well-pleased with his fundraising take in the first quarter of the year. Herbst is exploring a race for statewide office. Herbst's Facebook enthusiasm for his quarterly take did not includes a hint of how much he raised. His mom joined him on Facebook to let him know how proud of him and his team she is. Whatever the number, who can ask for more than that?
Expect cagey candidates to start revealing fundraising numbers as a part of their early strategy in the crowded field of gubernatorial hopefuls. Readers will want to remember that candidates maintaining the pretense of exploring a candidacy for governor are permitted to accept a maximum contribution of $375 per donor. Only $100 of that amount counts in reaching the magic $250,000 in small contributions required to received public financing for governor. That $250,000 mark has frustrated many candidates who have had trouble finding 2,500 supporters willing to pony up $100 each.
April 3, 2017 10:11 am Comments Off on Herbst Takes Fundraising Victory Lap–But Reveals No Numbers. Mom is Proud.
How can we say goodbye if you refuse to go away? Perennial candidate and former secretary of the state Susan Byciewicz will form a broad exploratory committee for statewide and legislative offices, Daily Ructions has learned.
You may remember Bysiewicz but have lost track of the chronic candidates remarkable history of campaigns. She briefly hovered around the 2006 contest for the Democratic nomination for governor. In 2010 she started running for governor and switched to the race for attorney general when incumbent Richard Blumenthal ran for the U.S. Senate when unpopular incumbent Christopher Dodd abandoned his bid for a sixth term. Bysiewicz suffered a spectacular defeat when the state's highest court ruled she did not meet the statutory qualifications for attorney general.
In 2012, Christopher Murphy, who was serving his third term in the U.S. House of Representatives, trounced Bysiewicz in the Democratic primary for the U.S. Senate seat that had been held for four terms by Joseph Lieberman. Two years later, Bysiewicz considered moving to Bristol to challenge Republican Henri Martin in the 31st Senatorial District.
Bysiewicz was active in Hillary Clinton's 2016 presidential campaign as a fundraiser, though she was not given a delegate spot to the Democratic National Convention.
Monday is the first business day of the second campaign financing reporting quarter of the year. Expect the brisk pace candidates filing committees to continue.
March 31, 2017 1:21 pm Comments Off on Fifth, Sixth or Seventh Time the Charm? Bysiewicz Will Explore Statewide and Legislative Campaigns.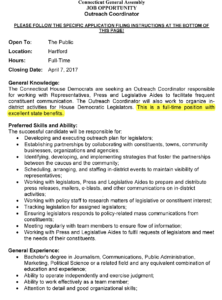 The House Democrats have an opening. It's a long job description, as you can see from clipping the above photo, and includes "excellent state benefits". It sounds like they are hiring someone who will be up to their elbows in the sort of activities associated with political campaigns.
Budget crisis? What budget crisis?
March 30, 2017 11:12 am Comments Off on House Democrats Have a Job Posting That Sounds Like a Campaign Manager's Position. Includes "excellent state benefits".
State Senator Ted Kennedy loathes hunting. The Branford millionaire is a likely candidate for the Democratic nomination for governor. His statements and legislative record will begin to be scrutinized. Hunters will take note of Kennedy's March 13th declaration at  the legislature's environment committee. While debating a bill to allow the state's environmental protection agency to develop a plan to thin the state's growing bear population, Kennedy let lose with his opinion on hunting in general.
"I don't like hunting, I think it's barbaric, I understand that other people do and I respect that but in the last couple of weeks I've changed my mind on this bill after speaking to wildlife biologists from DEEP and really learning more about the public safety issues that bears actually pose in our state we have rapidly increasingly population of bear."
Harvesting other people's private organs, however, is ok with Kennedy.  He proposed intrusive legislation that would make every Connecticut resident an organ donor (though it's not a donation if it's mandatory) unless they opt out of the program. The legislation appears to be dead for this session of the legislature, devoid of vital organs to snatch for some other bill.
March 29, 2017 2:37 pm Comments Off on Ted Kennedy: Human Organ Harvester Says Hunting "Barbaric".

West Hartford Democrat Bruce Putterman is the new publisher of The Connecticut Mirror. His prolific record of political contributions–all to Democrats–tells the tale.
No mention in the Mirror announcement that Putterman served in local office as  Democrat.
March 29, 2017 9:58 am Comments Off on Connecticut Mirror Names Democratic Activist Publisher.
Poor Peter Lumaj. He either is not proofreading his fundraising letters or he is running for governor with little knowledge of the state's fluid tax laws. Lumaj, a Fairfield Republican and lawyer, tells his fundraising marks that we must, must, must save Connecticut's $500 property tax credit. We must. "We've got a $500 property tax credit on the books, and Governor Malloy is determined to get rid of it. That's a tax hike on working-class families . It's wrong, and it's an OUTRAGE!"
The property tax credit has not been $500 for several years. Last year it was $200, before that it was $300. This year, Malloy has proposed eliminating it to boost state coffers by $105 million.
Lumaj calls Malloy's reductions in the property tax credit "his worst betrayal." Those billions in other tax increases cost far more than the reductions in the property tax credits. A candidate exploring a run for governor ought to know that.
March 27, 2017 1:14 pm Comments Off on Lumaj in Fundraising Fury Over $500 Tax Credit–That Does Not Exist.

Not every state contractor can claim a veteran state senator as its agent for service. The Pita Group of Rocky Hill can. The public relations firm has been much in the news lately, and not in a good way, over millions in communications, advertising and tweeting contracts with suspended state technical schools superintendent Nivea Torres. Pita enjoys the services of state Senator Paul Doyle (D-Wethersfield), according to records filed at the Office of the Secretary of State. Doyle, co-chair of the legislature's powerful Judiciary Committee, is listed as Pita's agent for service on its mandatory business filing.
Pita has hired well-known Hartford lawyer John Droney to do the heavy lifting in the Department of Administrative Services (DAS) investigation of Torres.
March 24, 2017 4:30 pm Comments Off on State Senator Paul Doyle Connected to Pita Group.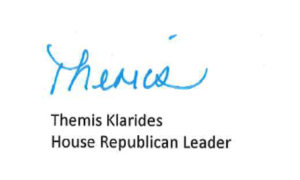 It's not Madonna, Beyonce, Prince, Adele or Cher. No, It's Themis.
Senate Republican President Pro Tempore Len Fasano and House Minority Leader Themis Klarides sent a letter to President Donald J. Trump and Speaker of the House Paul Ryan setting forth their concerns about both the Affordable Care Act and its proposed replacement (whatever that may be at any moment).
There's little notable about the contents of the letter. It's the ending that catches the eye (if you read to the end). Fasano scrawls what appears to be a full signature on the left. Klarides, however, appends just "Themis" to a letter on a major issue addressed to the President of the United States and the Speaker of the House of Representatives.
That must have been a memorable conversation between Klarides and Trump last year in Bridgeport.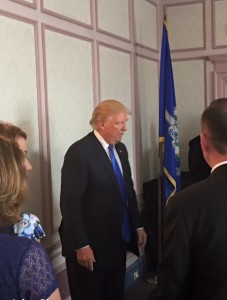 March 24, 2017 10:17 am Comments Off on How Close Are Klarides and Trump?