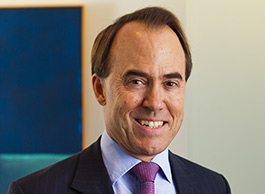 Lakeville Republican and New York investment executive Thaddeus I. Gray will appear with a host of Republican hopefuls in Avon on Friday, May 19th for the party town committee's 6th annual spring fling. Confirmed guests, according to the event announcement, include "Prasad Srinivasan, Tim Herbst, David Walker, Mark Greenberg, Steve Obsitnik, and Thad Gray."
Thad Gray is a new name on the long list of Republicans thinking about running for office. More are expected to enter races for a variety of statewide offices.
April 24, 2017 4:12 pm Comments Off on Thaddeus Gray to Join Republican Candidates at Avon Event in May.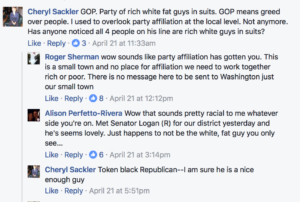 Woodbridge holds its municipal elections on May 1st. Local Democrat Cheryl Sackler took to Facebook to decry the Republican ticket as "rich white guys in suits." A commenter mentioned she had met state Senator George Logan, the district's new state senator and a Republican. Sackler, a veterinarian with a Beacon Falls practice, turned her venomous keyboard to Logan. The malignant Sackler declared Logan a "token black Republican" after her screed attracted attention.
As Democrats troop to Woodbridge to help their local ticket, will they denounce racism in their party? Will outgoing First Selectman Ellen Scalletar find her voice to intervene for decency?
Read the dispiriting exchange here. 
UPDATE:
Hartford, CT – Senate President Pro Tempore Martin M. Looney (D-New Haven) today released the following statement regarding comments posted on Facebook directed at State Senator George Logan (R-Ansonia).
"In this era of heightened political insensitivity, there is no place at the national or local level to use race, religion sexual orientation or economic status as a barometer of an individual's worth," said Senator Looney. "These types of statements directed at Senator Logan are just wrong – regardless of party – and do not belong in our public discourse."
UPDATE:
Hartford – Senate Republican President Pro Tempore Len Fasano (R-North Haven) today released the following statement regarding comments posted on Facebook directed at State Senator George Logan (R-Ansonia) and a statement by Senate President Pro Tempore Martin Looney (D-New Haven) condemning these comments.
"The Senate Republican Caucus appreciates Senator Looney's statement condemning the completely unacceptable comments directed toward State Senator George Logan. No one should be judged or measured based on their race, religion, or sexual orientation. The prejudice seen in certain comments posted on Facebook are inexcusable. We must condemn bigotry in unity. This is an issue where Republicans and Democrats in Connecticut can and will stand together."
UPDATE:
Woodbridge Democrat Beth Heller sends this:
"My team and I are focused on bringing people together, and we strongly denounce and reject any divisive comments, including those made by Ms. Sackler today. Her insensitive and offensive language has no place in our public discourse."
April 23, 2017 10:17 pm Comments Off on Woodbridge Democrat Calls Senator George Logan "Token Black Republican". Senate Leaders Condemn Cheryl Sackler.
This stark mailer tells the unusual tale of the special election for the House of Representatives in Watertown. Polletta is the Republican nominee. He was the Democratic and Working Families Party candidate for the same seat not long ago.
April 21, 2017 9:05 am Comments Off on Watertown Race Pits Democrat Against Malloy Supporter.
Christopher Mattei launched his campaign for the Democratic nomination for governor with a short introductory video. The former federal prosecutor mentions he put John Rowland in jail. Rowland was a Republican. Here's a sentence you will likely see nowhere else: Mattei is too modest. He also put members of Meriden Democrat Christopher Donovan's 2012 congressional campaign staff behind bars. The union favorite's campaign for the Democratic nomination for the open 5th Congressional District seat collapsed.
Donovan continues to be a popular figure in Democratic politics. He's not likely to be a Mattei booster, but why poke him with a mention in the video when his once in a lifetime chance to snag a congressional seat can be relegated to a quick "others"?
Ah, misty colored memories of they way they were ought to make for some memorable moments in this campaign.
Correction: An earlier version of this post included in error Bridgeport Democrat Ernie Newton among the defendants Mattei prosecuted.
April 20, 2017 2:00 pm Comments Off on Mattei's Curious Omissions.
Dear CSU-AAUP members,

During a meeting Tuesday evening with the governor's office, SEBAC leaders were notified the governor will annouce the beginnings of the layoff contingency plan.

According to the governor's staff, action is being taken now because of notice requirements in various collective bargaining agreements. The governor will identify the largest 12 executive branch agencies funded by the General Fund, plus OPM and DAS, for the first round of layoffs. More widespread layoffs will happen if there is no success from the SEBAC exploratory talks. CSU-AAUP members are not at risk of layoffs presently.

Here's what you can do to help:

Click here to contact your legislators and tell them to stand up for public higher education and Connecticut's working and middle class families.

Tell them about the new study done by our own CCSU economists and the Center for Public Policy and Social Research that shows Connecticut not only has the lowest Total Effective Business Tax Rate (TEBTR) in the region, including New York and New Jersey, but also in the United States. Connecticut also has the lowest business taxes per private sector worker in the region, and the lowest business taxes as a share of state and local taxes in the United States. This report is also attached to this email and available for you to share widely.

A budget that works for everyone is possible!

While SEBAC leaders continue to explore ways that state workers can provide help in the state's fiscal challenges, the uncertainty of thousands of public service workers who serve Connecticut's families and communities are more proof of a rigged economy and a rigged tax system that protects only the very wealthy few. Layoffs and service cuts threaten public health and safety, our children's education, and our state's future. They only hurt the economy more and lead to more fiscal crises.

Thank you for taking action.

Elizabeth Newberg

Communication and Research Associate

Connecticut State University – American Association of University Professors
April 19, 2017 4:22 pm Comments Off on It Begins. Malloy Notifies Union Leaders of Potential Layoffs.
Joe Visconti, who ran for governor as a petitioning candidate in 2014, will run for run for governor once more. Visconti will seek the Republican nomination for governor against many opponents. Visconti sought the Republican nomination for governor in 2014 but received almost no support.
Visconti endorsed Republican Tom Foley the weekend before the election. Foley was defeated by incumbent Dannel P. Malloy.
April 19, 2017 9:30 am Comments Off on Visconti to Run for Governor Again. This Time as Republican.
Mike Jarjura, the former Waterbury mayor, is running for judge of probate as a Democrat in a November special election. Jarjura earned a place in political history in 2005 when he won re-election as mayor with write-in votes. Jarjura had lost the Democratic primary to Karen Mulcahy, the city tax collector.
Jarjura ran for governor as a Democrat in the eventful 2010 political cycle and switched to the comptroller's race. He lost that summer's primary to Kevin Lembo, who is in his second term as comptroller and is contemplating a race for governor. In that race, Jarjura accused Lembo of working as chief of staff to a right wing Republican in New York. That was Betsy McCaughey, who served as lieutenant governor of New York from 1994-1998.
Jarjura ran for re-election in Waterbury in 2011 as a Republican and was defeated in a bitter contest with retired police chief Neil O'Leary, the Democratic candidate.
April 19, 2017 8:57 am Comments Off on This Time Jarjura is a Democrat. Former Mayor Running for Probate Judge in Waterbury Special Election.
He's back. Litchfield real estate developer and persistent congressional candidate Mark Greenberg is running for State Comptroller. The Republican ran for the U.S. House of Representatives in 2010, 2012, and 2014. Greenberg was the party's nominee in his last bid, losing to incumbent Democrat and Cheshire millionaire Elizabeth Esty. He lost primary challenges in 2010 and 2012. The 2012 primary was notably brutal, with Greenberg and Lisa Wilson Foley, the wealthy Simsbury Republican who later pleaded guilty to campaign finance violations.
Greenberg provided damning evidence in former Governor John G. Rowland's  2014 criminal trial for campaign finance violations, the same ones that caused Wilson Foley so much trouble.
April 18, 2017 3:09 pm Comments Off on Greenberg Redux. Three-Time Republican Congressional Hopeful Launches Bid for Comptroller.
That did not take long. Governor Dannel P. Malloy had not begun his announcement that he will not seek a third term when his Boston fundraiser, Ben Josephson, sent an ominous email to donors–many with interests in state government. Malloy will continue to shakedown donors for political contributions. Josephson's message also included a copy of the speech Malloy will deliver this afternoon.
Here's the Josephson message:
Good afternoon–
At 2:00 today Dan Malloy will announce that he will not be running for a third term as Governor of Connecticut in 2018.
He is most appreciative for the great support you have provided and wanted to be sure you were among the first to hear this news.
Governor Malloy hopes to be in contact in the coming weeks about the work he still plans to accomplish in his remaining 20 months as Governor, including working tirelessly on elections in 2017 and 2018.
I will be back in touch shortly, including with the remarks he delivers at 2pm
Thank you for your friendship and support.
Ben Josephson
April 13, 2017 2:10 pm Comments Off on Update: Malloy Will Continue to Shakedown Donors.
Governor Dannel P. Malloy is expected to announce at 2 p.m. today that he will not seek a third term. The unpopular Democrat won a narrow victories in 2010 and 2014 over Greenwich Republican Tom Foley. The 2014 was a particularly grim lesser-of-two-evils contest. Malloy devoted the first year of each term to proposing and imposing crippling tax increases on Connecticut residents.
Malloy's surly personality and his destructive economic policies combined to deny him successes in reviving the state's economy. Democratic challengers to a third term began to stir early this year, including state Senator Ted Kennedy, State Comptroller Kevin Lembo, Middletown mayor Dan Drew, and former state Senator Jonathan Harris.
A dozen Republicans have been looking forward to facing Malloy in the 2018 general election. They will need to do some quick calculating in remaking themselves and figuring out how to tie Democratic hopefuls to Malloy.
A small circle of Malloy advisors has been urging their benefactor to seek a third term. Persistently dire poll numbers have made that impossible, as Malloy's announcement confirms. He remains the most unpopular Democratic governor in the nation.
April 13, 2017 1:04 pm Comments Off on Malloy Out. Unpopular Governor Will Not Seek Third Term.