Republicans Must Confront the Poison.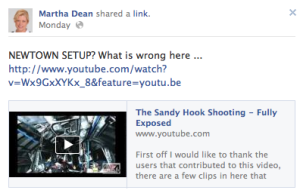 Go to Martha Dean's Facebook page. That will be the only time you read that sentence on Daily Ructions. Dean, the 2010 Republican nominee for attorney general has since Monday appeared to use her Facebook page to boost the vile conspiracy vultures gathering over Newtown's Sandy Hook elementary school.  A few minutes watching the video that Dean links with a "NEWTOWN SETUP?" lead in will give you a feel for the toxic content.
Party leaders and other elected officials must confront and condemn this ugly turn. Silence will extend state Republicans' tenancy in the wilderness.