RIP: Ann Dandrow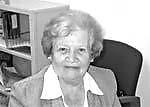 Ann Dandrow, the popular Southington Republican legislator, died Wednesday night  at St. Francis Medical Center Wednesday after suffering a stroke on Tuesday.
Ann was one of the few Republicans to win a freshman term in the legislature in 1986. She went on to serve for 16 years, carving a role in children's issues. She gave up her seat to make a close but unsuccessful bid for the state Senate in 2002.
According to a 2000 New Britain Herald article, "She was the driving force behind this year's passage of the "Safe Havens" law that will protect newborn children at risk of abandonment and the earlier establishment of the independent office of the child advocate to protect children's interests and rights."
UPDATE: Calling hours are Sunday from 3 pm to 7 pm at Della Vecchia Funeral Home, 211 North Main Street, Southington. Ann's funeral services begin Monday at 9:15 am at the funeral home followed by Mass at 10 am at St. Dominic's, Southington.