Segarra's Sicily Relaunch Goes Awry.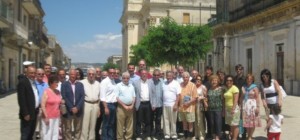 Sicily is a curious place from which to relaunch your faltering administration. Hartford Mayor Pedro Segarra was on a junket in Italy as his administration began straining to erase his image as an ineffective leader, when a city SUV disappeared from a city government parking lot. Segarra was leading a local delegation in Sicily to mark the 25th anniversary of of Hartford's sister city relationship with Floridia. Segarra had returned to Hartford by the time the city's police discovered that the mayor's former chief of staff, Jared Kupiec, was in what looks very much like unauthorized possession of the grey Ford Explorer when it was vandalized outside his home.
Segarra was accompanied on his trip to Italy by Metropolitan District Commission Chairman William DiBella and a host of others.
These sister city arrangements appear to provide little more than an excuse for city officials to get out of town now and then. Segarra will need to stay closer to home if he's to give residents the impression he possesses a clue to what goes on in the administration he nominally heads.
Segarra paid his own airfare, according to his office.