Spotted in Stonington.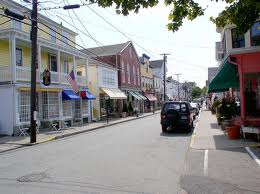 A helpful reader reports the bumptious Malloys were spotted engaging in what looked like real estate shopping last weekend in Stonington, a charming village.
Parking can be a challenge. This could be a problem for Mrs. Malloy.
If the past is prologue, a Malloy move will mean a bonanza of taxpayer money to big local corporations that lard the millions on executives. If Stonington's been dreaming of a heliport paid for by working men and women, this may be its chance.