Tong Campaign Taking Shape. Balloon Boy on the Move.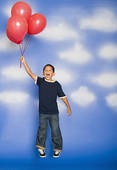 State Representative William Tong (D-Stamford) appears to be close to launching a bid for the 2012 Democratic nomination for the U.S. Senate.  "Balloon Boy," as Tong was known in the '88 Lieberman campaign when a gust of wind nearly swept him off the Founders Bridge into the Connecticut River as he held a clutch of balloons at an event, was in Washington a week ago making the rounds.  He declined to confirm if he'd hired any talent while there.
Daily Ructions has learned that Tong has been in talks with talented Connecticut Democratic operative Lon Seidman.  If they strike a deal, look for the Tong campaign to feature the most advanced technology with a distinct preference for Apple products.  Seidman is an engaging gadgets whiz.