Tong Trips in Rush to Slam Fedele. Ignores Fan Site Disclaimer.
Democratic state Representative William Tong tripped at the starting gate of his campaign for mayor of Stamford. The fourth term legislator who mounted an anaemic effort for the United States Senate last year, criticized Republican rival Michael Fedele, lieutenant governor in the Rell administration, for receiving a few kind words on what Tong mischaracterized as coming from talk show host Rush Limbaugh.
It didn't long to discover Tong's careless cock-up. The mild expression of praise for Fedele appeared on a Limbaugh fan site that a disclaimer at the top of the page states has nothing to do with the radio powerhouse.  The Hanging Shad page has been taken down. No correction or apology appears to be in the works. Not a promising start for Tong, who hopes to clear the Democratic field in the race for the Stamford job.
Here's the disappearing post.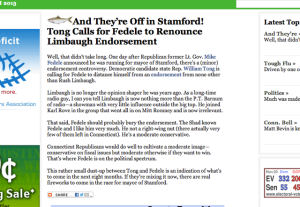 UPDATE: The operators of the fan page have responded to Tong's clumsy attack. Read it here.