Verrengia to Return Lobbyist Contributions After Making Special Session Solicitation.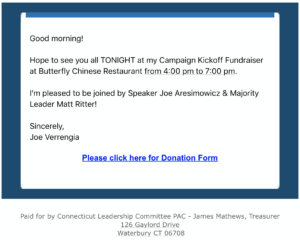 State Representative Joseph Verrengia (D-West Hartford) will return lobbyist contributions solicited while the legislature was in special session last week. Verrengia, a veteran police officer and co-chair of the legislature's public safety committee, had a campaign fundraising event scheduled for January 31st from 4 p.m. to 7 p.m. in Wast Hartford. The House had been called into special session and was scheduled to meet that day. That morning, lobbyists received solicitations to donate and attend the Verrengia campaign event.
Legislators may not solicit lobbyists while the legislature is in a regular session or a special session with the exception of even years after the regular session adjourns. When contacted by Daily Ructions, Verrengia explained that the event was on an email reminder program that had been set for January 31st before he realized the legislature would be in special session. He has notified the State Elections Enforcement Commission of his error and will return lobbyist contributions from the event.