Where in the World is Rosa DeLauro?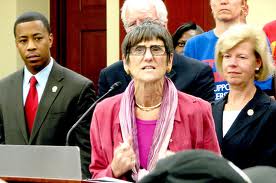 The Connecticut shoreline took a beating from Hurricane/Tropical Storm Irene.  Some towns continue to suffer mightily from the ordeal. They've had visits from elected officials and other notables.  Towns in the Third Congressional District, however, are crying out for the ministrations of Representative Rosa DeLauro.  She has been notable for her absence.  Even when the power is on, the 11 term Democrat travels with her own particular brand of energy.  DeLauro would normally be on the ground offering comfort, pushing the levers of power, and finding a way to blame the mess on some partisan adversaries. No bizarrely dressed sledgehammer is in sight.
While Representative Chris Murphy has been tweeting from his tour of the Fifth Congressional District,  we've not heard a twitter from DeLauro since the middle of August.  In this maximum hour of suffering for thousands of constituents, where in the world is Rosa DeLauro?