Wooden Begins. Key Baseball Stadium Booster Organizing for Treasurer.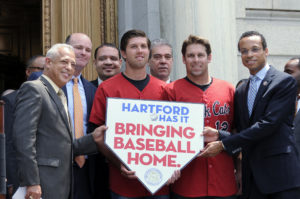 Democrat Shaun Wooden will seek his party's nomination for state treasurer. The former Hartford city council leader has begun putting together a campaign organization as party leaders conclude that incumbent Denise Nappier will not seek a sixth term.
Wooden is a partner at the Hartford office of the Day Pitney law firm. He was an aide to Carrie Saxon Parry when she served as the city's mayor. Wooden has had some trouble winning his party's nomination. He ran an adumbrated race for mayor in 2011. In 2014, Wooden squandered every advantage, and he had many of them, in his bid to unseat Democratic stalwart Eric Coleman from his state Senate seat.
Wooden's candidacy parks some formidable tanks on the lawn of fellow Hartford Democrat Arulampalan. The 32 year old lawyer and lobbyist has also been exploring the race for treasurer.